The NBA Playoffs are here and it's time to get your B-ball on! Have a basketball theme party for your posse. (Or if you have a little future NBA star in your household, suggest this as a birthday party idea.) You can hold the party during the playoffs (from April to June) for peak excitement, but reliving the best plays on DVD is fun too…so get your game on with these ideas.
Here's a game plan for the best basketball theme party ever, for both "big kids" and little shooters!
Invitations
Game Ticket style invitation. This is so easy to make and looks great. Browse online for a free ticket-style invitation and add your own text.
Back of the Current Year's Brackets. Print party details on the back of a page of the Playoff brackets. (Here's a source.) Tip: If the party is BYOB, the invitation is the place to say so. Make sure people know whether or not they're expected to bring refreshments of any kind.
For a kid's invitation, import basketball and other sports theme clipart onto a document. Print, let your kids color in the images, and send…it's that easy!
Invitation Sayings
If you're creating your own invites, include common B-ball phrases such as "NBA playoffs," "It's a slam dunk!" or "Let's shoot some hoops!"
If you'll be having a little, ahem, friendly competition during the festivities, state "Wear a jersey from your favorite team for our All-Stars game" or "Dress for a some action—basketball action, that is." For kids' invites, a simple "Dress casually—we'll be shooting some hoops" is sufficient.
Party Activities for Adults
Set up one or more TVs (large screen is great, of course) and have the game playing during the party. Or play a basketball-inspired DVD, such as Hoosiers
.
You may want to really get in the game by hosting the party at a basketball court at the local park. Or if you have a hoop set up in your driveway, get your buds in gear for a quick game or an informal free throw competition.
Party Activities for Kids
Designate one adult ahead of time as the "ref". This person can dress in real referee gear if you know someone in a local or school league who wouldn't mind loaning a shirt, or just choose a button-down shirt and wear a whistle on a cord.
Have your little stars do a few drills. Try:
free throw competition
competition to see who can dribble for the longest time with eyes closed
dribbling to a cone and back
waste paper basket ball (use a waste basket that has a basketball image on it) for an indoor party
HORSE (If you don't already know this standby that never gets old, here are some basic rules)
Kids will also enjoy a basketball-shaped pinata. If it's a kids-plus-adults party, visit a basketball court and bring along a stand-up miniature hoop and the appropriate size ball.
Decorations
Party décor can include the following:
Decorate in orange and black (balloons, centerpiece, tablecloth, cups, plates, napkins, etc.).
Have cardboard cutouts or Fatheads of such classics as Larry Bird, Magic Johnson, Michael Jordan, Shaq or Kobe Bryant…or your personal fave.
Match decorations to your favorite team: have a Bulls, Orlando Magic, Lakers, Celtics, Raptors or Hornets party – use the solid colors of your team and buy matching plates, cups, streamers and balloons.
Food and Drinks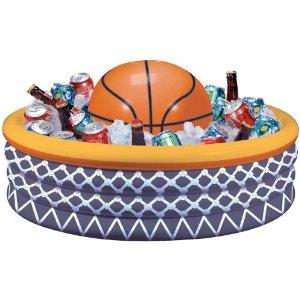 Grownup revelers will appreciate a cooler for drinks. An inflatable basketball cooler
is perfect. For food, try:
Basketball cake: Draw a mini basketball court with icing. Include a novelty mini b-ball hoop. Check online or at your local decorations store to find inexpensive versions.
Donut holes: Decorate these in orange and black frosting/icing for basketballs.
Sports bar munchies: Kids will enjoy these types of eats as much as grown-ups. Have burgers, fries, ribs and nachos ready for a quick grab during the game.
For children's party favors, stuff bags or mini boxes with mini-size soft basketballs, squirt bottles, stickers and candy.
Are you ready? It's game time!