Hosting a Birthday Party Outside at a Park
The weather is warming up and so that means that people want to get outside as much as possible. Being outside is such a treat on a daily basis, and happens to make a perfect backdrop for a party. A fantastic environment for a birthday party is a park, and it can serve well for kids of all ages. There are some things to keep in mind, but if you plan it out well, you can enjoy a bit of fresh air, sunshine, and some good times outdoors.
Think Through Your Set Up
When you're planning a party at a park, you do want to consider the elements. Is there a shelter that you can rent out at the park you're considering? In case there's rain, wind, or even excessive sunshine, you want guests to have a protected place to go to and still enjoy the party. Most parks have shelters and this usually includes picnic tables, so they make for a perfect area to serve up the meal. Rent out your space ahead of time and be sure to decorate with plenty of balloons and streamers to make it a truly special area of the park for your guest of honor.
Serve Up Good Eats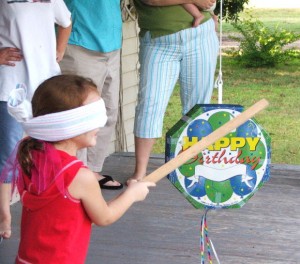 The key to food at a party at the park is to go for simple eats. Consider getting a big submarine sandwich that you can serve to the guests in slices. Go for a good old barbeque and bring hot dogs, hamburgers, and all the fixings. Many parks will have a grill that you can use near the shelter, or you can bring your own travel type. If all else fails, you can pack a picnic lunch complete with sandwiches for everyone, fruit, cheese, chips, and of course plenty of drinks to keep everyone hydrated.
Creating Some Fun
If you are hosting a birthday party for a child, then chances are that they will have plenty of fun on the swings, slides, and play structure. You can however create some really simple fun for the kids and adults alike. Set up some games that all of the guests can jump in on like horseshoes or croquet. If the weather cooperates, a water balloon toss is the perfect way to have fun and stay cool on a hot summer day. You can even set up an area for old favorites like "Hot Potato" or "Mother May I?". You usually have a field or an open space at a park that makes the perfect spot for games of all kinds. The fun never ends at a birthday party at a park!