Spring has sprung and you know what that means—time for a backyard barbecue! There is nothing that celebrates warm weather more than firing up the grill. It's a way to celebrate warmer temperatures and get out there to grill up your favorite meals. It's also an excellent way to bring friends together and enjoy some time outside. So if you are itching to get outside and enjoy the warmer temperatures, consider going with the perfect backyard bbq theme.
Swing That Lasso – Rodeo Dinner
If you are a lover of the rodeo or just that great southern culture, then this makes for a perfect theme for your bbq. Be sure to serve up a favorite such as brisket and all the fixings like baked beans, corn on the cob, and a homemade potato salad. Serve up the beer and snacks in chuckwagon plates
to really bring the theme alive. Be sure that everybody gets their own bandanna to get them into the theme of things. With this type of bbq, the main event is focused on the grilling and bonding itself. If somebody can play the harmonica, so much the better!
A Spicy Tex Mex Affair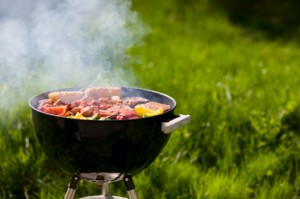 Who says that grilling has to be all about burgers and dogs? If you want to add a little Mexican fiesta to your bbq, then consider going for a spicy Tex Mex theme and all of the food and touches to go with it. You absolutely must serve up margaritas by the pitcher and your favorite Mexican beer ice cold.
You can also do a little play on some of your favorite recipes to kick then up a notch in the spicy department. Consider making a typical but never boring dish for this bbq such as chicken and steak fajitas. These are easy to make and the perfect marinade can make these amazing. Try a recipe for the perfect marinade such as this:
Olive Oil (Just enough to coat the meat and hold the marinade together)
Chopped Cilantro (About 3 tablespoons or more depending on your taste)
Salt and Pepper
Chopped Chilies (Go for a spicier jalapeno pepper and chop up to spread out the flavor)
Cumin (A couple of teaspoons)
Fresh Squeezed Lime Juice (Use about 1-1.5 of an actual fresh lime)
Let the meat marinate in this mixture overnight and then throw on the bbq whole. Pour any extra mixture over the top and let this grill on a low heat to allow the flavor to really settle in. Serve up with tortillas, cheese, sour cream, salsa, and of course fresh guacamole and chips. This not only makes for the perfect bbq dish, but creates the centerpiece for your perfect backyard bbq theme!