Dance Party – The Rhythm's Gonna Get You
Dance has never been more popular with movies and TV shows enthralling millions of viewers. That makes a dance theme party a great and fun choice for your next celebration.
INVITATIONS
Write out your party facts on a CD label. Attach to a blank CD or create your own party mix of songs to invite guests your dance party.
For vintage flair if you're incorporating a '20s, '50s, '60s or '80s dance theme, attach your party invitation to an old .78, .45, LP or an 8-track tape (available at thrift stores, garage sales and swap shops) to add some vintage nostalgia to your celebration.
Trace a shoe onto paper and write your party invitation onto the "sole" of the shoe. Cut it out and send that as your invitation stock.
Party Decor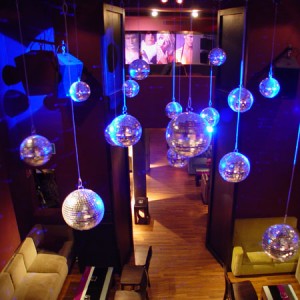 Suspend old party records, tapes and/or CDs (choose what's appropriate for your party if you're incorporating a decade theme to your event) from your ceiling with monofilament.
Again, trace shoe prints and cut them out and place them on the walls, ceiling and floors to resemble dance instructions.
Head to your thrift store and find old record albums and use the album covers to replace your artwork. If you're doing a modern dance party, affix CD covers to a piece of cardboard in a mosaic style and put them into a picture frame.
Spray paint old shoes with metallic paint and cover with glitter and carefully suspend them for the ceiling (be sure that they are very secure so they don't drop on a guest's head).
While you're at the thrift store, look for vintage clothing to match your theme. Pin them to the walls (or wear them!)
entertainment
Put various dance styles into a hat (rumba, salsa, tango, cha-cha, ballet, swing, hip-hop, tap, etc.) and have each guest pick a piece of paper showing the dance style and have them perform a couple of steps. (It's helpful to have the appropriate music on hand to accompany your guests.)
Have the other guests score the dance just like the judges on "Dancing with the Stars." Guests can dance by themselves or as a couple. And for anyone who doesn't want to participate or whoever receives the lowest votes, give them a "Two Left Feet Award" (two left shoes spray painted and mounted onto a block of wood). Of course you'll want to give out the "Fred and Ginger Award" () to the winner(s).
If you plan your party around a show like "Dancing with the Stars," "America's Best Dance Crew," ballroom competitions or other similar dance shows or dance-themed movie ("Flashdance," "Footloose," "Shall We Dance," etc.) that will serve as your main entertainment.
Refreshments
Keep your refreshments light so that guests will be able to "trip the light fantastic" and won't be weighed down.
Use old LPs (cover them in plastic wrap) as hors d'oeuvre trays or serve food out of clear plastic shoe boxes instead of bowls.
Keep plenty of music-themed paper goods on hand for guests.
Party Favors and Prizes