Tired of taking the same old thing to parties you attend?  Want to have a chocolate dessert buffet, but you're done with the mini-cheesecakes and bowls of candy? Read on for some fun and new ideas for chocolate desserts.  Everyone loves chocolate! (Right?)
Chocolate Chip Cheese Ball
This is an unusual and fun dessert, the likes of which most people have never, EVER seen.  Here's how to make it:
Mix one 8 oz package of cream cheese with 1 cup of powdered sugar
Form into a ball
Roll in miniature chocolate chips (and chopped nuts, if you want)
Serve with chocolate graham crackers
Chocolate Peanut Butter Fondue Marshmallows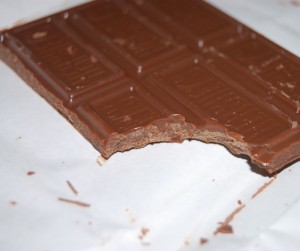 Fondue can be easy to make.  If you have a fondue pot
lying around, use it.  Or, you can use a double-boiler pot, or even a miniature crock pot.  Just get a can of hot fudge (MUST be the fudge-chocolate syrup won't work for this one), and heat it up.  Then stir in half as much smooth peanut butter.
Set out toothpicks, or bamboos skewers, and marshmallows.  Next to the fudge mixture, set a bowl of graham cracker crumbs mixed with a little bit of brown sugar and cinnamon.  Instruct people to dip the marshmallows into the fudge mix, and then roll in the graham cracker crumbs. YUMMY!
Ice Cream Sandwiches
The Noon Mark Diner in Keene Valley always has a freezer stocked with THE BEST Ice Cream Sandwiches in the world.  Two huge chocolate chip oatmeal cookies with a thick layer of ice cream frozen between them.  If you eat this treat straight out of the freezer, you can gnaw on it for an hour before you finish.
For parties, make bite-sized ice cream sandwiches ahead of time.  Give them at least a day to freeze, so they're solid. (Heck, to have that Martha Stewart aura about you, make your own ice cream and cookies, then slap them together and place in the freezer!) If they're REALLY frozen, they can sit out for an hour or so.  Or, just make a sign and put it on the table with other desserts:  "Mini Chocolate Chip Cookie Ice Cream Sandwiches in the Freezer!" (With a big red arrow pointing to your freezer.) And clean your freezer out a bit, so people can reach the cookies!