Is your cute little pussycat wild about Hello Kitty? This purr-fectly adorable pal is a top choice for party themes among young girls. With her pink bow and adorable face, Hello Kitty has been a beloved children's icon since she set sail from Japan to store shelves around the world in the 1970s. Take a trip down memory lane as you plan this fun party with your youngster!
Party Decor: Think Pink!
Hello Kitty wears a pink dress and matching pink bow. So think pink and white for your Hello Kitty party supplies. Choose balloons and streamers in white and several shades of pink (from pastel to deep pink) for a layered color effect. Touches of blue and yellow are also perfect Hello Kitty colors.
Use these colors for the party plates, cups, forks and spoons as well as the tablecloth and napkins. Since Hello Kitty is the first (to my knowledge) pure branding symbol (the cute kitty face actually started life as a brand, not a spin-off of a book, cartoon or anything else), you'll have no problem finding Hello Kitty merchandise!

Decoration Ideas
The above applies to your party centerpiece and decorations. Hello Kitty party banners are inexpensive and often can be personalized; hang one up with your little kitty's name so she can be the star of the show.
And speaking of stars, Hello Kitty is associated with certain shapes. One is (naturally) a typical five-pointed star. Retro-style, big, bubble-shaped flowers are another familiar Hello Kitty decoration style. Think round, simple, childlike lines.
You can easily print Hello Kitty images in these styles from your computer. Print in colored ink, or have your child help you color in some outline images using markers or crayons.

Invitations
As long as you're going all-out with this theme for decorations and tableware, can you do any less with the invitations? Don't worry—this is probably the easiest part of your party planning.
Hello Kitty invitations are generally inexpensive, are very colorful and will bring squeals of happiness when opened by invited guests. This is your easiest option—but you can get creative and make your own, too. The Hello Kitty face is drawn in simple lines and is easy to duplicate. Freehand an image of Hello Kitty, write the information on the back, then copy it using the double-side option.

Cute Kitty Food
You're probably catering to a relatively young crowd, so keep the food simple, yet visually appealing and "fun." Try these ideas:
cookies with pink frosting (buy the frosting already colored, or make your own using food coloring)
gummy flowers, hearts, cat/animal shapes, pink, blue or purple gummies, etc.
pink pasta (add red food dye to the water while the pasta is boiling; top with butter or ricotta cheese when done)
a pink birthday cake (of course!) or one with the Hello Kitty face on it (this is easy to freehand) or big, decorative icing flowers
pink fruit pieces, such as watermelon, strawberries and pink grapefruit
pink punch (pink lemonade, or red punch with lemon-lime soda to dilute the color)
apple pie (this is Hello Kitty's favorite food!)
assorted munchy snacks such as popcorn and pretzels for grab-and-go eating
Fun and Games, Hello Kitty Style
Have some games lined up for your guests. Try:
Cat's in the Corner. This game will include four children at a time. Choosing a room that's safe and clear of furniture, have one child stand in each corner. At the count of three (you count for them so you can draw out the "three"), each child must run to another corner. If the corner is already taken, he or she must try a different corner. The last child to find a corner is "out."
Hello Kitty Playtime. Set up Hello Kitty toys on a low table and let the children playact with them.
Dressup. Have pink play clothes and jewelry available and let the guests dress just like Hello Kitty.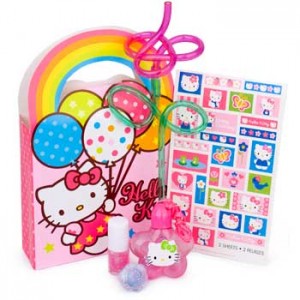 Coloring Contest. Print out black and white Hello Kitty images and have kids go crazy with markers, crayons and glue-on glitter. When they're done, each child gets a prize ("Neatest," "Most Colorful," etc.). Make sure every child gets a prize. The best is to have the winner choose a prize first, the runner-up the second prize, etc, so everybody actually has nearly the same goodies.
Party Favors
Hello Kitty theme favors are a must. Hello Kitty goodies are easy to get a hold of and appeal to every child: stickers, fluffy pens, and plastic jewelry along with a small piece or two of candy make the perfect goody bag stuffers. The goody bag itself must be a small coin purse, where Hello Kitty started her career!
After the party, have your child write thank-you notes. Voila! Your Hello Kitty party is done, and a huge success. Time for a cat nap.