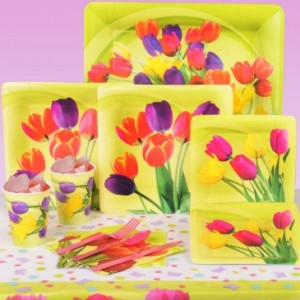 Blooming tulips pack, available at
Birthday Express
Planning a party this Easter? Have we got the theme for you. A few of them, in fact! Having an Easter party theme makes everything easier, from invitations to menu planning to games and decor. It also makes the day more memorable.
Garden Party Theme
The Theme: This is perhaps the most obvious choice, but it will be beautiful year after year. Plan your party for outdoors. If you don't have much greenery in your back yard, buy some inexpensive potted plants in brilliantly blooming colors and arrange them around the area.
Invitations: A natural-look invitation is best (flowers, butterflies and other emblems of spring).You can make your own by downloading Easter-themed clipart.
Food and Drink: Make this into a tea party if you'd like. Whether or not you're serving tea, have finger foods available, and make them elegant. Cut the crusts off bread and create delicate finger sandwiches. If the weather will be warm, serve lemonade and iced tea.
Easter Egg Hunt Theme
The Theme: Have children hunt around the yard (or an indoor area if weather is inclement) for treats—especially chocolate! For very young guests, make the hiding places just a bit obvious; have colorful plastic eggs poking out from behind furniture or in the grass, for example. For older guests, make things trickier. For instance, include a game similar to a scavenger hunt, where the children must read clues to find their treats.
Invitations: "Here comes Peter Cottontail…and he's got a bunch of treats just for you! Please come to our party ready for a fun and yummy Easter egg hunt. BYOB (bring your own basket)."
Food and Drink: If the treats will be candy, have some non-sugary food available to balance things. Kids eat on the run, and at an Easter egg hunt, they'll be hopping around even more than usual—so make the treats table easy to grab-and-go. Chips, popcorn, frozen drinkable yogurt tubes (cut these in half) and milk or water are great choices. Be sure to decorate the food area with a pretty tablecloth, Easter cutouts on the walls and hanging paper/cardboard Easter imagery, such as hanging eggs.
Easter Dinner Party
The Theme: Simple but elegant, an Easter dinner party will please guests young and old. Decorate the area for springtime, with a basket in the center of the table filled with grass and small crafts-store animals, such as rabbits and birds. Tie a pretty Easter-colored ribbon (pink, yellow, lavender, pastel green or sky blue) to the back of each guest's seat.
Invitations: "Please come to our Easter dinner party. Attire: casual." Or have a potluck Easter dinner party and state "It's an Easter potluck! Bring your favorite recipe and share this special day with us" on the invitations.
Food and Drink: This will depend upon the style of dinner party you plan. If the dinner will be sit-down, prepare a traditional main dish, such as lamb or ham. Have a vegetarian alternative if you'd like (lasagne is fast becoming a new Easter tradition in many vegetarian households!). Use lots of fresh vegetables in the preparation to honor springtime; carrots, leek soup, celery and dip or a mixed-lettuce spring salad are all good choices. Wine is appropriate for adults if the dinner will be after 5:30.
Easter Games Theme
The Theme: This is a children's party from start to finish, with lots of fun activities to keep the guests busy. Don't overplan your party—rushing kids from one activity to the next won't be as much fun as letting the games wind down on their own. Choose two or three great games and let your little guests take things from there.
Easter costume contest: Invite guests to dress up as their favorite Easter character or symbol. Make sure everyone gets a prize for participating.
Don't be the bad egg: Play music in the background for this activity. Boil an egg in advance. Have the guests toss the egg among each other. Stop the music at a random time (face away from the guests so you don't see who has the egg). The person holding the egg when the music stops is "out."
Rabbit hop race: This game is played like a potato sack race. Have guests pair up, then stick one leg each into a brightly-colored pillowcase. The first pair to get to the finish line wins.
Easter coloring contest: Print out an image of a large Easter egg. Sit guests down with crayons and tell them to create the most unique, interesting egg they can think of. Afterward, admire all the creativity by hanging the pictures on the wall.
Find the Easter treat: Have one child leave the room while the others hide a goody, such as a colored egg or a chocolate treat. When the child returns, his friends must say "hot!" if he is getting closer to the location of the treat, or "cold!" if he's moving away. After he finds the treat, another child takes a turn. The one who is the fastest to find his treat wins.
Invitations: Choose child-friendly invitations with lots of bright colors. Be sure to mention on the invites that the guests will be getting physical so that parents can dress them accordingly.
Food and Drink: If the party is in the afternoon, have lunch available. With so much energy spent, your guests should be fine with a sit-down lunch. Serve kid-friendly foods such as pizza, juice and ice cream.