Make Your Own St. Patrick's Day Flowers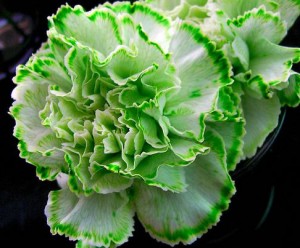 When I was little, my Mom used to take us to the grocery to pick out green-dyed carnations to give to our teachers.  Kind of a weird tradition, but fun.
It is easy to make these flowers yourself, though. Here's how to do it:
Materials
Several white carnations
Liquid green food coloring
Clear vase
Green and white tissue paper
Clear plastic wrap
Green ribbon
Clear tape
Directions
Cut the bottom two inches off the ends of the carnations – this will open up the "pores" in the stems to take in more water (this is why you always cut the ends off flower stems)
Fill the vase with water, and add a couple of drops of green food coloring
Stick the flowers in the vase
Wait about two or three days.  The flowers will start to turn green!
To make a festive St. Patrick's Day Gift for your child's teacher, remove the flowers from the vase and rinse off the stems.  Wrap a small piece of plastic wrap around the bottom of the stem and secure with clear tape.  Then, wrap the flower in the green and white tissue paper, with the flower showing. You can tie the paper with a green, curled ribbon. Slainte!