A Kentucky Derby Party: Run for the Roses
A Kentucky Derby Party is one of the most fun themed parties you can host, and is quite exclusive – the Kentucky Derby isn't a holiday anywhere other than Kentucky. It involves two weeks of festivities in Louisville, capping in the actual derby on the first Saturday of May.  People have few expectations, and are usually delighted with whatever you plan.
Here are some sure-fire ways to entertain your guests at a "Run for the Roses" event, and party like they do in Louisville.
The Invitation
If you're inviting a lot of people, Evite is inexpensive and convenient.  For Affordable printed invitations,
horses, mint juleps, horse-shoe shaped invites, or invitations in the shape of hats are appropriate.  Additionally, anything with a rose, as in "Run for the Roses" makes a good invitation.  For a Derby party, the more guests, the merrier, so invite everyone you know!
Kentucky Derby Decorations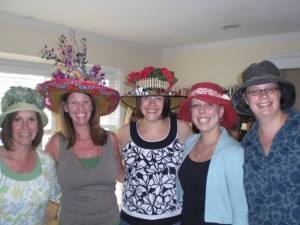 Of course, you have to have roses.  Luckily, they are likely to be less expensive per dozen than at Valentine's Day.  True red roses are the flowers of the Kentucky Derby.  The winning horse receives a blanket of them, and the winning jockey generally takes a few and flings them into the crowd.
It is fun to decorate with signs that turn your house into the "track."  Signs that say "Betting Window," "Paddock," "Post Parade," "Grandstand," "Box Seats," "Backside," add to the festivities.
Balloons, Jockey hats,
and confetti are must-haves.  A horse centerpiece
or horseshoe centerpiece provides the finishing touch.
Hat Contest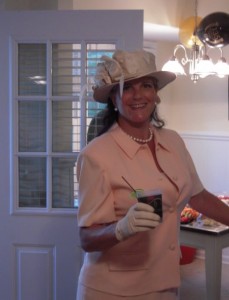 The Derby is all about the hats.  (And the horses.  But mostly hats!)  On your invitations, alert your guests that you will have a hat contest, and encourage them to wear their best.  Fun categories include:
Best horse-themed
Best men's
Best women's
Most elegant
Wildest
Rotating yearly theme  (a new, specific theme each year)
People's choice  (let people vote)
Give out lots of prizes!   The more prizes, the more fun! Starbucks gift cards, horse-themed gifts, and official commemorative Mint Julep glasses from the Derby website are all good prizes.
Other Games and Diversions
You can play horseshoes, but get an outdoor set!  Also, it makes watching the race more fun if everyone bets on a horse or two.  We like to print out the list of horses running, and then make a posterboard with the numbers along one side.  People can bet on as many horses as they want to win, only, and it is $1 per bet.  If four people pick the winning horse, they split the pot.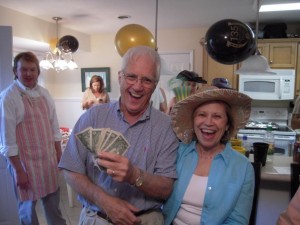 If only one person has the winner, he or she wins it all!
While the post parade for the Derby is happening (about 15 minutes before the official start of the race), gather everyone around the television to sing "My Old Kentucky Home,"  by Stephen Foster, along with the crowd at Churchill Downs.  Print out the words and hand them out to your guests.  Here are the words:
The sun shines bright in My Old Kentucky home,
'Tis summer, and people are gay;
The corn-top's ripe and the meadow's in the bloom
While the birds make music all the day.
The young folks roll on the little cabin floor
All merry, all happy and bright;
By 'n' by hard times comes a knocking at the door
Then My Old Kentucky Home, good night!
Weep no more my lady
Oh! weep no more today!
We will sing one song
For My Old Kentucky Home
For My Old Kentucky Home, far away.

Food and Drinks (Particularly "Mint Juleps")
You could bake up some neat horse-themed desserts, such as horseshoe cookies.
However, there are two types of food that MUST be served at every Derby Party: Mint Juleps made with genuine Kentucky Aged Bourbon, and Derby Pie®, a chocolate chip/nut pie available exclusively at Kern's Kitchen.
Mint Juleps
Make a simple syrup the night before by boiling one cup of sugar with one cup of water, and four large sprigs of mint.  Refrigerate overnight.  On the day of the party, strain out the mint leaves.  To make a Julep, pack 1/2 cup of shaved or crushed ice in a highball glass.  Then, pour in 2 oz of Bourbon and 1 oz of the syrup.  Garnish with a mint sprig.  To make it less potent, add club soda!
Derby Dictionary
Here are a few terms you should know in order to speak intelligently about the Kentucky Derby:
Colt: Male horse under 4 years old
Filly: Female horse under 4 years old
Gate: Horses are loaded into the starting gate for the start of the race
Gelding: "Formerly" male horse
Jockey: Rides the horse in the race
Mare: Female horse, 4 years old or older
Post Parade: The horses in a particular race parade in front of spectators
Post position: The number of the gate the horse will start from. 1 is the inside post position
Post time: Time when horses go into the gate to start the race
Silks: The colorful jersey top that the jockey wears. Colors represent the horse's owners
Stallion: Male horse, 4 years old or older
Triple Crown:  Series of races for 3 year olds-the Kentucky Derby, Preakness, and Belmont Stakes