Autumn leaves are falling, there's a crisp smell in the air – and Thanksgiving is right around the corner. Quick: what will you do to pull together your Thanksgiving gathering this year? Make this year a special celebration with food, games, decorations and good old-fashioned fun.
Here are some great tips to get the party started, including a recipe on cooking the perfect tasty turkey!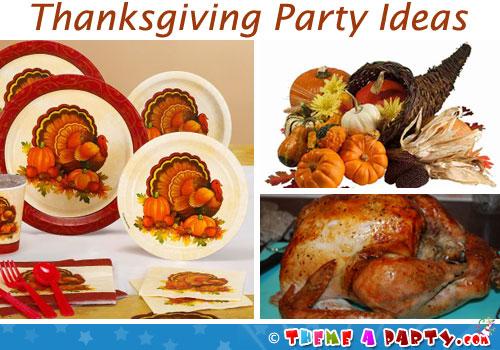 Decorations and Serving Dishes
An easy way to spice up your Thanksgiving table is to put down an autumn-colored tablecloth (red, orange, yellow, cream or a combination of these), then place a centerpiece in the middle.
Adding fruits, such as grapes and oranges, and vegetables like an ear of corn or some beans around the centerpiece will add an earthy and very on-trend look.
With your centerpiece in place, you're ready to add decorations to the rest of the table and the party area. Don't overcrowd your table—you want to reduce the possibility of spills or burns as guests reach for your delicious dishes. However, handfuls of leaves (have kids cut and color these, or gather pretty ones from outside) in small dishes between the food selections will look beautiful.
If you're having a very large group or if you're concerned about breakage, leave Grandmother's china in the cabinet this year and opt for pretty, seasonal paper plates and plastic cutlery this year.  Go for elegant or whimsical—the choice is up to you and to the personalities in your gathering.
A few candles can definitely add atmosphere, but again, safety is first here. Try battery-operated LED candles, or place burning votives to float in a water dish well out of the reach of guests (toward the center of the table).
Cooking the Turkey
You needn't stick to a traditional turkey if you'd prefer something else instead. Many families celebrate Thanksgiving with a ham, a roast duck or even a turducken.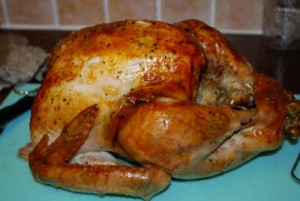 But if you're like us and feel it just wouldn't be Thanksgiving without the Tom, try this fabulous recipe for the juiciest turkey ever:
The Perfect Thanksgiving Turkey
Ingredients:
1 14-17 lb. turkey (fresh or thawed)
15 sage leaves (fresh if possible; if using dried, soak for five minutes before adding to turkey)
1/4-1/2 cup butter or margarine
1 medium or 2 small red apples of choice, sliced
1 small onion, sliced
seasonings of choice (such as rosemary and thyme)
aluminum foil
roasting pan large enough for turkey to fit easily
a poultry thermometer
1.Preheat oven to 475F.
2.Wash turkey inside (the cavity) and outside (the skin) with cold running water.
3.Pat turkey dry thoroughly with a paper towel.
4.Lay turkey in your pan breast-side up and gently loosen the skin by running one or two fingers between the skin and the meat.
5.In a small bowl, mix the sage leaves with your herbs of choice by hand, then gently insert all beneath the skin of the turkey and over the meat.
6.Stuff the cavity with the apples and onion (these will NOT be eaten; they are "aromatics" and for smell and flavor of the meat only).
7.Coat the outside of the skin with butter.
8.Place aluminum foil over the breasts; this will keep them from drying out during the cooking process.
9.Place in 475F oven for 30 minutes ONLY.
10.Reduce oven temperature to 350F and cook for 2-3 more hours or until a thermometer placed in the thickest part of the thigh reads 180F (be careful not to insert the thermometer deep enough to touch the bone; this will give an inaccurate reading).
11.If the wings and/or legs begin to brown too much, cover these with aluminum foil.
12.When the turkey's inner meat temperature reaches 180F, take it out of the oven and place it on a cooling rack for 15-20 minutes. (Do not take the aluminum foil off during this process, and the turkey will continue to cook slightly.)
Fun and Games
Don't forget the activities! Both kids and adults will want to stay occupied while your turkey and side dishes (buy these at your local deli if you're pressed for time) are heating up. Here are a few ideas:
Pin the feather on the turkey. This is easy to make or buy. The feather closest to the "center" feather on the turkey is the winner.
Turkey Bowl. If you are serving Thanksgiving during the turkey bowl, click here for a whole bunch of ideas for this party.
Gratitude-go-round. The first person in the circle briefly states one thing for which he or she is grateful. The next person repeats the first person's phrase and adds one of his or her own. As more comments are added, guests will begin to find it difficult to remember everything, leading to laughter all around by the end.
Invite guests to come dressed as a favorite pilgrim, Native American or a symbol of fall (such as a big leaf or an acorn).
To get guests in the giving mood, have a Thanksgiving potluck. Supply the big items yourself (like the turkey and the drinks), but allow each guest to bring a favorite side dish or dessert.
Your best Thanksgiving is just a few great ideas away. Add your own creativity to the suggestions above and you'll host a day to remember.