Valentine's Day Party Ideas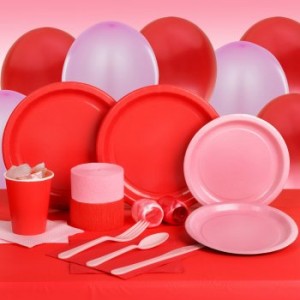 Red and pink Valentine's party kit, available at

Buycostumes
Celebrate the season of love with these Valentine's Day party ideas.  We've got you covered: from invitations to games, food to decorations, here's how to plan a fun Valentine's Day party for friends and family.
Valentine's Party Invitations
A Valentine's Day party invitation can do double-duty as a Valentine card.  Send a heart-shaped card, or post card as your invitation.  Or, buy a package of fun kids' valentine cards, and print a label with your party details to stick on the back.  A Valentine-themed evite is fun (ie post it on Facebook), because guests can check and see who else is coming to the party.
Valentine's Party Decorations
Hearts galore, along with lips, kisses, and shiny or sparkly confetti will make the party atmosphere festive.  Balloons floating across the ceiling are a nice touch–both latex and shiny Mylar, with dangling ribbons.  Valentine's Day is intrinsically a kitschy holiday, so really go all out with decorations.  Cupids, dangling hearts, ribbons and more.  The more decorations you add, the better the atmosphere.
Valentine's Tunes
Set the mood with fun love themed music.  Here are some of our favorites for a Valentine's Party playlist:
So this is Love from the Sleeping Beauty Soundtrack
Kiss Me by Sixpence None the Richer
8 Days a Week by the Beatles
I Want Candy by Bow Wow Wow
My Funny Valentine by Ella Fitzgerald
Brighter than Sunshine by Aqualung
Unchained Melody by The Righteous Brothers
You're my First, my Last, my Everything by Barry White
Theme from Love Story
Romeo and Juliet overture by Tchaikovsky
Valentine Party Games
The possibilities are almost endless for Valentine games.
Play candy heart bingo.
Make a Valentine's bean bag toss.  Print Valentine's word searches.
Play a timed word game where participants have to make as many words from the letters of the words "Valentine's Day" as possible.
Create a Valentine's scavenger hunt.
Play a guessing game.  Put a Valentine's related word on everyone's back.  Then, let people walk around, asking each other yes or no questions about the word on their back.  The first person to guess his or her word wins!
Valentine Party Food
Food and drinks can make or break the party.  You can stay with the Valentine's theme for food, or you can just serve yummy party food.  It is up to you.  Here are some fun ideas that aren't too over the top!
Set up a candy bar with bowls of candy.  If you have kids at the party, give them each a bag and let them fill it up.  When it is full, that's it!
Heart shaped sugar cookies
Decorated cupcakes with sprinkles.  Red velvet is a good flavor for Valentine's parties
Little meatballs, cheese cubes, and pretzels with some salt to cut the sugar
Heart-shaped pizza.  (Buy pizza dough in the refrigerated section, and let people top their own pizzas)
The key to a successful Valentine's Day party is fun!  Keep the fun rolling, the food going, and the love flowing, and everyone will have a good time.