Heart-Themed Valentine's Day Party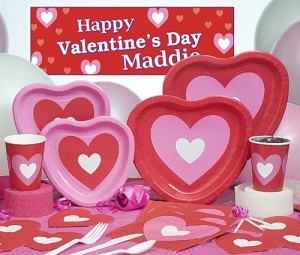 Heart within hearts party pack, available at
Shindigz
A heart Valentine's Day party theme is a fun and traditional theme for a get-together on Valentine's Day, or before.  Valentine's Day doesn't have to be just for lovers.  Have a party for your girlfriends, or your kids' friends, or your sisters and mothers and grandmothers.  Celebrate love with a day full of fun!  Here are some ideas for a perfect Heart themed Valentine's Day party.
Invitations
A party invitation can be as simple as a heart-shaped cut-out with party details on it, or as involved as a heart shaped puzzle that arrives in a pretty envelope.   (That's especially good for girlfriend parties, or for the newly jilted!  "Help me put the pieces of my heart back together!")  Or, send a key blank with "You hold the key to my heart" and party details.
Decorations and Paper goods
The easiest way to turn your party into a "hearty" good time is to start with heart-shaped plates, and heart themed napkins, cups and other paper supplies.  Add red, pink or white plastic cutlery, crepe paper, and ribbons, and you're halfway there.
Balloons are fun for every party, but filling the ceiling with balloons for your Valentine's Day party sets the scene, and makes the event even more special.  Use a mix of red and pink latex balloons, and some shiny mylar balloons.  Let them drift along the ceiling (away from lights and fans!), with trailing ribbons.  Or, tie a balloon bouquet to the back of everyone's chair. Give your guests each a balloon to take home, and before you fill them, put a little quote or note in the balloons about love, or laughter, or how much you appreciate their friendship.  Then, when the balloon deflates, they can read the note!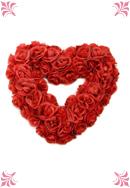 You can also add to the festivities by stringing paper hearts, criss-crossing above the table, scattering heart confetti, cutting out heart-shaped place mats, floating heart-shaped candles in a bowl with cranberries, and making arrangements of  fresh flowers and roses.  Greet your guests with a heart-shaped floral wreath on the door.  Simply buy a heart-shaped floral foam frame, and stick flowers in it, so that the bottom of the flower blossom is touching the frame–either artificial or fresh.  Carnations are a less-expensive alternative to roses, and last longer.
Heart-Themed Fun and Games
Have some fun at the Valentine's Day party – Here are some activities for adults and kids.
Guess the kiss: buy several tubes of the same color of lipstick at a discount store.  Then, give everyone a q-tip with some lipstick on it, and have everyone paint their lips.  Then, they will "kiss" a piece of white paper, or an index card and hand it to the hostess, so nobody else can see.  The hostess can pin the cards up on a bulletin board, and number them.  Then, everyone has to guess which kiss goes with which person!
Pinata: have a broken heart?  Break the pinata for chocolate and treats!
Decorate heart-shaped cookies:  make different shapes of heart sugar cookies and provide icing, sprinkles, candy, and Valentine-themed decorations.
Candy heart bingo:  Make bingo cards with typical candy heart words on them.  Give everyone a card and a hand-full of candy hearts.  Reserve a bag of hearts for the caller.  Draw hearts out of the bag, and call out what is on them.  First one to fill a row wins!
Hearty Food for Your Valentine's Day Party
There are many ways to go in terms of food.  Katie's Grandma always has a Valentine's themed party, and all of the food is pink or red!  Pink mashed potatoes, plantation ham logs (pink), red jello, cookies, pink and red fruit salad–you get the idea.  Anything that absorbs red food coloring is go for serving.
You can also serve appetizers and sweets with a heart theme.  Here are some ideas:
Pretty punch:  you can serve this spiked or un-spiked.  Cranberry juice + ginger ale + raspberry sherbert.  Mix together.
Peanut butter heart prints:  make peanut butter cookies, and press a dove chocolate heart into the center of them.
Heart-shaped sugar cookies.
Hot Chocolate with heart-shaped marshmallows
Petite Peanut Butter and Jelly tea sandwiches, cut out with heart-shaped cookie cutters
Have some fun this Valentine's Day by giving your heart to your friends and family with a heart themed Valentine's Day party!