New Orleans Saints Football Party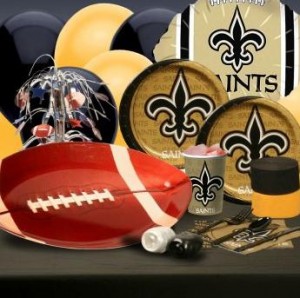 New Orleans Saints party pack, available at
Buycostumes
Show your team spirit by hosting a New Orleans Saints Football Party.  Bring touches of this classic city to your home, and a fighting football spirit, too.  For true authenticity, invite some nuns.  (Think we're kidding?  Some Sisters from New Orleans were prominently featured in the post-game award presentation for the 2010 NFC Championship!)  New Orleans is a city that has undergone unimaginable tragedy and triumph.  When they celebrate, they go ALL OUT.
Black and Gold Bring Down the House
The Saints' head quarterback, Drew Brees, played successfully for the Purdue Boilermakers before being drafted by the San Diego Chargers.  He must be at home in the black and gold, as he's made New Orleans his home town, and the Saints his home team.
The Saints play in the newly renovated Superdome, and are always enthusiastically greeted by tens of thousands of fans.  To decorate for your New Orleans Saints football party, grab the essentials: football shaped plates, bowls, and decals.  Add some team flags, and lots of black and gold streamers, ribbons, and mylar balloons.  If you order your own party pack, you can take the balloons to your local grocery store or florist to have them inflate the balloons for you.
Who Dat Tailgating
If you're going to cheer for the Saints, you have to learn the cheer:
"Who dat? Who dat? Who dat say dey gonna beat dem Saints? Who dat? Who dat?"
There's an entire "Who Dat" nation of Saints Fans.  They start tailgating outside the Superdome EARLY on game days.  You can also tailgate in your own yard, if you're missing the feel of tossing back a cold one on a cool day outside the stadium.  Here are some foods perfect for a Saints Football party or tailgate party:
Crab cakes
Oysters-raw, Rockefeller, baked, etc.
Cheese straws
Sugared pecans for munching
Shrimp Remoulaude (chilled shrimp with a spicy mayonnaise sauce)
Gumbo-sausage, okra, crawfish and other spices for an authentic treat
It's Not a Football Party without Beverages
A New Orleans Saints football party requires beverages.  Here are some classic treats for a NoLa party:
Bloody Mary–Always serve with a lime, celery, olives and a KICK of pepper
Fresh squeezed lemonade
Sazerac:  A Classic New Orleans Cocktail:


1/2 teaspoon absinthe, or Herbsaint (a New Orleans brand of anise liqueur)
1 teaspoon of simple syrup (or 1 sugar cube or 1 teaspoon of granulated sugar)
4 dashes Peychaud's bitters
1 small dash, a scant drop, of Angostura bitters (extremely optional; some feel it helps open the flavors, but traditionalists may leave it out).
2 ounces rye whiskey.
Strip of lemon peel

Mimosa–for an early starting party
Beer (of course!)
Party Favors
Who Dat Nation loves to make noise, and they love the Saints.  Outfit everyone with appropriate football party attire like temporary Fleur-de-lis tattoos.  It's the least you can do to support the team, really.  And, lead everyone in some vocal warm-ups prior to the start of the game.  The players can hear you from inside your house, you know?