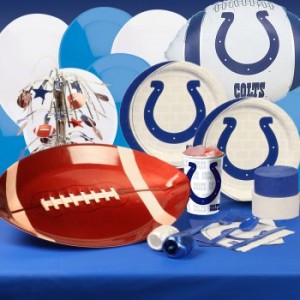 Indianapolis Colts Party Kit, available at
Buycostumes
With the Colts going to Super Bowl XLIV, and enjoying a run of success with popular quarterback Peyton Manning, Indianapolis Colts parties will be in full swing for years to come.
Of course, they're my favorite team, because I grew up in Indianapolis, attending Colts games at the Hoosier Dome (before it was the RCA Dome), and before the Colts were much to talk about.  Another interesting tidbit about those years:  my family's season tickets were directly across from the press box with the visiting team's VIPs. That made for some interesting games for a ten year old to observe!  Their recent success is sweet for all of the fans who never lost their fervor for the Colts. GO HORSE!
Bring the Lucas Oil Stadium to your Home
Well, your house probably doesn't have a retractable roof.  But, you can still make your party as festive as the atmosphere inside the Colts' new stadium.  Their colors are true royal blue and white.  Their logo is an upright horse shoe.  (For good luck, of course!)  And, their mascot is a horse called "Blue."  Here's how to decorate for the most festive atmosphere at your Indianapolis Colts party:
Tons of white and blue crepe paper streamers.  Colts fans are nothing if not FANATIC.  To really BRING IT, you need lots of streamers, and, if you're willing to vacuum up afterward, confetti.
Football-shaped plates, and Colts cups, plates and napkins.  The Colts party pack puts everything within easy reach.
Hang colts flags from your ceiling.  Every stadium has banners with retired numbers, championships won, etc. and Lucas Oil Stadium is no different.
Serve cupcakes (for the ladies – ladies like football, too!) with Colts cupcake pics.  They add the finishing touch of a VIP suite, (though you'll have to hire your own attendant for true authenticity.)
Eat like a Horse
For your Indianapolis Colts party, you are going to want to serve traditional football fan food, AND, some Indianapolis-Area favorites. Bet you didn't know there even were Indianapolis-area foods.  Don't host a Colts party without these necessities:
Shrimp cocktails with Jumbo Shrimp and REALLY hot cocktail sauce.  No, Indianapolis is not near the ocean.  BUT, the stadium is just a stone's throw away from St. Elmo Steak House, an "Indy-City" tradition.  And they are famous for their burn-your-tongue-off cocktail sauce.  And their steaks.
Mini-Rubens or Brisket sandwiches on rye.  These represent the most famous and beloved deli in Indianapolis: Shapiro's.  They have a downtown, original location, one in the North Side, and even an outpost in the airport.  Just pick up some mini party rye and make tiny sandwiches.  Yum!
Mexican food with LOTS of cheese.  There's an Indianapolis tradition at Mexican Restaurant Acapulco Joe's in downtown Indianapolis:  They play "God Bless America" every day at noon, and everyone sings.  Enchiladas with loads of sauce and cheese are one of their specialties.
Halftime Diversions
First, make sure everyone has plenty to drink.  Then, go outside and play horseshoes.  Or, if it is cold and snowy, you can probably find a child's indoor horseshoes set.  (Most likely safer with lots of, er, imbibing, adults.)  You can also play "Pin the Tail on Blue," the Colts' mascot.
Any way you plan it, a Colts party is certain to be fun!