Super Bowl Party Supplies: Be Prepared for the Big Game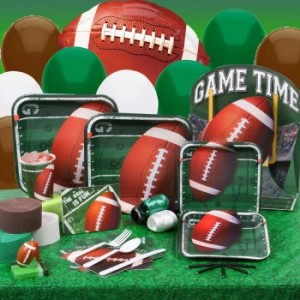 Football party supplies, available at
Buycostumes
Throwing a party requires coordinating a lot of moving parts. Before the biggest game of the year, make sure that you have all of the necessary Super Bowl 44 party supplies. Check this list to make sure you have everything you need to keep your party guests happy.
Paper Goods
One of the easiest ways to add a festive air to the party is with Super Bowl themed party supplies. Paper goods, like football shaped bowls, Super Bowl cups, plates, and napkins. Once the teams are selected, stock up on plain colored napkins, plates and cutlery in the colors of the competing teams.
Decor
Balloons, streamers, and all of the paper goods will add to the festive nature of the party. Pick up a sign or two that says "Super Bowl XLIV" to let people know that your house is the place to have fun.
Audience Participation
Make your guests choose sides. Have them wear their team's colors to the party. Hand out referee's whistles. Every time their team scores, they can make a bunch of noise!
Beverages
Always have plenty of drinks! For your guests to have fun and be comfortable, always have drinks, ice, cups, and choices. You need to have choices – both alcoholic and non-alcoholic – for everyone. Here are some guidelines for stocking up on beverages:
Plan on 1.5 drinks per hour, per person
Offer a domestic and an import beer choice
If you wish to offer cocktails, for a super bowl party, stock up on standard liquors: Bourbon, Gin, Tequila, and Vodka.
Sodas can do double duty as drinks and mixers. Coke, Sprite, Diet Coke, and Ginger Ale are good choices.
If you've invited wine drinkers, offer a red and a white
Bottled water is good for everyone
Purchase coozies or can holders in the colors of the teams playing, to help attendees get in the spirit of the game. 16 oz glasses can hold beer or sodas. 8 oz clear glasses are best for wine and well drinks.
Appetizers
Finger foods are best. Here's how to turn some of your favorites into appetizers for the big game:
Buffalo Chicken Dip – Mix cooked chicken with equal parts cream cheese and sour cream. Stir in 1/4 cup of blue cheese. Pour Frank's hot sauce on the mix, and sprinkle cheddar cheese on top. Bake until warm. Serve with crackers.
Meatball sandwiches – Make a mini-meatball sandwich. Slice a baguette into 1 inch pieces. Put a tablespoon of sauce on each piece and top with a meatball. Sprinkle shredded mozzarella cheese on it and broil until the cheese is melty.
Make your own pizzas – This is just a fun appetizer for any party! Stock English muffins and pizza sauce. Provide a variety of toppings: sausage crumbles, mushrooms, onions, pepperoni, cheese, green peppers, olives, etc.
Mini Rubens – On a piece of party rye toast (small slices), spread some thousand island dressing. Add some sliced corned beef, a fork full of sauerkraut, and top with Swiss cheese. Broil until cheese is melted.
Peanut Butter Cookies – Any peanut butter cookie recipe will do. This sweet and salty treat is perfect for parties.
Puppy Chow – made with rice Chex or crispex cereal, peanut butter, powdered sugar, and cocoa powder. Here's the recipe from the Chex website:


Ingredients
9 cups Corn Chex®, Rice Chex®, Wheat Chex® or Chocolate Chex® cereal (or combination)
1 cup semisweet chocolate chips
1/2 cup peanut butter
1/4 cup butter or margarine
1 teaspoon vanilla
1 1/2 cups powdered sugar

Directions

1. Into large bowl, measure cereal; set aside.
2. In 1-quart microwavable bowl, microwave chocolate chips, peanut butter and butter uncovered on High 1 minute; stir. Microwave about 30 seconds longer or until mixture can be stirred smooth. Stir in vanilla. Pour mixture over cereal, stirring until evenly coated. Pour into 2-gallon resealable food-storage plastic bag.
3. Add powdered sugar. Seal bag; shake until well coated. Spread on waxed paper to cool. Store in airtight container in refrigerator.
Odds and Ends
There are several rules of thumb for hosting great parties. Super Bowl parties are no exception. Here are some tips to keep your party hoppin'.
Always keep extra ice on hand. You can crush it for well drinks and ice down sodas.
Buy more drinks than you think you'll need. Keep extra beer, sodas and water. You can ice them down as you need them. Nothing kills a party faster than running out of drinks.
Stage paper goods where they are easily reached. A cabinet near the sink is a good spot. Make sure you don't have to dig if you run out of paper plates, napkins, and plastic cutlery.
Prepare a long playlist for the iPod—before the game starts, when the party is just getting started, let the guests mix and mingle and get to know each other before the game starts.
Make a cordless phone available to guests, post the phone numbers of several taxi cab companies near it. (It isn't a bad idea to keep some cash on hand to lend your friends if they need cab fare. Better to be safe than sorry!)
Stocking up and preparing everything before the party will ensure a maximum of fun! Plus, more importantly, you can relax and enjoy in the festivities as well, without having to run around as host or hostess and end up missing most of the game!