Valentine's Day School Party Ideas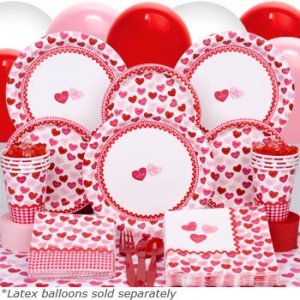 Valentine's Day Party Kit, available at
Birthdayinabox
Organizing a Valentine's Day party for your child's classroom is fun and easy to do. In addition to delicious treats, you'll want to make your party fun with activities and a craft or two. These Valentine's Day school party ideas are just the ticket for a sweet time for your child and his friends.
Invitations/Announcements
Let the other class parents know well in advance that the party will be taking place. This way, anyone who'd like to help with the planning or setting up has plenty of time to plan for it.
Send an e-mail to the group, or for a smaller and more manageable class size, have your child hand out invitations to each classmate.
If you are looking for help, be sure to state this on the invitation or announcement. It is appropriate when organizing a classroom party to ask for a minimal cash donation from each parent or to ask that they contribute to the candy, drinks or decorations.
Decorations
Children love to make party decorations. If there are only a few children in the class (10 or less), and you're willing to have your home taken over by eager Valentine's Day imps, have the class over to your kitchen in advance of the party to create construction paper hearts. Have glitter, beads, magic markers and glue on hand.
If this isn't an option for you, ask the teacher whether he or she will allow the children to make decorations during class time. (Most teachers are more than willing to do this.) When the adults enter the classroom, the kids will be thrilled to show off their creations.
Delicious Dishes
To most children (and grown-ups, too!), Valentine's day is about more than just hugs and kisses—it's about candy! So be sure to bring plenty of treats to the party. Here are a few ideas that can easily and inexpensively be made or purchased:
Cupcakes. Kids love cupcakes—and they're easier to serve than a sheet cake. (They're less messy, too!) Make or purchase cupcakes and frost them with red, white or pink frosting, alternating cake by cake. Then top them with a few yummy candies.
Chocolate.Some children are allergic to or intolerant of chocolate, so be sure to ask parents in advance whether the child has any food restrictions. Barring that, chocolate is a hands-down Valentine favorite. Serve mini chocolates so kids can grab a small handful and feel like they're getting "a lot."
Non-chocolate candies. Fun Dip has a Valentine's Day version of its dip candy, as do a number of other confectioners. Find Valentine-themed candies and hand them out during the party, or as a party favor.
Juice and water. These are better than soda simply because, though they contain sugar, it's naturally occurring and is generally tolerated better in the body (hence, less chance of that dreaded "sugar high"!). And it's tasty, too.
Non-sugary foods. Offset the sugar rush with popcorn, all-natural corn chips or pretzels.
Goody bags. Send the children home with goody bags that contain stickers, bubbles and other non-food items.
Things to Do
A traditional Valentine's Day party activity is to make a craft and bring it home (I'm sure we all remember doing this as children!). Try one of these fun craft choices:
Have each child loop a round cereal, such as Froot Loops or Cheerios, onto a length of string. Tie off the string and voila—a friendship bracelet that can be shared and eaten.
Set out construction paper, glue and decorations such as glitter and let the children make Valentine's Day cards to bring home to Mom and Dad.
Make Valentine's Day handprint paintings. To do this, the child curves her fingers together to form a heart shape. She can then dip the bottom of her hands/the heart shape into some non-toxic paint and make a heart-shaped print on the paper.
Here are some games to keep things hopping:
Hugs or kisses. This is played in the spirit of "Simon Says." Have the children stand in a row and call out either "hugs" or "kisses". When "hugs" is called, the children form a circle in front of them with their hands. For "kisses," they should stand with arms and legs out to form an "X" shape. Call the words out faster and faster…the children will be "out" one at a time.
Candy relay race. Children line up in two or more rows to form teams. The first child in each line is handed a teaspoon with a piece of candy balanced on top (make this more challenging by using round candies). Each child must make it to the other side of the room, drop off the candy and bring a fresh candy to the next person in line. The first team to finish wins.
Coloring. Hand out crayons, magic markers and printouts of Valentine's Day images and have the children color them, then hang them on the walls.
With these simple suggestions, your child's classroom is bound to have an absolutely fun and delicious time!