Ice Cube, Right Ahead! Gin and Titonic Trays
Hard a'starboard! No, the other starboard! Aaaaargh! Well, at least this ship is UNSINKABLE. And on the bright side, we won't have to worry about running out of ice while serving the oyster martinis and beluga caviar.
For your next party, try the gin & titonic ice cube tray set. It's perfect for your next boat launching, even if it's just in a bathtub. I'm not planning on watching Titanic any time soon, but I can probably figure out some cool nautical theme to use these.
The ice cube tray set from Fred and Friends (always high quality products) comes with a silicone mold to create four titanic-shaped ice cubes and four menacing "ice bergs." (Yes, the titanic WILL list to one side when in liquid, ha ha.) Because the shapes are not your traditional blocks, they could be a bit difficult to pop out of the silicone trays – simply run warm water over the bottom to loosen them up. Then, recreate history! (Or the Poseidon Adventure, or a bad Clive Cussler novel.)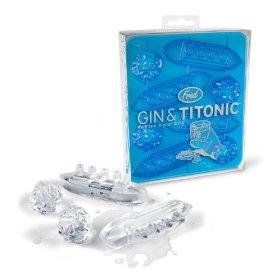 Before the party, you MUST come up with a couple bad puns, too – "ice to meet you" just won't do with this hilarious little product. If you're having a large party, it's advisable to freeze a couple sets, so everybody gets to have their own little grisly adventure in their vodka or gin (or perhaps a fatal Thames cruise? Fill with dirty water rum and coke.)
If Cameron's Jack had gone down in an ocean of vodka rather than the north Atlantic, it just wouldn't have been the same tragedy. So give him a toast as you crunch your tooth on a smokestack!