Throw a Mardi Gras Celebration!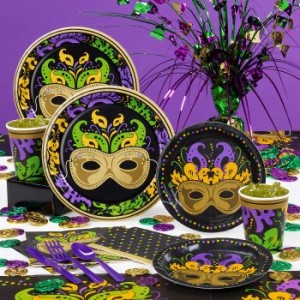 Mardi Gras party pack, available at
Buycostumes
There's more to Mardi Gras than beads, masks and drinking! There are many traditions and activities that are just as fun, and tasteful, as some of the wilder elements of New Orleans in spring. Here's how to throw a Mardi Gras party that your friends will be talking about, long after the fun ends.
Traditional Mardi Gras Carnival Colors
The featured party pack includes all of the gear you need to feed your guests, and great party decorations, too! They're primarily gold, green and purple, the traditional colors of Carnival and Mardi Gras. The colors symbolize power (gold), faith (green), and justice (purple). A traditional Mardi Gras party must include this trio of colors.
Add to this party pack with additional decorations. The more glitter and splash, the better! Beads, balloons, glitter, confetti, twinkling lights, and more! Helium-filled balloons floating along the ceiling with ribbons hanging down transforms even the most blah house into someplace special. Even more than blowing up the balloons yourself, helium goes the extra mile! You can rent a helium tank from a party store, have the employees prepare them in advance, or even buy a disposable tank.
Invitations in the shape of masks, with feathers, glitters, beads to wear to the party, etc, will set the tone far in advance.
The King Cake
The tastiest part of Mardi Gras is, without a doubt, the King Cake. Traditionally, the cake is a cinnamon-type swirled coffee cake with icing and colored sprinkles. Some people like to fill their cakes with cream cheese or pralines. If you want to make your own, it is sure to be fun. But, also a lot of work.
The recipe follows, but if you don't want to make it yourself, you can also order one to be shipped to you from a New Orleans bakery. Some kits even come with decorations so you can create your own Mardi Gras masterpiece.
King Cake – Traditional New Orleans Recipe
Recipe from: http://www.mardigrasday.com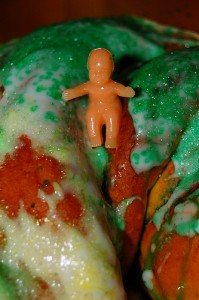 Image by
Photo Denbow
Ingredients
1/2 cup warm water (110 to 115 degrees)
2 packages active dry yeast
1/2 cup plus 1 teaspoon sugar
3 1/2 – 4 1/2 cups flour unsifted
1 teaspoon nutmeg
2 teaspoons salt
1 teaspoon lemon zest, this is lemon rind, grated
1/2 cup warm milk
5 egg yolks
1 stick butter cut into slices and softened, plus 2 tablespoons more softened butter
1 egg slightly beaten with 1 tablespoon milk
1 teaspoon cinnamon
1 small plastic baby doll
Directions
Pour the warm water into a small shallow bowl, and sprinkle yeast and 2 teaspoons sugar into it. Allow the yeast and sugar to rest for three minutes then mix thoroughly. Set bowl in a warm place for ten minutes, or until yeast bubbles up and the mixture almost doubles in volume.
Combine 3 1/2 cups of flour, remaining sugar, nutmeg and salt, and sift into a large mixing bowl. Stir in lemon zest.
Separate center of mixture to form a hole and pour in yeast mixture and milk. Add egg yolks and, using a wooden spoon, slowly combine dry ingredients into the yeast/milk mixture.
When mixture is smooth, beat in 8 tablespoons butter (1 tablespoon at a time) and continue to beat for 2 minutes, or until dough can be formed into a medium-soft ball.
Place ball of dough on a lightly floured surface and knead like bread. While kneading, sprinkle up to 1 cup more of flour (1 tablespoon at a time) over the dough. When dough is no longer sticky, knead 10 minutes more until shiny and elastic.
Using a pastry brush, coat the inside of a large bowl evenly with one tablespoon of softened butter. Place dough ball in the bowl and rotate until the entire surface is buttered. Cover bowl with a moderately thick kitchen towel and place in a draft-free spot for about 1 1/2 hours, or until the dough doubles in volume.
Using a pastry brush, coat a large baking sheet with one tablespoon of butter and set aside.
Remove dough from bowl and place on lightly floured surface. Using your fist, punch dough down forcefully.
Sprinkle cinnamon over the top, pat and shake dough into a cylinder. Twist dough to form a curled cylinder and loop cylinder onto the buttered baking sheet. Pinch the ends together to complete the circle. Cover dough with towel and set it in draft-free spot for 45 minutes, or until the circle of dough doubles in volume. Pre-heat oven to 375 degrees.
Brush top and sides of cake with egg wash and bake on middle rack of oven for 25 to 35 minutes until golden brown. Place cake on wire rack to cool. If desired, you can hide the plastic baby in the cake at this time.
Colored sugars
Green, purple, & yellow paste
12 tablespoons sugar
Squeeze a dot of green paste in palm of hand. Sprinkle 2 tablespoons sugar over the paste and rub together quickly. Place this mixture on wax paper and wash hands to remove color. Repeat process for other 2 colors. Place aside.
Icing
3 cups confectioners sugar
1/4 cup lemon juice
3 – 6 tablespoons water
Combine sugar, lemon juice and 3 tablespoons water until smooth. If icing is too stiff, add more water until spreadable. Spread icing over top of cake. Immediately sprinkle the colored sugars in individual rows consisting of about 2 rows of green, purple and yellow.
Whew, done! I haven't yet tried making this, but if you have, send me a picture! (For now, I found a tasty looking one from Flickr.)
Check out a more in depth article on king cakes, and another recipe
If you prefer to buy your king cake, here are some New Orleans Bakeries that ship:
Food for Fat Tuesday!
Cake might be enough to sustain some people, but for a rockin' party, you're going to want to have a variety of other munchies. Here are some other menu ideas:
Cheese straws – basically little tube-like crackers, they are tasty by themselves and paired with savory dips.
Creole shrimp – simply purchase some creole seasoning from the grocery and sautee shrimp in it. Serve with cocktail sauce.
Hot crab dip – served with buttery, toasty crackers, is a must. Any shellfish are at home on a Mardi Gras menu.
Jambalaya – this traditional New Orleans dish can be served to spoon into tortilla chip cups, for bite sized snacks. The mixture of chicken, sausage and shrimp makes this a meat-eater's paradise.
Pralines – just like the King Cake, this is a New Orleans specialty. Make your own, or buy from an authentic maker for your party!
Party Tunes
Mardi Gras music, with its mixture of Jazz, is unique to New Orleans. For authentic tunes, check out these music mixes, available from Amazon
:
The Best of Louisiana Music
, including:
Meet Me with Your Black Drawers On – Chuck Carbo
Hot Tamale Baby – Buckwheat Zydeco
Mardi Gras in New Orleans – The Dirty Dozen Brass Band
So Swell When You're Well – James Booker
Street Talk – Dr. John, Bo Dollis, , Willie Tee
Blues du Saoulard (Drunkard's Blues) – Mamou Playboys, Steve Riley
Watch That Dog – John Delafose, The Eunice Playboys

Or, try this MP3 mix – Super Mardi Gras
:
Mambo #5 – They All Ask For You
King Cake – Big Al Carson
Let's Party, It's Mardi Gras – Let'S Party, It'S Mardi Gras
Bourbon Street – Bourbon Street
The Second Line / The Back Door – Beau Jocque
The Mardi Gras Song – The Mardi Gras Song
They All Ask For You – They All Ask For You
The Soulful Saint – Just Chillin'
We Danced At The Mardi Gras – Just Chillin'
Just Chillin' – Just Chillin'
Take Your Drunken Ass Home – Big Al Carson (Every Mardi Gras Party needs this one!)
Games and Activities
You can keep the party family-friendly, or crank it up a notch. Everyone likes to acquire beads. Play a series of games with the winner receiving a strand of beads. The person with the most at midnight gets the grand prize—like a delicious box of truffles and a bottle of champagne, or something similarly special. Charades, trivia, a costume contest, and more are fun for everyone.
Have good food, good drinks, good tunes, and a great mix of people, and your party is sure to be a success. Go all-out for the decorations and prizes, and everyone will have fun. Happy Fat Tuesday!