Midnight Merriment: Ring in the New Year!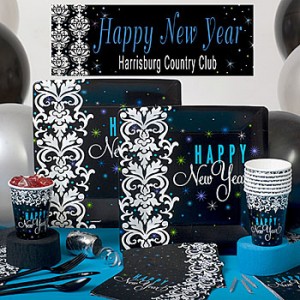 New Year's Eve Party Kit, available at
Shindigz
Start your New Year's Eve party at 7:00 pm, and you'll be worn out before the new year's here. To make it to midnight, start the party later, closer to 10:00 pm, and you'll still be going strong when it's time to toast. Keep the pace lively, the entertainment elegant, the drinks flowing, and the food plentiful. We've found that the key to a great party is plenty of food and drinks (including non-alcoholic options). With that under control, you and your guests can enjoy your gathering into the next morning!
Punch up the Party: Drinks
Obviously, you will have a midnight Champagne toast. Sparkling wines like Prosecco, from Italy, and Cava, from Spain are just as tasty as Champagne, and often less expensive. Sparkling wines go through a secondary fermentation process, resulting in the bubbles. Look for a sparkling wine labeled Sec or Brut. Sec is a little sweeter, but not cloyingly so. Brut is a bit drier, or less sweet. Both categories are good for a general champagne toast. Pick up some sparkling white grape juice or sparkling cider for those who want to toast without champagne.
If you want to offer punch, always a fun party drink, try one of these two recipes, and add a kick with vodka or rum.
SHOWER PUNCH
| | |
| --- | --- |
| Ingredients:  | Serves: 60 |
| 1 large box strawberry Jell-O | 1 large box raspberry Jell-O |
| 1 envelope strawberry unsweetened Kool Aid | 1 (13 oz) frozen lemonade |
| 48 ounce can pineapple juice | 2 qt Ginger Ale |
Mix Jello & Kool Aid as directed on package.  Add prepared lemonade & pineapple juice. Freeze in 2 containers. Take out of freezer 2 hours ahead. Chop up. Add ginger ale in large punch bowl.  Rum or whiskey works well with this combination.
Will serve 60 and fill punch bowl twice
CRANBERRY PUNCH
| | |
| --- | --- |
| Ingredients:  | |
| 1 cup sugar | ¾ cup lemon juice |
| 1 ½ cup water | 4 cups cranberry juice |
| 1 large can frozen orange juice (diluted) | 2 qt Sprite |
Boil sugar & water for 5 minutes. Add cranberry juice, orange juice and lemon juice. Freeze. Take out of freezer 2-4 hrs before using.  Add 2 qt of Sprite.  Chop until slush.  Add Vodka for a "Cosmopolitan Punch."
In addition to punch and Champagne, keep a fully stocked bar with lots of chipped ice, slices of lemons, oranges, and limes, olives, pearl onions, and mixers like coke, sprite, ginger ale, orange juice, club soda, tonic water, sour mix and grenadine.  Keep gin, vodka, tequila, rum, whiskey, vermouth and bitters.  Red and white wines, including dry and sweet give additional options.
Round out the drink menu with soda-regular and diet, caffeinated and caffeine-free, and water.  Two liters are economical.  Cans are easier.  Remember to recycle!
The Midnight Buffet
Staying up all night requires sustenance.  Prepare a mix of elegant hors d'oeuvres and comfort foods fit for the munchies.
You can buy your own party mix, or for much less money, you can make your own.  It's easy:
PARTY MIX
| | |
| --- | --- |
| Ingredients:  | |
| ½ lb margarine | 3 cups Cheerios |
| 3 ½ T Worcestershire sauce | 3 cups rice Chex |
| 1 ½ t celery salt | 3 cups wheat Chex |
| 1 ½ t onion salt | 1 pkg Pretzel sticks |
| 1 t garlic salt | 1 ½ cups mixed nuts |
Melt margarine, add Worcestershire sauce, celery, onion, and garlic salt.  Mix well and pour over other ingredients that have been mixed together in 2 shallow pans.  Bake at 275° for up to 2 hrs (until margarine is absorbed). Stir every 15 minutes.
PARTY SNACKS
Katie's family calls these "little pizzas," and always had these on hand for every party.  They're a more filling snack.  They aren't pretty, but they're tasty! They freeze well, too.
| | |
| --- | --- |
| Ingredients:  | |
| 1 lb ground chuck | 1 lb pork sausage (hot) |
| Loaf of party rye | 1 lb Velveeta cheese |
| Garlic powder | oregano |
Brown meat separately and drain.  Add cheese cut in chunks and stir until cheese melts, add seasonings.  Spread on party rye.  If you want to use later, freeze and put in plastic bags. 
When you want to use, put on cookie sheet at 350° for 20 minutes or longer, or heat in the microwave.
HOT DRIED BEEF DIP
| | |
| --- | --- |
| Ingredients:  | makes 2 dips |
| 1-8 oz cream cheese | ¼ cup sour cream |
| 2 T milk  | ¼ tsp pepper |
| 1-2 ½ oz jar dried beef (chop in blender) | 1 T finely chopped onion |
Soften cheese.  Add finely chopped dried beef.   Mix in remainder of ingredients.  Put in small baking dish.  Bake at 350° for about 15 to 20 minutes.
Serve with crackers
Miniature Beef Wellingtons
Keep some horseradish sauce on hand to serve with these.
Chop a beef tenderloin into 1 inch squares.  Wrap into purses of puff pastry.  Brush outside with olive oil and bake at 375 degrees until the pastry is golden.
Bacon Canapés
You can double, triple, or quadruple this recipe.  They will all be gone by the end of the night, guaranteed!
1 can of crescent rolls
8 oz of cream cheese
8 strips of bacon, cooked crispy
1 bunch of green onions, chopped fine.
Mix the cream cheese, bacon bits and onions.  Unroll Crescent rolls and split into four rectangles.  Spread mixture on one side, and roll up.  Cut into ½ inch discs.  Bake on cookie sheet at 350 degrees until the rolls turn light golden brown.
Party Favors
Some of the most fun New Year's events I've been to included a little favor bag at the door!  A party hat, party cracker (with a little trinket and a fortune), a noise maker, and well-wish for the new year.  Add an elegant touch to the party with top hats and tiaras for your guests!
Have fun wishing your guests the best with little fortunes in their favor bags.  Look online for inspirational quotes to write.
Pass the Time with Group Games
A New Year's Eve party is all about mingling.  Play games that encourage interactions.  The new game "Things"
is a great talking game.  So is "Taboo."
  Try Pictionary or Charades with New Year's themed ideas. 
Whatever you do, keep it hoppin'.  A soundtrack helps.  Here's our best New Year's Playlist:
Everyone has to sing Aud Lang Syne, but nobody knows the words.  Here they are.  Print them and hand them out for everyone to sing after the ball drops:
Auld Lang Syne, by Robert Burns
Should auld acquaintance be forgot,
And never brought to mind?
Should auld acquaintance be forgot
And auld lang syne?

Chorus:

For auld lang syne, my dear,
For auld lang syne,
We'll tak a cup o' kindness yet
For auld lang syne!
More songs:
"Funky New Year" by the Eagles
"1999" by Prince
"New Year's Day" by U2 
"Don't Stop (Thinking About Tomorrow)" by Fleetwood Mac
"Still Crazy after all these Years"  by Paul Simon
"Beautiful Day" by U2
"I gotta Feeling" by the Black Eyed Peas
"Right Round" by Flo Rida (or "You Spin Me Round" by Dead or Alive)
"You Shook me All Night Long" by AC/DC
"Viva La Vida" by Coldplay
"Bye Bye Bye" by N'Sync
Decorate to Celebrate
Your New Year's Eve bash will have extra flair with choice decorations.  The featured party pack has black, silver and blue as color themes.  Add some sparkle with blue and clear LED lights, which won't overheat.  Add a romantic feeling with tall pillar candles enclosed in glass hurricanes.  Balloons floating atop the ceiling, with ribbons hanging down add atmosphere.  For an extra treat, put a wish in each balloon, and send them home with your guests to pop.
Don't forget the mints!  Pass around a silver bowl of peppermints right before midnight, so everyone's kissable!  And, keep the phone number of several taxi-cab companies, and a cordless phone handy so your guests can get home safely. 
Happy New Year!