New Year's Eve Party Ideas for Kids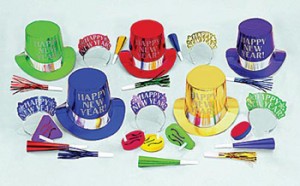 New Year's Eve party supplies, available at
Shindigz
Kids love New Year's Eve as much as grownups do, so if your youngster is asking to ring in the day with his or her friends, don't be surprised…be ready with the best New Year's Eve party ideas for kids!
Here are five simple categories to make sure your child's party is a sparkling success.
Invite
Have your child hand out (or have him mail) the invitations himself. Most school age children will also enjoy writing out their own invitations.
Your child can make the invitations himself easily by hand or by finding free card layouts online. Enclose a few pieces of confetti so that they fall out when the recipient opens the envelope. This will get the celebration mood going well in advance.
Here's a great idea for couples who aren't planning on going out this New Year's Eve: have your child's party be a sleepover. Parents will appreciate not having to drive late at night on a holiday, and the kids will love the excitement of "staying up all night."
Decorate
Balloons are an obvious choice; go to your grocery store or local party store and ask to have a bunch of balloons filled with helium (many stores have a tank for this purpose). (Party tip: Tie the balloons loosely in a bunch as a centerpiece; then, at midnight or at another appointed time, let the children release them so they float to the ceiling.)
Another centerpiece idea for the party table is a fancifully-shaped ice bucket or chip bowl (such as a black top hat). You can buy one, or have your child create her own by painting a plastic or glass dish other ornament.
Think confetti—this traditional New Year's Eve decoration goes with any party. Sprinkle it on the tables, make a confetti "path" from the front door to the party room and place it in dishes or randomly in all areas of the house the guests will be using.
Celebrate
Have fun New Year's Eve party hats ready for guests and hand them out as the children arrive. Choose traditional "Happy New Year" hats or try tiaras for a glam effect if your little princess will be celebrating.
Party horns or noisemakers are another traditional touch and will be a hit with kids who are used to being required to be quiet inside the house. (New Year's Eve is the one day a year they can break out and really yell!)
Play
Have a number of games available for your young guests. How about Don't Drop the Balloon (guests must pass a balloon between their bodies without using their hands), Find the Noisemakers (hide these in strategic places and let the kids hunt) or Whose Resolution is It (guests write one resolution each; your child reads them aloud and guesses are made as to who wrote them)?
Activities can while away the time until midnight, too. Take an empty tennis ball or other container and have your child lead his guests around the house to find small pieces to place in a time capsule. Write the names of all the guests on the container in magic marker and let them bury it in the yard the next day. This will be a memorable and special activity the kids will love to take part in.
Eat, Drink and Be Merry
Have plenty of snacks on hand. For your (and their!) own good, you may want to offer the children juice or water instead of soda and candy. Grab-and-eat foods such as popcorn potato or corn chips and toasted party mix are perfect.
Depending upon their ages, your guests may think they can easily stay up until midnight—but they may need something to help them stay awake. (If anyone drops off, though, don't make a fuss of it; gently lead him or her to the sleeping area.)
Have pre-printed, traditional songs (such as "Should Auld Acquaintance Be Forgot") ready with blanks for certain words. Call out "noun," "verb" or whatever the space calls for and let kids take turns randomly choosing words WITHOUT having seen the music sheets or knowing what the songs will be. Then have them gather around the finished product and sing their hilarious creation.
Movies and treats are great for keeping the party going. Choose age-appropriate movies and let the kids "camp out" in front of the TV for a watch-and-munch-fest. Before they (and you) know it, it will be a brand new year…and you'll have hosted one successful party!