New Year's Eve Party Invitations
An old year's done and a new one's begun…How do you celebrate the occasion? With a terrific party, of course! And since any great party starts with the perfect invitation, you'll want your New Year's Eve party invitations to be extra-special. Here's how to choose the best invites.
General New Year's Eve Invitation Guidelines
New Year's Eve is all about sparkle and celebration—so choose invitations that grab the eye.
The colors you choose are important; they'll reflect not only that this is a wonderful celebration, but also what style of party it will be (formal; informal; a dinner; a dance; etc.). In general, black will be included somewhere in a formal invitation, if not comprising the entire background.
Quotes and the font you choose will also help set the theme of your party. Traditional, fun and playful or highbrow can all be communicated with the right quote. Make sure the wording of your invitation matches the mood of your party.
Send your invitations well in advance of your party—unlike other occasions, there's just one day this party can take place, so people's calendars will fill up quickly.
Large, Informal Parties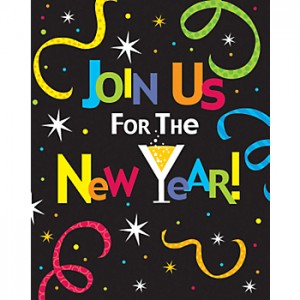 New Year's Invite, available at
Shindigz
If your gathering will involve more than 20 people but will be informal or semi-formal, select an invitation style that shows a party atmosphere with a note of playfulness. Corks popping from champagne bottles are a traditional style for this type of New Year's Eve party.
Look for either eye-popping color combinations (red on black, for example) or pale pastels (lavender; green) to hint at informality. (Note: most guests will "dress up" anyway; you're simply distinguishing your party from a black-tie affair.)
Formal New Year's Eve Gatherings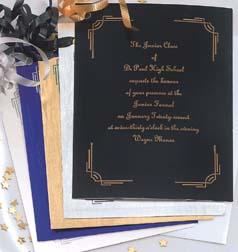 Formal New Year's invites, available at
Shindigz
A formal occasion calls for an invitation that reflects the atmosphere. Make sure your guests understand the affair will be black-tie (or semi-formal). This can be accomplished with wording, as well as other factors.
For example, an elegant, script-like font will show your invitees that the occasion will be dressed-up to the nines. So will imagery (particularly couples in formal wear) as well as classy and classic colors in gold, black or silver.
Family or Small Gathering Dinner Parties
Make sure your guests know how to dress for the dinner by indicating the attire in the wording of the invitation, or by the style of the invitation itself.
Also be sure to indicate that after dinner there will be a party (if you plan on counting down the clock at midnight with your guests).
Your Own Unique Style
Some individuals really show that individuality by selecting New Year's Eve invitations that think outside the traditional box. How about an invite that shows artwork by your favorite painter? Or a theatre ticket "admitting one" (or one and a guest) to the party? Or even a photograph or yourself or your family?
Choose imagery from something you love (jazz or other music; fancy scrollwork or comedic, relaxed and fun invite decorations).
Your party invitations will let guests know how much fun you're planning and will guarantee they'll want to be a part of it this New Year's Eve.