Party Newsletter – April 2012
April 2012
In This Issue…


April Fools Day! A "Sort-of" Sushi Recipe
This hilarious (and very very tasty) recipe says "April Fools!" in the sweetest possible way. Serve up this dish for a hilarious April 1st party or give it to your family as a dessert (or was that dinner?). Yum. Read on.
Chocolate "Sort-of" Sushi
Ingredients:
16 oz. prepared sculpting white
chocolate/modeling chocolate
blue and yellow food coloring drops, or green food coloring drops
1 c. uncooked white rice (cheaper is actually better, because you want a sticky rice)
2 c. clear colored grape juice
one green pear, slivered into julienne style strips
2 oz. orange-colored honeydew melon, in 3/4″ long wedges
one jar halved maraschino cherries
You will also need:
a rolling pin
a flat surface
wax paper
Instructions:
1. In a medium sauce pan, bring the grape juice just to a boil on the stove top on high heat; reduce heat immediately. Add rice. Cook per the timing on the rice box's or bag's directions.
2. After rice is fully cooked, remove from the heat and allow to sit for 10 minutes, then WITHOUT fluffing the rice, remove it to a bowl and refrigerate until cool.
3. Knead the sculpting chocolate per the package's directions. As the chocolate begins to soften and become pliable, begin adding your food coloring, two to three drops at a time of green or one drop of blue plus one drop of yellow at a time. Knead until you have a deep green color — this will be the "nori" (seaweed). Do NOT over-knead.
4. Roll out the chocolate into 1/8″ thinness onto wax paper.
5. Scoop rice onto the chocolate. Add your cherry pieces on top of the rice in a row all the way down the length of the chocolate. Roll the entire piece up. Place immediately in refrigerator and leave for approximately 20-25 minutes.
6. Remove from refrigerator and cut into "sushi bites," cutting down into roll to make bites that are about 1.5″ wide.
7. Place one honeydew melon slice onto each bite; press in slightly on one side. This is your "lobster" or seafood for the sushi. Decorate with the pear slices around the melon slice.
8. Plate and serve. You can even use chop sticks if you'd like. Fun!
NOTE: If you're nervous about handling your chocolate too much, use regular modeling chocolate and sprinkle the roll on all sides with coconut. This makes a cute alternative and cuts down on your prep time.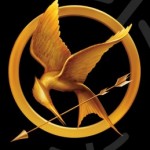 Are you hungry (and dying) to gather your fellow Suzanne Collins fans and celebrate The Hunger Games with an awesome party? Give it a shot and try out these fun ways to honor one of the coolest book trilogies, and movies, of the decade. We'll help you with these surprisingly easy and inexpensive ideas for hosting a Hunger Games party. Pack up your gear — we're off to THE hottest party of the year.
Set the Mood With Hunger Games Decor
PARTY STYLE ONE: Think industrial.
District 12 is a mining town that's under the thumb of a government that demands 100% cooperation. If you read the book, you already have some good mental imagery of District 12, or Google movie stills.
How to create this look:
Buy one small packet of black clothes dye. Find several old bed sheets (plain — no patterns); any light color should do). Follow the directions on the clothing dye, using only 1/4 of the packet. Wash AGAIN in REGULAR water (no dye) with no laundry detergent. Dry the sheets in the dryer, then hang on your windows and cut into strips, or hang over furniture.
Hang a map of Panem on the wall. There's a clickable image in this Lens, or Google map+of+panem.
Use metal or faux metal for cups, forks, spoons, etc. for an industrial look. Check online for "metal-look" plastic tableware. Very inexpensive and very cool!
Choose a black, gray or silver tablecloth. Chic future-distopia grunge look!
Hunt the attic or garage for inexpensive wire or old cables. (We have tons of old computer cable we never use. Voila!) Hang along the walls, dipping down. Draped exposed "wire" is perfect for impoverished but carefully watched District 12.
Dress in coal miner-type clothes: blue dungarees, black smudges on your face, gloves, etc. Your local Goodwill or thrift shop are great places to costume hunt.
PARTY STYLE TWO: Get into the Arena.
The Arena in Book One (The Hunger Games) is natural looking, though it's full of boobie traps, lethal animals and other horrors. It's easy to create a "woodsy" and lake style look in your home, and you can even add a dash of dark humor.
How to create this look:
Most of the arena that is utilized by the Tributes in Book One is forested. Hang lots of green crepe paper or green and brown yarn from the ceiling.
Visit your local dollar store's floral section. You may find faux vines that look surprisingly like the real thing. Hang these for a very realistic look.
Everything in The Hunger Games, except what the Tributes managed to steal from the Cornucopia or each other, was makeshift. For party food containers, uy some cheap woven bowls and plates. Rough them up a bit; poke holes here and there, bend them slightly or rough an old hairbrush against them.
Continue Reading about Hunger Games party ideas
Fun and Easy Party Game: Easter Pictionary
Having an Easter party for your little one and her best buds? Try this cute and engaging game everyone will love. Here's how to set up the game:
If you've ever played Pictionary, you know the gist of this game, but if not, here's the party 411: Pictionary is a game where players partner up. Players draw cards and receive a word or phrase, which they don't share with their partners. The first player then must draw his or her interpretation of the phrase. His partner has to guess the phrase. This can be quite hilarious. Turns are timed.
For Easter Pictionary, print fun Easter and springtime words and phrases down a document; print on cardstock and cut apart into cards. Make sure you have plenty of phrases for each pair of guests to take a few turns. Now grab a sand timer from one of the board games in your closet and time each pair as one draws and the other guesses. Once the sand runs out, the team is done whether they guessed correctly or not.
The partnership with the most wins is the victor. By the way, grown-ups can play this game at an Easter gathering, too. You may want to amp the winners' reward a little — for instance, a $10 gift certificate each at a local spa or eatery.
Choose whatever phrases you'd like. You know your audience. Simple ones would be "Peter Cottontail," "black jellybeans," "marshmallow Peeps," "rain shower," "spring holiday" and "egg hunt."
Don't worry about your drawing skill or the talents of your guests in this area. With Easter Pictionary, the less professional the drawing, the more weird guesses and laughter are sure to ensue. This game is really hoppin', so have fun!
Make a Prank April Fool's Day Party Invitation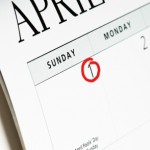 As the recipient of one of these, I can tell you it really is a surprise. You can do this whether you're actually having a party or not, as long as you're sure the recipient will get that it's just for "Fool's Day."
The idea is that you're sending an invitation with very important information on the inside — but the invite is glued shut. Yes, this idea really did fool me. (Ducking head in shame.) That's why I'm passing it along to you. April fools!
You will need:
a piece of foldable card stock or any medium to heavy weight paper
a formal or very cool font (Google for freebies if you don't have one)
formal/fancy card decoration imagery to download (again, Google or Bing for this)
school glue
Instructions:
Download beautiful invitation clipart and choose a pretty border for the text. You're free to use your own choices for this.
Put text in the middle of your fancy border. Make the wording party-formal or semi-formal. An example is, "We invite you to share in our happiness as we celebrate (birthday, anniversary, etc.) for (person's name). Dress: evening. Look inside for details on the party of the year at a masqued ball."
Now set up text to print on the back side of the card. If you have a cardmaker program, it will show you your parameters. If not, do a separate document and when printing, put the paper in once for the front half, turn around and print the back half. You guessed it, the print on the back says "April fools!"
Now, of course, you will fold the invitation so it opens card-style. However, you will glue the entire inside border of the card area so that it is glued tightly together on all three non-folded sides.
That's it! If you don't want to seriously disappoint people and you're not sure of your recipient's style, simply send a "Happy spring!" card with cute springtime or Easter imagery on the front and "April Fools!" printed on the back.
Simple, creative fun on the cheap — our favorite kind. Happy April Fool's Day!
The Best Kept Egg Coloring Secrets (Shhh)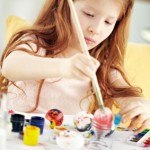 Confession time! Okay, so I don't like to call myself competitive about the holidays or anything. But you should probably know that last Easter was the first year I allowed my 14-year-old nephew to use white crayon on his eggs without placing my hand over his.
Yep, we're perfectionists over here. While we work all that out, let me help you to indulge in your own perfectionist side with these tips for the most awesome Easter eggs ever.
* To perfectly hard-cook an egg, place eggs into a saucepan, then add water just to the top of the eggs. Bring the water just to a boil. Cover; turn off heat. Allow eggs to sit for 18 minutes for large or extra-large eggs. Remove from water using a slotted spoon or salad tongs. Place in refrigerator to cool completely.
* Ditch the $2.00 egg dyeing kit (sorry, Paas) and buy food coloring paste at your local gourmet cooking or crafts store. Your colors will be deeper and more dramatic.
* Before taking the eggs out of the pan to cool and again before handling them to apply the color, wash your hands in warm, SOAPY water. Oils from your fingers on the egg shell could cause blotches and uneven color.
* Try unique paint colors. For instance, make a little family by painting eggs in a flesh colored paint. Draw on eyes, a nose and mouth with marker (be gentle) and glue a little crochet yarn for hair. Or try striking gold colored or marble effect paints. Download a damask clipart piece, cut out the black area for a stencil and dip the black over a gold colored egg. Experiment.
* Make gradations of a single color (ombre for eggs!). First dip the entire egg in your color and allow the color to take to a soft, pastel depth. Dry. Bend wire into an egg dipper shape if you don't have an old dipper lying around. Place the egg into the dipper and dip ¾ of the way back into the dye for 30 seconds to one minute. Take out and dry completely. Now place back in ½ of the way and dry, then ¼ of the way. The end result is a really amazing and very easy effect.
* If you're going to blow rather than cook your eggs, shake the raw egg very firmly in your closed palm 8-10 times before placing a ⅛" hole in the round end and then another ⅛" hole in the pointy end. Shaking the egg breaks up the yolk so that less force will be necessary, saving both your lungs and the egg's shell.
* For the well-seasoned and very confident, Google or Bing! Ukrainian Easter eggs (pysanky). These are trickier, but they're amazing, and each will become a keepsake.
Theme Party of the Month: Easter Egg Decorating Party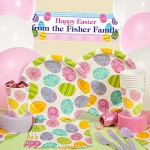 One of the great traditions during the Easter holiday is the decorating of eggs. We have a lot of fun at our house, as our preschool kids are quickly learning the art of "mashing dye all over the egg until it's a muddled mess!" Okay, so it'll take a little time for they're little Martha Stewarts.
In the meantime, here's a fun idea for an Easter party – both for family, friends, and kids. It's a fun way to invite a couple of you or your child's friends over to spend an afternoon decorating eggs …
Continue reading about the Easter Egg Decorating Party …
Next issue in early May. Happy Easter!