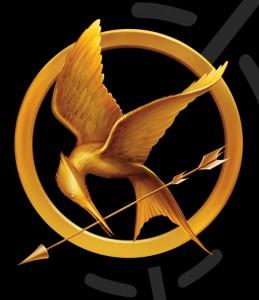 The Hunger Games makes for a very creative and exciting party theme. You have the choices of costume, from Katniss's hunter-chic dress to Effie's over the top circus-like outfits. You also have a wide choice of foods (how ironic), games (non-lethal in this case), and scenery props such as the industrial stone and coal mines of District 13 and the opulent theatrical settings of the Capitol.
I freely admit to being the adult nerd who ran, not walked, to The Hunger Games movie premier. As a fan of the books by Suzanne Collins, I just had to know whether the movie stacked up. And now I'm madly clicking Amazon to grab the Blu-ray
!
I was amazed at how well the movie really did capture the spirit of Book One of The Hunger Games trilogy. There are a few differences, but I won't give out any spoilers.
Just know that whether you base your Hunger Games party on the book or movie, you can't go wrong with the following tips. Have fun planning your party, and may the odds be ever in your favor!
Warm Up Your Guests With a High Tech Scavenger Hunt
A very cool way to prep guests for your Hungers Game party is to get them involved ahead of time. How about a Hunger Games scavenger hunt? This is fun for every age group, so if you're having a "grown-up" party, don't be shy about introducing this playful yet competitive idea (it's better than piling everything together and having your guests kill each other!)
Guests can compile their found "treasures" without touching a thing – just have them take pics on an iPhone and bring to the party. The first guest to arrive with the full list completed wins.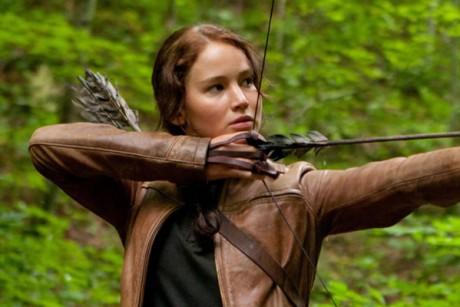 There are actually two ways to do this. One assumes that your guests all have smartphones with scanning capabilities. The other is simpler and only involves shooting images.
1. For your first option: create clues as to what you want your guests to find. The clues themselves may or may not be Hunger Games specific, but the actual objects should be. For example, "Aluminum, not tin…to keep chili in" would be a can of chili (naturally). (Canned foods figured into the third Hunger Games book as a lifesaver for Katniss' group.) Or "She wears it down to there…a cool twist on hair" could be a woman or girl wearing a braid — be sure to let guests know to only take personal pictures from the back.
Other items to find might include berries, a loaf of fresh-baked bread, something black and orange, a dandelion, a parachute, the number 12 (for District 12), a canteen or other item that holds drinking water, etc.
Once you've created all your clues, start snapping pics that give hints to the clue. Then scan the clue into bitly.com. Participants will click on the qr code, which is automatically created when you scan the pic. When they open the code on their own phone, they will see the clue. Once a participant finds a match in real life, he takes a pic on his phone. The first person to the party with pics of all the items wins a small prize.
2. An easier way to do the above is to forgo the clues and instead, on the morning of the party or the day before, text a list of items for your guests to find. They then take pictures, which can generally be done on any cell phone. As above, the first person to arrive with images of all the items is the winner.

"Panem"ate Your Party Location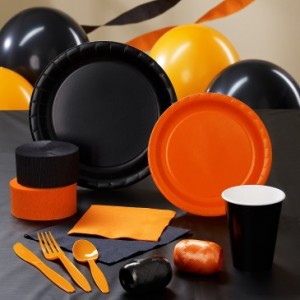 Black and orange
, the colors of The Hunger Games
In general, go for lots of orange (for the fire imagery in the books and movie) and black. You can also base your decor theme on a certain aspect of the stories; for example, industrial, gray, ripped/torn and poor for District 12; green and leafy for the Book One Arena. Or go upscale with decor based on the oh so upper-crusty Capitol.
A great Wiki outline of the Hunger Games "universe" can be found here. Grab some ideas based on the various Districts and industries in the world of The Hunger Games.
Here are some other decor ideas to get your creative juices flowing:
This propaganda poster is simply awesome. Staggeringly so. Look for other fun put-togethers like this on Google or Bing. Print them out and hang them on the walls.
Make parachutes, just like the "gifts" tributes hoped to get during the Games. Fold a piece of aluminum into a square measuring approximately 6″ on each of the four sides. Crumple slightly; push in to form a cup shape. Tape or glue strings inside the cupped foil, tying together the loose ends at the bottom. Tie a small box to the bottom as the token's small gift from his or her District. Or tie on a piece of bread, an empty pill bottle or an empty water bottle (this might be too heavy if filled).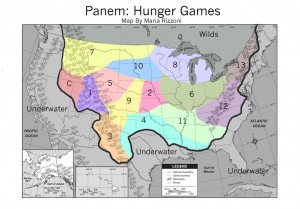 Well researched map of Panem, by
(Click to download)
Print out this gorgeous, and book-accurate, map of Panem. Buy a cheap frame at your local dollar store. Frame the map and hang. Here's another option for your map: The Arena from Book One/the movie. Hunger Games fan sites have loads of these; just make sure you don't use them for commercial purposes or post pictures of them without crediting the artists or the page.
Buy inexpensive greenery on clearance at WalMart or Target or search the dollar store for finds. Drape greenery everywhere to imitate The Arena.
"Grey" some old curtains by soaking them in boxed black dye for half the recommended time, then double-rinsing. Dry on the cotton or heavy setting so they wrinkle and get a bit mussed and used-looking. Hang in your windows to imitate District 12.
Easy option: Google and print out images from the movie; tape to your walls, or fold the bottoms and stand them up on tables.
Put a few lumps of "coal" around for District 12 decor. Take charcoal briquettes outdoors or place in a secure plastic bag, and smash into chunks with a hammer. Scatter the chunks around centerpieces. Don't leave these too close within touching range, especially if children will be at your party. It's not healthy for little ones to touch briquettes and then possibly place their hands in their mouths or rub their eyes afterward.
Hunger Games Party Costumes: Come Dressed to Kill
You know you want to make this a dress-up party. Here are some quick suggestions for your favorite Hunger Games characters:
To be Katniss Everdeen: Wear a black hooded jacket, green cargo pants, a plain black tee-shirt, and brown combat or hiking boots (look in thrift stores for these, especially the boots, since you want them to look worn.) Of course, you'll also need to braid your hair and put on your good-luck mockingjay pin.
To be Peeta Mellark: You'll need a little styling wax or gel in your hair to get a shaggy "Peeta" look. Wear black or dark khaki green slacks and a plain black, close-fitting t-shirt. Wrap a bandage around one leg. Carry a canteen or wear a backpack.
To be Gale Hawthorne: Wear "camo" (camouflage) colors, including a sleeveless vest. Carry a bow and arrows (a cheap novelty set is probably fine; look on Amazon for choices). Sling a faux dead animal over your shoulder (as Gale's just caught game).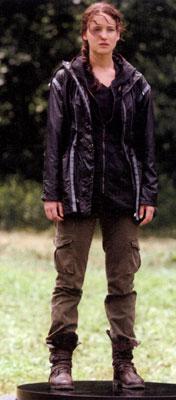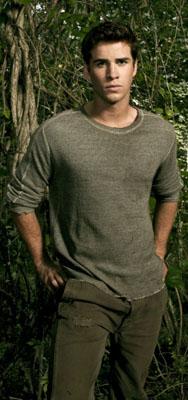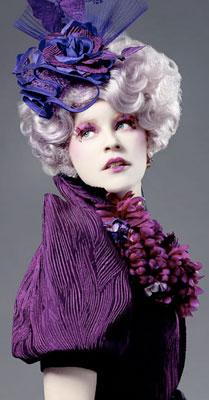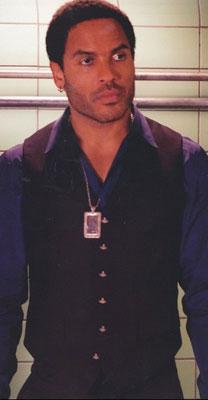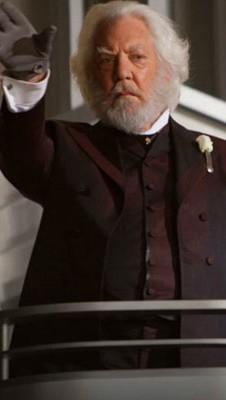 To be President Snow: Choose a vintage/retro black or dark colored suit (look in thrift stores). Also wear a white wig and glue on a white beard and mustache using novelty glue-on facial hair. Put on gray or white short gloves. Don't forget the white rose in the breast pocket!
To be Cinna: Apply Cinna's signature gold eyeliner; if you don't have much practice in this, ask a girlfriend, sister or mom to help. Dress in a black or dark blue shirt with a black, sleek vest. Look in thrift stores or a dollar store for a dog tag style/rectangular necklace. You can also wear a sleek black jacket, long if possible.
To be Effie Trinket: Certainly the most (over)dressy character in the movie, you can don a pink, light blue, lavender or or tangerine wig and a matching colored 80s style shoulder pad skirt suit. Here again, your local thrift shop or Goodwill is your friend. Go for overdone babydoll makeup and a light colored skin foundation compared to your skin tone. Put something big, flowery and overdone in your hair or wig. High heels are the finishing touch to this outfit.
Effie Trinket wears so much glam makeup, there's a video tutorial below you can view:
For a simple Panem citizen look:  Buy a Hunger Games t-shirt and wear that to the party. A mockingjay pin is an even easier and cheaper way to show your love of The Hunger Games. A coal miner outfit would certainly work too, or anything that says "hunting", such as khakis, boots, and leather vest.
For added inspiration: Read this cool interview on how the movie's costume designer came up with clothing for the first movie.

Awesome Foods for Your Hungry Bunch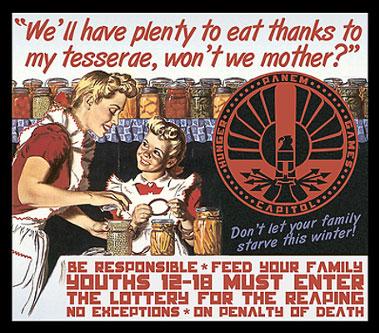 It may be called The Hunger Games, but you want your guests to leave your party stuffed, satisfied and happy! (Hey, they all made it to The Capitol for the best in extravagant and decadent foods!)
One site we love is fictionalfood.net. Look for their Hunger Games category. Some of these recipes are a little, shall we say, ambitious — but even if you aren't a master chef (or don't have a hog around to roast), you can get great ideas.
Also check out this fun resource for Hunger Games party food recipes.
A great option if you're having a lunch or dinner party is to serve Katniss' favorite Capitol dish: lamb stew with dried plums. The recipe is making its rounds on the internet in various incarnations. I like this one. Try it out — yum. If you're not a fan of lamb, substitute beef, chicken or pork.
In Peeta's honor, definitely buy a delicious, warm loaf of fresh bakery bread. Sweet flavored breads are even better, such as cinnamon bread or even a bread pudding. You can even make your own; here's a basic no-yeast recipe. Because food decor was Peeta's bakery specialty, you'll want to drizzle your finished bread with icing and add pretty edible candy pieces in flower shapes.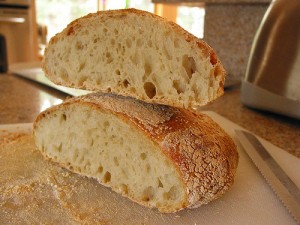 Yum, especially when burnt and thrown out in the rain! Image by
Sierravalleygirl/Flickr
For Prim, serve warmed goat cheese over greens that look like they could have been picked in District 12. We suggest arugula, dandelion leaves or fresh spinach (yum).
Of course, not every Hunger Games party food has to be a recipe, complex or not. How about some coal shaped candy? Cheap dollar store canteens guests can fill with fresh bottled water? Skewered "game" (buy pre-cooked, ready to heat kabobs)? Decorated cookies (Peeta's first gift ever to Katniss) from a bakery are another delicious little to no-prep option.
Voila! You've put together one delicious — and adventurous — Hunger Games party. Invite all your friends; nobody will want to miss this awesome and very, very fun shindig.