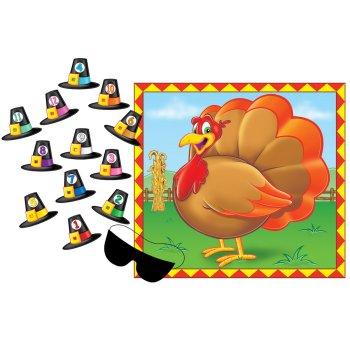 Kid's Thanksgiving game, available at
Buycostumes
The excitement of Halloween is over and Christmas is still weeks away. How to keep the kids active (and busy) in the meantime?
The answer is not only easy, it's fun: let them help you plan a kids Thanksgiving party! Teachers in particular will love this project as students get involved with a classroom party. Give each child an assignment or let them work in groups, and have a holiday bash they'll remember.
Inviting Guests
You may wish to invite other classrooms to your party or, if that's too cumbersome, give each child one "ticket" for a family member to attend your Thanksgiving banquet. Mom, Dad, a grandparent or favorite aunt or uncle will find it an honor to be asked "to table", and you'll limit the total number of guests.
Have kids fill out their own invitations for guests (you can buy these pre-made or have the children make their own). Split them into two groups so they can also "invite" one another.
Little Chefs
Plan your meal with easy to prepare finger foods if possible (except for the turkey, of course!). You yourself may want to provide the bird—buy a pre-cooked breast and cut it into small slices for economy and ease—but have each child bring one side dish or dessert.
Ask children to select from a list of foods, or tell the you will welcome suggestions from home. Be sure you know in advance what type of food each child will bring so you know whether you have space, what may need to be kept warm and other considerations.
Here are a few ideas for a children's Thanksgiving potluck:
pie, sliced at home (or slice it yourself—don't leave this to the child)
finger-food appetizers (frozen; heated at home)
Class Project
Children will also enjoy setting the Thanksgiving table by themselves. Have them create and/or color their own place mats and put out the cups, plates, napkins and plastic dinnerware (your safest and easiest bet for a large gathering).
Decorate the room by having children cut colored cardboard or paper into leaf and acorn shapes and tape them to the walls and the serving table.
Don't forget the tablecloth—in the excitement of the day, spills are inevitable. Make things easy on yourself by going with a disposable paper cloth or plastic, which wipes easily.
Fun for Everyone
With all that excess energy, you'll want to have an activity or two lined up for your little ones. Try these party ideas:
Turkey hunt: Make a turkey out of cardboard. Have one child be the "hunter"; he or she leaves the room while the other children decide upon a hiding place for the paper turkey. The hunter must find the turkey within a certain length of time (say, two minutes) with the other children saying "hot!" if he gets closer to the hiding location, and "cold!" if he moves farther away.
Pin the feather on the turkey: Buy a premade game or create one with the help of your students. Blindfold children one at a time and have them try to tape a paper feather to the correct location. Each child who participates gets a small prize; the closest to the right area gets the "grand prize" (a small toy or bag of candy).
Dressup: Have children come in costume—as pilgrims, Native Americans, leaves, pumpkins or other signs of autumn—and have a costume contest at the end of the party.
You'll be surprised how much youngsters love to chip in and lend a helping hand with this fun activity. Don't forget cleanup: have each child be responsible for his or her plate, and ask for volunteers to wipe down the tables after the meal is over. Happy Thanksgiving!