Celebrate your next occasion with a retro fun Sock Monkey Party! Nobody knows the exact origin of these fun and funny toys made from red heeled socks, but instructions for making the funny monkey have been packaged with Red Heel socks since 1955. Of course, you don't have to make your own sock monkey to enjoy this theme, though. Here's how to throw a sock monkey party perfect for children's birthdays and baby showers. Invite guests to "swing on by" for food, fun, and some monkeying around.
Today, Fox River Mills of Iowa makes the socks, as well as the Sock Monkeys, which you can buy to this day. There's also a festival every March in Rockford, Illinois, where the socks were originally made.
Invitations
The party pack comes with great sock monkey themed invitations. I myself have bought custom invitations from Ebay with no problems. There's people who offer their artistic and printing services and will print up and mail you custom invitations. Check out the listings for Sock Monkey personalized invitations
and try it out!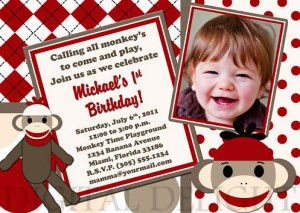 If you want to try making your own creative invitations, here are a couple of ideas.
Banana peels
Make cute invitations shaped like bananas. Cut two pieces from construction paper–the banana peel and the banana. Use a hole punch to punch a hole in the top of both pieces and secure the pieces together with a brass brad so that the "peel" (the top part) will move from above the banana (the bottom part). Write the party details on the banana.
Monkey faces
Make a monkey face invitation with "mouth" that opens up to show party invitation details. Look for clipart and printables online to create your one of a kind invitation.
Sock Monkey Party Decorations
You can't go wrong by starting with the Sock Monkey Party Kit from Birthday Express. This kit has everything you need to get the party started, including the essential plates, cups, place mats, birthday candles, curling ribbon, balloons, a tablecloth, and more. They've paired the cute Sock Monkey face with a red and white polka dot pattern, which gives us some other ideas for cute decorations.
Other fun ideas:
Color-coordinate with your sock monkey decorations by adding extra touches for a festive party. Choose decorations in red, white, and black colors for accents.

 Monkey Party Food
Banana splits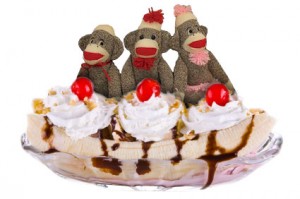 What's better for a monkey party than banana splits? Make sure you have all of the toppings handy for scrumptious sundaes: hot fudge, pineapple, strawberry, caramel, butterscotch, chopped peanuts, whipped cream and cherries! Don't peel and split the bananas until you're ready serve them, or the bananas will turn brown.
Monkey munchies
Make a buffet of yummy treats. Include banana chips, monkey vines (red licorice), root beer barrels, malt balls, and other tasty snacks.
Chocolate covered bananas
If banana splits are a bit over the top for you, make chocolate covered bananas ahead of time. Leave some plain and dip some in chopped peanuts.
Monkeying Around (Games)
Pin the Tail on the Monkey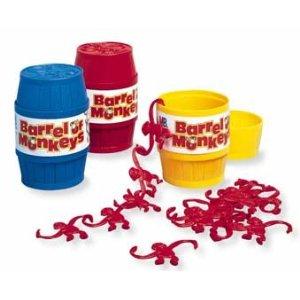 Just like "pin the tail on the donkey" you can play this game with a sock monkey or a paper cutout of a monkey. If you play with a real sock monkey, use velcro for the tails. If you use a paper cutout, pre-tape the monkey tails. Put a bandana on each player and spin him or her around three times before letting them go!
Toss the Banana
You can play this two ways: as a toss (like an egg toss with partners) or throwing the banana through a ring.
Barrel of Monkeys
Whomever makes the longest monkey chain wins the prize!
Monkey Puzzles (Crafts)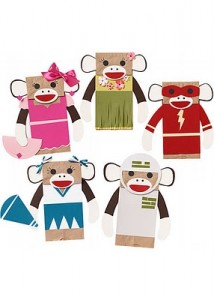 Sock Monkey Puppets
Encourage guests to make their own monkeys to take home. Get brown paper lunch bags for the puppet body. Cut out the parts to the monkey face out of construction paper ahead of time. Provide glue sticks for gluing everything together.
Or, if your party guests are particularly young, glue the monkey faces on the bags before the party, and let guests add accessories of party hats and clothes to the puppets. Make sure to provide googly eyes and red pompoms for the monkey hats!
Sock Monkey Dress Up
You can make your own sock monkeys by following the instructions here (the original) or here (a craft with pictorials). Or, to make it easy on yourself, you can buy sock monkeys at Amazon and provide a variety of fun bits of fabric, little party hats, and other fun supplies for the little ones to dress up their monkeys. Check craft supplies stores for interesting accessories.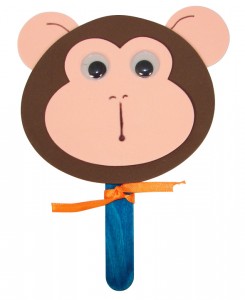 Monkey Cookie Decorating
We're big fans of cookie decorating! Sure, it's messy, but it is also lots of fun. Make monkey-shaped and banana-shaped sugar cookies. Provide icing and sugar sprinkles in shades of red, white, brown, and yellow. Get ready for a tasty mess! (You can find cookie cutters on Amazon)
Monkey Masks
Make monkey masks out of paper plates. Before guests arrive, cut holes for the eyes and glue tongue depressors for handles at the bottom of the back side of the plates. This gives guests a head start on the craft. Depending on the age of the party guests, you can pre-cut the rest of the pieces of the monkey faces so that guests can just glue the masks together. Cut some red yarn for pom pom hats. 

Goody Bags
Here are some fun monkey-themed ideas for your Sock Monkey Party goody bags.
This is the one time the kids can monkey around without getting into (too much) trouble. Have fun!