My Little Pony Party Ideas
In a little girl's world, what's better than playing with a friend's hair? The answer: playing with a toy's hair (after all, the toy never complains).
The My Little Pony series of toys
and shows is so appealing because it combines two things any budding fashionista loves: horses and glitzy glamor. Each Pony is gorgeous, colorful and has a long, flowing, brushable mane and tail, plus accessories.
If your little girl is begging for a My Little Pony Party, go for it — it's so easy and so much fun. Come to Ponyville and get your party off to a gallop with the following ideas …
My Little Pony Party Invitations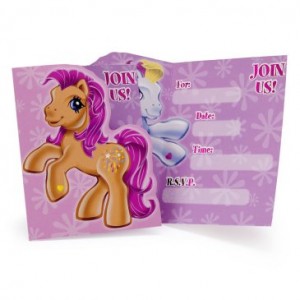 Lucky you, there are officially licensed My Little Pony invitations out there to save you time and aggravation. They can be had on the cheap, too. Buy them within a My Little Pony party pack and you're really raking in the savings.
If you decide you'd rather make the invitations, buy some pretty, glittery stickers. Set up a document in your computer or help your little one create her invitations by hand. Print an image of your child's favorite Pony, along with "X is turning 6!" Allow your child to decorate the front of the invitation with stickers. The party information should be printed on the inside.
One more cute DIY invitation idea: buy rainbow colored lollipops or rainbow colored stick candy. Tape the candy to the back of the invitation and hand-deliver, or if the candy is small enough to be completely covered by the card, you can go ahead and mail.
How Pinkie Pie got her "cutie mark" … sort of!
Choosing Colors and a Style for The Party
Rainbow colors just scream "My Little Pony," so choose lots of pretty "girl" colors for your party: pink and magenta, lavender, sky blue, sunny yellow, etc. Mix pretty pastels with dramatic jewel colors.
You might want to choose either a carnival or fair theme for decor and activities; both are perfect for a pony themed party.
The Ponies themselves are a child-fascinating combination of playful and glitzy-glamorous. Aim for this feel in your decoration theme as well. Here are some ideas:

Party Decorations: Think Pink 'n Pretty
Put up plenty of hearts, rainbows and flowers in the party area. It's easy to download pics and print them, then cut them out and hang them on the walls. Or sit down with your child and have her help you color My Little Pony images (if she's old enough, she can draw freehand, or look for black and white images she can color).
Hang loads of pretty, whirly swirly items from the ceiling. Curl long pieces of ribbon in your party colors and hang them. To the bottom of each, glue or staple a printed picture of one of your daughter's favorite Ponies from the collection so they swirl and float as guests walk by.
Hang white mini Christmas lights around the area for sparkle.
Look in your local dollar store's garden section for dollar pieces of trellis or a garden arch. Also pick up bunches of fabric flowers and lengths of ribbon in lavender and blue. Set up the arch near your doorway, in your backyard if you'll be hosting the party there, or if buying a very small arch or using one trellis, on the party foods table. Thread flowers and ribbon through the arch.
Print out a picture of all the major characters and hang around the party area – Pinkie Pie, Rainbow Dash, Fluttershy, Applejack, Rarity, and Twilight Sparkle, for example. Don't forget Princess Celestia and Princess Luna, co-rulers of the magical land of Equestria.
Cross aqua blue, purple, or two other colors of crepe paper over each other and begin twisting loosely. You'll wind up with a two-colored garland. Tape the garland across the entry to the party area.
Set up a tea party style garden. This works for an outdoor party in good weather. Set up mini child's tables — ask friends to borrow theirs, or find out about inexpensive local rentals. Set out child-size chairs. Drape pretty tablecloths over each table. (For a small party, you may only need one table.) Set out My Little Pony cups and napkins along with iced tea. Also set out small cakes, finger sandwiches with the crusts set off, cookies, pretzels, etc. Find more ideas in our Princess tea party guide, which you can incorporate here.
For a carnival pony theme, outdoors is best, but you can make this work indoors too in a pinch. Tape pictures of popcorn boxes up on the wall. Play fun carnival style music. Hang a multicolored parachute from the ceiling as a "big tent." A fair theme will be similar; add some cute signs you make yourself by gluing cardboard rectangles to cheap wood dowels or plastic garden spikes. The signs should say "The fair is this way!" with an arrow, "Welcome to our pony fair!", "Welcome to our carnival," etc. Consider renting a popcorn or cotton candy making machine if you have the room.
Pony Party Foods
Serve carrot sticks and apple slices for a healthy party snack. (Horses love carrots and apples.) To make these more "fun" to eat, buy the single-serve pre packaged apples and baby carrots.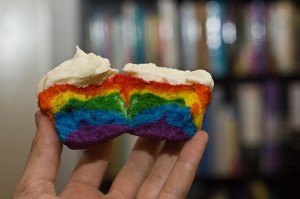 Rainbow cupcakes. Get fancy if you'd like; this cupcake has five colors. See recipe below for details. Pic:
Jess and Colin
, Flickr
Pink or lavender anything is great for this theme. Think pink or purple icing on cake, cupcakes, cookies, etc. There's pink lemonade, or cut grapes in both red and purple, grape juice, and pink or lavender candies.
Buy horse-shaped cookie cutters and make cute pony cookies out of prepackaged dough (it's usually in the refrigerated section near the dinner rolls). FUN ACTIVITY: Have baked pony cookies ready for guests to decorate. Sit guests down to a table with bowls of icing, nuts, raisins and candy pieces and encourage them to get creative.
Have a lot of girls-just-want-to-have-fun foods. Pizza, pretzels, chips and nachos go a long way toward making guests happy and can be very inexpensively bought or made. Check out all your local pizza chains a week before the party to find the best deal on more than one pie.
Set out Skittles ("taste the rainbow") in bowls for guests to grab as they run between party activities.
For dessert, serve rainbow sherbet or vanilla or chocolate ice cream with rainbow colored sprinkles.
Rainbow Cupcakes
Now here's a My Little Pony party recipe we love. It looks great but is so easy to make. Here's how:
Ingredients
white cake mix (standard size box, usually approx. 18 oz.)
red, yellow, purple and green food coloring, each separate; or any colors you'd like – mix drops of color per color chart on box
pink or lavender frosting (or use food coloring with white frosting), or plain white frosting — your choice
rainbow sprinkles, if desired
cupcake cups, about 16 muffin size or 20 regular/small
Directions
1. Prepare cake mix as directed on box. Separate the mix into four small bowls.
2. Add one food coloring color to each bowl; blend well.
3. Tap one tablespoon of the first cake mix color into each cup or until all of that color is gone.
4. Tap one tablespoon of the next cake mix color into each cup on top of the first color. Be gentle — don't mix! Continue this procedure with the last two colors.
5. Bake as directed.
6. Cool completely; frost. Add sprinkles if you'd like, or leave the frosting plain — the inside is decorative all on its own. Serve.
Just Horsin' Around: Party Activities
If your child is willing to relinquish her My Little Ponies to her friends for the duration of the party, sit kids down and allow them a lot of free play. They'll use their imaginations and have a great time.
For very little kids, if you own a rocking horse, "dress" it up in layers of pink and lavender — you can even put streaks in its "hair" with spray colors, or if the horse is a keepsake, tie some colored yarn into its mane. Let guests take turns having a ride.
Have a makeup and nails station. This is perfect for a My Little Pony party. Choose only child-friendly, non toxic makeup and nail polish.
Have a face painting station. For young children, you'll want to do the painting yourself. Buy paints specially made for this purpose and decorate guests with little butterflies, polka dots, flowers, etc. in pastel colors.
Buy a rainbow colors play parachute. Gather guests in a circle, have them count to the age of each guest while fluffing the parachute up and then down for each number, then at the final number, sitting quickly under the parachute. You remember this game from gym class and probably from your child's Gymboree or kindergarten.
Grab a bunch of old "fancy" clothes you have shoved in the back of your closet and let guests dress up in them, then hold a mini fashion show on the spot. You can also purchase My Little Pony costumes (see the pics of my kids – surprisingly durable, since they've since dressed up in them about two dozen times!)
Play Pony Bowling. Set up My Little Pony toys in bowling pin formation. Have guests roll a small rubber ball toward the ponies. Whoever knocks down the most in two tries, wins.
At the end, send guests home with a party fun pack that includes cute items like stickers, rainbow stick candies, gummies, M&Ms and temporary tattoos. Enjoy your time in Ponyville!