Pink Mod Monkey Party Ideas
Is your little girl nothing but a little monkey? There's something about monkeys that just make kids smile. Monkeys are funny, bright and, particularly in their cartoon-ey versions, very cuddly and lovable. That's why pink mod monkey parties are popular right now – we're seeing a huge surge in parties that allow guests to "monkey around!"
Monkeys are everywhere, including Dora the Explorer's best friend Boots, Kai-Lan's buddy Ho Ho, the Donkey Kong video game revival, the winter 2011 Matt Damon movie "We Bought a Zoo"  and more. So don't be surprised if your little one asks for a cute monkey party for her birthday this year.
As for the pink part? Well, this is simply because it's not only boys that love to go ape once in a while. Girls need their fun time too! This article is geared more toward girls than boys, particularly because of the color scheme, but you can modify your own mod monkey party for a little boy with blue mod monkey party supplies. Take our ideas and get creative.
This idea is cute for all age groups, from a child's 1st birthday party on. Let's get started.
Perfectly Pink Primate Decor
The emphasis to your pink mod monkey party is twofold: the mod and the pink. Look for stylized cartoon images when choosing your party decor. You can include other animals besides monkeys, but try to stick to the "mod" style theme. Anime works well here, too.
Make pink the main part of your party colors, and add complimentary colors for a bright, fresh look. We love lime green with pink, as green is the perfect jungle style tie-in. Brown contrasts wonderfully with these two colors. Stick with pastels and earth tones and you really can't go wrong with this theme.
With that said, try these party decor ideas for partying and just hangin' around:
Hang lines of green yarn from the ceiling. If your child has hanging spider monkey, orangutan or chimp toys, hang these from the vines.
Hang friendly-looking plastic or rubber snakes from the vines, too.
Make a "zoo" out of the party area. Cut the tops off several boxes. Take a box and set it on its side so the open part is facing forward. Glue or staple pink and green streamers at their tops about an inch apart from one another for the "cage." Place a stuffed zoo animal inside. Continue with the rest of the boxes and set them up around the party area.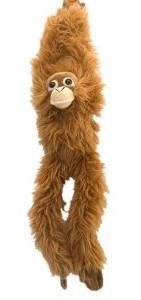 The idea of this "mod" party is fun and playfulness, so be sure to have plenty of balloons floating around. Pink and green are your obvious choices. Other fun party balloons include bananas, monkeys and zoo animals. Check out your local party store.
If you are holding the party outdoors, hang monkey toys from the trees and bushes.
Place a plush monkey in the middle of the party or gifts table. Put a real banana in her hands. Surround with more bananas and a coconut or two.
Set the table with pink mod monkey disposable plates and cups. Put a banana next to each place setting.
If you have an old Barrel of Monkeys play set, take the monkeys out and tape them along the edge of the table skirt in rows.
Print 10-15  images each of coconuts and bananas. Cut the images out individually. Punch a hole in the top of each with a hole punch. Thread green crepe paper, ribbon or yarn through them, alternating the coconut and banana images. Voila — you have a fun jungle garland for next to no cost (just paper and ink). Hang the garland anywhere you'd like.
Invitations: Come Monkey Around at Our House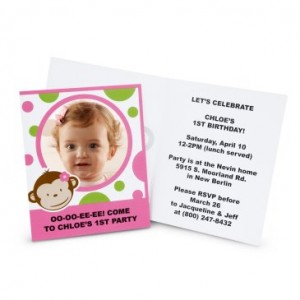 Try some cool personalized pink mod monkey invitations for your party. Easy, inexpensive, cute…what's not to love? Make sure you get invitations in the mail two weeks before the party, or have the birthday girl (or you, if your child is a baby) hand invites out during school or at daycare.
Or…(you know what we're going to say, don't you?) You can make your own!
No, really. It's super-easy to make these cute  monkey mask invitations from marthastewart.com, for example. On the back of each mask, write the party information (date, time and locale). Hand-deliver. These are so cute and guests will love wearing their monkey masks ahead of time — it will really get them in the party mood.
Here's another idea we are completely in love with — a "peelable banana"party invitation (here it's called the Banana Split invitation). It's a modification of a Parents Magazine template. Easy, quick but very impressive, and so much fun to open. Add touches of pink to your own invite.
Or you can print out any jungle imagery you'd like onto standard shaped card stock: for instance, bananas, coconuts, jungle animals (of course), vines and trees. Keep in a rectangular shape or cut around the image and wording for an interesting look.
For wording, say "Come monkey around at our house!" on the front. Or for a first birthday, say "Our cute little monkey is turning 1. Come celebrate with us." The party information goes on the inside. Fold into cards and mail, or print two-sided as a postcard and mail.

Party Food For Your Monkeys
Kids will go ape for these delicious ideas. (Oh, come on. We had to say it!)
Cut-up tropical fruits, such as bananas, papaya, melons, guava (seriously — try it, they'll love it), coconut, tangerines, mango and dates.
Any flavor cupcakes with banana flavored frosting (click the pic at left to find out how to make this delicious topping).
Lots of pink foods and drinks; make a pink lemonade punch by adding sparkling water or lime flavored soda to any instant pink lemonade, cut chunks of pink watermelon and dab pink polka dots on your banana icing cupcakes.
Monkey munch: mix Chex cereal, Cheerios, M&Ms, raisins, chocolate chips, etc. in a bowl and serve.
Mod pink and green Oreos: buy plain Oreo cookies. Melt pink candy pieces in a double-boiler; candy pieces can be found in baking specialty stores and in some grocery stores. In a different double-boiler, melt green candy pieces. When melted, remove immediately from heat. Dip an Oreo cookie into the pink melted candy so it covers half the cookie; drip off excess; place on wax paper. Take a second Oreo and do the same procedure, but use the green this time. Alternate until all cookies are coated and on the wax paper. Cool in refrigerator until hard. Serve.
Buy pink striped straws and use in mod monkey cups when serving drinks.
Time to Monkey Around
Time for fun! Here are some great party activities for your rambunctious guests: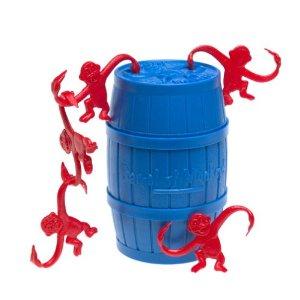 Give each guest a pair of monkey ears as she enters and allow the guests to monkey around a little to spill some of that energy early on in the party.
Play the Barrel of Monkeys game; it's still popular after all these years. If you don't already have a Barrel of Monkeys set, check out Amazon or go to your local Toys R Us or WalMart. They're still huge sellers and you can find them almost anywhere children's games are sold.
For older kids, set up a game of Donkey Kong Country Returns on the Wii. Have guests take turns; say 15 minutes per pair of guests.
Sit guests down and have them make pink and green friendship bracelets. This site has some easy tutorials with basic patterns.
Very young children will love a game of  "Monkey See, Monkey Do." Guests can't copy the motion until the leader says "monkey see;" if they jump the gun and strike a pose before those magic words, they're out. Reward everyone at the end of the game with a piece of candy, a cooky or a small trinket.
Paint guests' faces like monkeys or have a temporary tattoo station with jungle style tattoos.
Have a reading of one of the Curious George books; this is a great idea for preschoolers.
Show the 2006 Curious George movie.
Don't forget to let us know what ideas you come up with for your pink mod monkey party. Be sure to wrap things up with a party favor or two; buy a premade monkeys favor box, or gather candies (nothing too small for under-twos), pink or green rubber bracelets and stickers and place in cute pink bags or boxes as a special thank-you to guests.