Taking on the Role of the Bachelor Planner – A Step by Step Guide to Planning Your Party
This is actually very easy. If you leave it to the last moment, though, it's a nightmare. So, as two time best man and planner of my own bachelor party (I'm not stupid enough to let my buddies do it!) here's my very own exclusive guide to getting it right:
1: Decide on what's happening and tell everyone. No discussions. The bachelor gets to tell you what he wants to do, you then arrange it and tell all the guests. It is really that simple. Even dates are specified by you and the bachelor. If not everyone can make it – that's a shame but that's the way it is.
2: Get a price for your accommodation, any activities you want to do and as many meals as you can. Then work out what everyone owes and make them pay you before you book. One of the hardest things about any bachelor party is sorting out who owes what. Do it this way and you don't have to.
3: Book a package deal. See above for reasons why. Packages mean you can control your costs with ease.
4: Make a list of everyone who has confirmed and paid. Get their email addresses and phone numbers. Prepare to contact them two weeks prior to departure and make sure they have all the money they need and a current passport.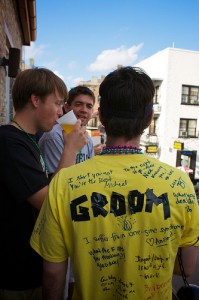 Bachelor party in progress,
by
Frank3.0/Flickr
5: The activities, again, are dictated by the bachelor. It's his party. If anyone wants to sit out they can. But you do not change planned activities because someone doesn't want to do them. If any activities are dangerous, or a bit weird, tell people at the booking and getting money off them stage. They're more than welcome to come along and watch without joining in, after all.
6: Organise the kitty in advance. That means getting kitty money when you get all the other money. Then you are in control of it. The kitty is used for everything until it runs out – or just for drinks if you prefer. Everyone must pay the same into the kitty, and nothing can be bought with it that isn't for everyone. So no individual drinks – rounds alone.
7: Ensure all money for security deposits (most hotels require security from bachelor groups, for obvious reasons) is with you at the same time as all the rest. That way everyone stands to lose equally if the deposit is retained at the end of your weekend.
8: Be prepared to play the strict nanny at the start of the weekend. Basically, it's your job to ensure that the bachelor has a great time. That means controlling the masses, who are apt to get carried away with themselves when they get let off the leash on a lad's weekend away. If you stamp your authority on things at the start of proceedings you will be able to control them pretty easily for the rest of the stay.
9: Have fun. That, after all, is the point!
That's pretty much it. Planning a bachelor party is easy when you stick to the simplest rule of all – which is that the bachelor decides what he wants to do, and when, and you then tell everyone what's happening. Give them a date to say yes or no by, and book what you have been asked to book as soon as that date is passed.
In reality it always gets a little complicated – people come in, they drop out, they come in again. But stick to the rules above and it will be as easy as it can be.
About The Author:
The above article is composed and edited by Frank James. He is associated with many fashion and designing communities as their freelance writer and adviser. In his free time he writes articles related to stag weekend, fashion accessories, mobile applications, etc.