6 Ways to Throw a Rocking New Year's Eve Party
If you want to really mix it up this New Year's Eve then you need to add in some creative fun. There are some tips that are so easy to do and yet they take your party to a whole new level. If you want to make this the most memorable New Year's yet, then these ideas will really add some punch to your party.
You don't have to spend a lot of money or go crazy on the details, as some of these just take a bit of creativity. Use the space that you have and incorporate these ideas in a fun way that is sure to please all the guests at your party.
1. The Great Big Resolution Board: We all say that we're going to make resolutions each year, and how does that go? This year make it stick by writing your resolutions on a board for the whole party to see. They say that if it's written down then you're more committed to it, and this is a fun way to do so.
Have everybody take a turn writing their New Year's resolution on a big chalkboard or on pieces of paper that they affix to a bulletin board. This is a fun way to welcome in the New Year and to stay committed to the resolutions this time around.
2. Document the Special Moments: If you have the space a personalized photo booth
can be a really special treat for a New Year's Eve party. There's something about those photo booths that bring out everyone's fun sides. If you don't have the budget or the space improvise and put out disposable cameras for guests to document the night with.
You can even set up a fun backdrop and put out a Polaroid to capture the moments in real time. People love to capture the moments of a special occasion and at the same time this brings down everybody's inhibitions. It's such a fun way to celebrate and to add an extra fun factor into a New Year's Eve party.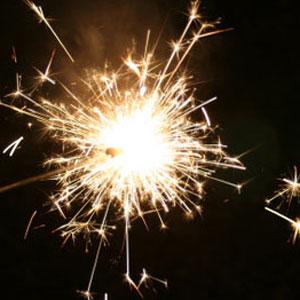 3. Celebrate With a Real Bang: Why not mark this explosive celebration with a little bit of real fireworks? You don't just have to save the fireworks for the Fourth of July as New Year's Eve makes the perfect occasion to celebrate with them too.
Put out sparklers for all of the guests so that at midnight you can head outside and light them. Incorporate in a few simple fireworks that you can safely light from your backyard or outside.
Encourage everyone to throw on their coats and come outside for the perfect New Year's fireworks celebration. This is not traditional but makes for an explosive and fun party favor to center around.
4. Mark the Occasion With the Right Look: Decking the halls isn't just for Christmas as you can dress up your space for a New Year's party. It's all about silver, gold, confetti, and loads of glitter.
Put out as many New Year's Eve decorations as you can find, even if they just say the upcoming year. Then scatter the most over the top glittery decorations as you can find. Scatter confetti on all of the tables and save some for a great big toss at midnight.
This is of course a great occasion for celebration and you need to decorate your space accordingly. Use party hats to decorate the space and show off that this is the place to party!
5. Dance It Out: People are coming to your house to party so give them what they want. Put on a dance party better than any other and give them the space to boogie down. Clear the living room of all tables and interferences and give the guests their very own dance floor.
Pump in the tunes from favorite dance music to 80's music that is sure to get guests up and dancing. After seeing others dance and enjoying a cocktail or two, everyone is sure to be loose and ready for a great dance-a-thon. Give them the venue to do it and this dance party will be the perfect way to welcome in the New Year.
6. Create an Ambiance of Elegance: There is no other occasion that lends itself so nicely to elegance quite like New Year's. The best part is that your guests likely won't expect this so it's a wonderful surprise.
When you send out the invitations encourage guests to dress their best. Serve up some of the most elegant food that you can including liver pate, a fancy cheese tray, champagne, and even mini crème brules.
Dress the venue in the perfect elegant tablescape and give though to the centerpieces with poinsettias and nice silver accents. There's no better way to bring in the New Year than with style and class, so embrace that and make this an occasion to remember.
New Year's Eve is the perfect time to celebrate with friends and loved ones. With these ideas you can welcome in the New Year with style and fun. Put some thought into it and make this an occasion that nobody will soon forget.