8 Ideas For a Kicked Up Corporate Christmas Party
The weather outside may be frightful, but that makes for the perfect backdrop for the office Christmas party. Do you feel tired of the same old party with the same old food and stale old stories? Then it's time to kick things up a notch and make this season bright….and one to remember!
Rather than dreading the office party for the same boring old antidotes and tired food, bring some ingenuity to the party. There's fun within the office crew that you work with and sometimes you just need the right theme to bring that out. Take a look at some traditional and some unique themes that can really kick your office party into high gear.
1. The Strolling Office Buffet: If you are having your party at the office, why not turn it into a fun little Christmas venue? No matter how much space you have to work with, you can set up different stations for food and beverages.
To really get in the festive mood and carry this off, decorate the office more intensely than ever before. It should look like Christmas touched every corner in the space! Then set up stations with various appetizers and an adult beverage to pair with. It's so much fun to walk from station to station at this strolling buffet and enjoy your transformed office in a whole new light.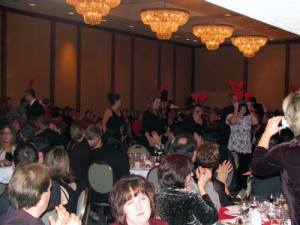 2. Recreate "The Office" in Your Office: Chances are if you work in an office you probably love the show "The Office". This makes for the perfect backdrop for a fun Christmas party. Everybody gets to dress up as their favorite character like Stanley, Jim, Pam, or Michael Scott.
Then you can give away awards just like the Dundies on the show. Be sure to decorate with memorabilia from the show and of course have some favorite episodes playing in the background. Anybody who works in an office can appreciate that show and it works well for a Christmas party theme too.
3. Santa and His Little Elves: How much fun would it be to dress up as Santa or one of his elves? This is one of the few opportunities for adults to get dressed up and this time it's in true holiday style. Encourage all office workers and their spouses to dress up in their very best elf suit or even don the best Santa suit that they can find.
This is a great way to get into the spirit of things and of course to celebrate the season. Have fun little adult cocktails like "Santa Spritzers" made with red wine and seltzer water and elf bites which can be a very simple red pepper pesto spread on bread. This is a great way to enjoy the season and to take it in a whole new direction for the office party.
4. Cookie Bakeoff: A little healthy competition can go a long way. Turn your office Christmas party into a fun little cookie competition that everyone can participate in. Everyone bakes their favorite Christmas cookie at home and works for perfection. Then the day of the party all participants bring in their concoctions and the chosen judges get to decide the winner.
Don't just stop there though because everyone gets to enjoy the culinary delicacies of other coworkers and you can even turn it into a cookie exchange with enough for everyone to take home. It's a delicious treat and a fun way to celebrate the seasons with your coworkers.
5. Silver and Gold Everywhere: Turn a regular old office party and turn it into a formal event. This works particularly well if you are having your party at a reception hall or similar venue. Decorate from top to bottom in all silver and gold to give a whole new twist to traditional Christmas.
Then all invited guests put on their best formal wear but have to keep with the silver and gold theme. It's amazing how transformed a room can become with one simple but well executed color scheme and this is a great one to embrace for the holidays.
6. The Roaring 20's: Don't go for a drab and boring theme; get in touch with your inner flapper. A fun costume themed party is a great way to put a fun twist on a traditional Christmas party. This is all about the Roaring 20's and guests can get in on the act by putting on their favorite flapper or gangster attire. Play the fun and vibrant music from this very alive decade and serve some delicacies like stuffed eggs or nut loaf. This is a great way to bring everyone alive for one night of fun.
7. Bring Your Favorite Christmas Dish: Sure a potluck is expected but not if you ask everyone to bring a dish that is traditional or special to them. Rather than having five different Jello molds and fifteen different taco dips, this allows people to really embrace what is special to them about the season.
Set the scene with Christmas music playing in the background and the space decorated all in red and green. Then ask everyone to put out their favorite dish on a long table and even offer up a written explanation of why the dish is important to them and what sort of tradition it offers in their family.
8. Giving Back/Silent Auction: Silent auctions have become a very popular activity at parties, and in this instance they offer a wonderful way of giving back. Work on items that you can put up for auction at the Christmas party. Think of things that people would like that you can get donated such as movie tickets, dinners out, and even overnight stays at hotels.
Then all the money raised goes to a deserving local charity and you can even present it to them as an office after the party. It always feels good to give back at this time of year!
Just because it's the office Christmas party doesn't mean it has to be boring and drab. These kicked up party themes range in their ideas but they are all unique and fun. If you want to really take things up a notch this year, then these will turn your office party into an event to remember.