Angry Birds party alert! This trend is HOT. Angry Birds are everywhere – even in movies (Rio, anyone?). But it's the trademark original game, and its offshoots, that have made this theme popular.
Here's how to incorporate the spirit of the game into a birthday party for your little one with games and activities, food, decor and even dress-up.
What the Game is All About
Angry Birds
is a puzzle video game for the iPod. The basic theme: players launch birds at pigs using a slingshot. (Yes, really. Trust us, it's addictive.) The pigs stand on and within a variety of complex structures. The object is to destroy all the pigs on the playfield.
The game has a lot of variety, including explosive eggs that the birds drop onto the pigs. New birds with increasing abilities appear as the player advances in the game.
This seemingly simple concept has exploded in popular culture, with adults and children alike sneaking in just a few minutes more play time in between classes, on coffee breaks, on the bus … everywhere!
The game has branched off with special additions, such as Angry Birds Seasons (which even includes Chinese Mid-Winter Festival…cool!), Angry Birds Rio (from the movie) and the soon-to-be released Angry Birds Magic for Nokia.

Angry Birds Party Invitation Ideas
Using evite or sending a simple email or text will get your point across. For perhaps your easiest electronic option, embed an Angry Birds image into an e-mail and mass send. Remember to list an RSVP date and to send your invites two weeks in advance of the party.
Of course, we encourage you to make your own mailable invitations — you can involve the birthday boy or girl and it's so much fun for kids to get something in the mail. Here are some ideas to get you started on making your own Angry Birds party invitations:
We love this tutorial from Papercreationsbynilda.com. She includes free printables, making this method a no-brainer that looks like you bent over backwards creating. (Woot — that's our favorite type of craft!)
Download any Angry Birds image or images you'd like and print them on cardstock along with text stating the date, time and location of your party.

For a little girl's party, buy craft feathers (check your local dollar store, Target, JoAnn Crafts or Michael's, or WalMart), glitter, gems and school glue. Make sure the feathers are short enough to fit into a mailing envelope (slanting the feather sideways is fine). Sit your child down and have her decorate the feathers with the glitter and gems. Enclose one pretty feather in each invitation as a special gift to guests.
Another cute "gift in an invite" idea: place an Angry Birds sticker or temporary tattoo in each mail invitation. Both girls and boys, and pretty much any age group, will love this.
For a really cool idea, have some personalized invitations printed just for you. Home-based businesses actually offer their services on Ebay, where you can find some really creative Angry Birds invitations. Simply enter the quantity, the child's name and party information, and they will print them out and mail them to you. Click here to search for a reputable and creative artist.
Fun Foods for Guests to Pig Out On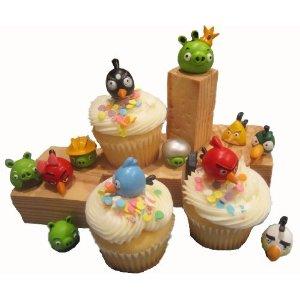 Whether your guests eat like birds or love to pig out, here are some awesome Angry Birds party food serving options they'll all dive into:
Go to the garden section of your local WalMart or dollar store and look for an inexpensive plastic bird feeder bowl. Fill this with granola, nuts and raisins, set out on the table (balance a small craft bird on the edge for added effect) and let guests take handfuls.
Make a cool Angry Birds cake. Most of the ones we've linked are pretty complex and involved, but use the ideas as your inspiration for an awesome cake! Look for some plastic or edible cake toppers on any standard birthday cake and you'll save yourself time while creating an eye-grabbing impression. Where to look for edible cake toppers? Amazon, your local bakery or on eBay.
Serve snacks to guests in "feed bags." Simply roll down all four sides of a paper sandwich bag; fill with goodies.
Make Babybel Angry Birds cheese bites. So so cute and scrumptious; we love this tutorial.
Bake pigs in a blanket. Come on, you have to! These are so easy: buy a can of premade refrigerated dough and read the instructions on the side. Basically, you're opening the can, separating the sections and wrapping one hot dog in each section, then baking. Voila — lunch is served.
Serve "pigs' tails" (Frito Twists, in any flavor your guests will like).
Make marshmallow bird's nests. We love this recipe. If you'd like, have this double as a party activity. Sit guests down and have them mold their own nests. It's fun, it's delicious — what's not to love?
Angry Birds Party Decor
Angry birds are very easy to draw! Even your little ones can help you with making Angry Birds pictures to hang on the walls. Other places they can show their art talents:
Angry Birds place mats drawn on construction paper.
An Angry Birds table centerpiece: Have kids cut out the shapes to make birds and pigs using construction paper, then glue together. Glue finished birds and pigs on a piece of heavy construction paper and bend the bottom to stand the centerpiece up. Set up on the table.
A cool party garland. Print out pigs and birds and have kids cut them out. Hole-punch one hole in the top of each character. String them in alternating fashion on a long piece of yarn or party ribbon. To make your child the star of the party: also cut out the letters of his or her name, punch holes in each letter and string the name in the center.
For all your decor, use the bright colors of the game. These include classic red, yellow, lime green and bright blue.
Hang balloons and streamers in these colors.
Plates, cups, napkins, cutlery and the tablecloth should include these colors, too.
Look for Angry Birds stickers in your local party store, WalMart, Target or any store that should have a selection of party goods. Have your little one place one sticker on each cup for the table setting.
Games, Activities and Take-Home Treats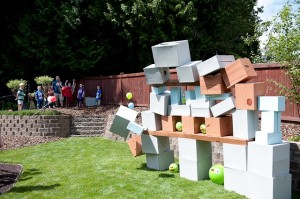 Too much fun! By
Kara's Party Ideas
Check out these fun activity ideas for your Angry Birds party:
Have an "explosive egg" hunt. Buy plastic eggs that open; you will easily find these around Eastertime, but you may locate sleeves of them at other times of the year, too. With a permanent black marker, draw cracks, "holes" and other marks on the eggs. Fill with goodies; hide around the yard.
Let guests decorate their own Angry Birds cupcakes. We love Thecraftingchicks.com … here are their suggestions on this fun activity.
Buy Angry Birds costumes or make your own costume pieces by cutting out felt and gluing together; let kids play dress-up at the party.
Of course, we haven't forgotten the most obvious party activity of them all: Recreate the game physically! Build up a bunch of cardboard boxes and sheets of plywood with the little piggies in some of the nooks. Then let guests throw an angry bird plush at the boxes to collapse the structure. The participant who has the most piggies on the ground wins!
Send kids home with a few goodies. Candy is always a great idea. You can also find Angry Birds Silly Bandz (LOVE these!), temporary tattoos and backpack clips on amazon.com; look them up and read the reviews…these are amazingly popular right now.
Bombs away — have a great party!