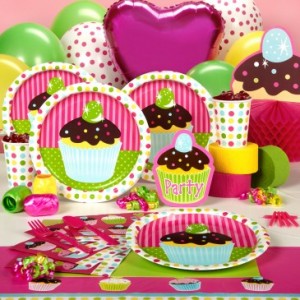 Find some delicious
cupcake party supplies
Raise your hand…who likes cupcakes? Whoops. Okay, switch that to: if you don't like cupcakes raise your hand…the count on that one is guaranteed to be much easier! Why? Because people the world round seem to simply love this sweet confection. Mmmmmm.
Personally, I've never met a cupcake I didn't like (and I've met quite a few). If you know a cupcake lover who just happens to have a special event coming up, try a cupcake party! Cupcake parties are perfect for so many celebrations: birthdays, baby or bridal showers, back-to-school, holidays…just about any occasion you can think of. Dig into these fun cupcake party ideas…they're scrumptious!

Choosing Your Cupcake Party Supplies and Decor
Okay, this one is easy (and fun). Whatever you put out — napkins, disposable plates and cups, tablecloth, etc. — make sure it has a cupcake motif. Even for a party that doesn't center around cupcakes (boo!), images of this favorite treat make for fun decor, and choices abound.
Choose a specific pairing or set of colors for the party decor. We're finding pastels plus a stronger color, such as brown, to be very popular this year. Examples: think baby blue, pink and brown together, or mint green or another pastel color with black and white polka dots. Other color ideas: have a red and green cupcake party for Christmas; red, white and black for Where is Waldo; orange and brown for Thanksgiving or Halloween; black, white and orange for Finding Nemo; etc.
Invitations are part of your decor, too. Play up the cupcake theme on your invites and add a little something special in the envelopes. Obviously you can't mail a real cupcake, but you can put cupcake stickers, candy/confectionery temporary tattoos or confetti that looks like sprinkles inside each invitation. Your guests will love this added touch.
Make a banner that says "(your name/your child's name)'s kitchen" or "The (your last name) bakery" out of a long piece of paper or several pieces of paper taped neatly together in the back. Hang this above the doorway.
Fill plenty of balloons in colors that complement your scheme and allow them to float freely around the party area for a whimsical touch.
You don't have to limit your decor to cupcakes alone — though they do a pretty good job of making things look yummy all by themselves! Print pictures of bakery cakes, donuts, frosted scones (did you know that's pronounced "scoons?"), ice cream, cookies and candy. Hang all over the walls — the more the better!
Have either a "Candy Land" or "Willie Wonka" decoration theme. Look for great images of candy and cookie houses, Willie's chocolate waterfall and confectionery mushrooms, giant-size candy canes, etc. to add to the sweet look of the party room.
Flatten lots of paper cupcake wrappers in half so that each is fan-shaped with a squared off bottom. Tape or staple all along the edge of the party tablecloth face up. This will take some time, so enlist in the party girl or boy for help. Another trick is to push the table up against the wall so you only have to decorate one long and two short sides with cupcake wrappers.
Cupcake Party Theme Ideas
So you have guests and you have cupcakes…now what? An easy way to round out your yummy cupcake party and really make it special: pick a theme! If you have a basic theme idea, all the rest will fall into place. Your theme will give you more ideas as you go along with your planning.  Here are a few basic cupcake themes to get the creative juices rolling for your own party: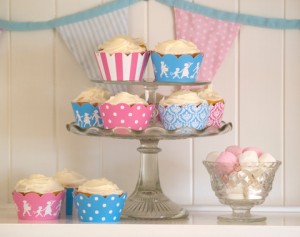 A Cupcake tea party, by
The Cupcake Wrapper
Cupcake Tea Party. Bake and serve mini cupcakes. Decorate prettily in pastels with polka dots, stripes and flowers. Use a piping bag to do this; you can easily and inexpensively make your own by squirting icing into a plastic baggie, closing it tightly, then snipping one bottom corner with scissors. Now squeeze the bag to get the icing out in strips and put whatever designs you wish on your cupcakes. Serve on elegant 2 or 3 tier dessert stands with cold sweet tea or brewed and slightly cooled tea, milk and one juice choice in cute little cups.
Cake Boss or Ace of Cakes "Competition." Make sure it's lighthearted. Tell guests to be creative as possible rather than trying to be "the winner." Google an award ribbon template or look for one on whatever word processing program(s) you have on your computer, print various categories like "most colorful," "most creative," "best use of design," etc. on cardstock paper and add red and blue streaming bits of ribbon using crafts or school glue.
Holiday or Character Theme Party. Serve (or make…we'll talk more about this below) cupcakes that you or the guests top with toys, decorated toothpicks or designs based on your theme. For example, add Elmo plastic rings or Elmo toothpicks for an Elmo party; make very dark-brown or black icing, frost the cakes and add white solid and dotted lines and top with toy cars for a Disney Cars party; make pirate cupcakes using twisted Twizzlers or other chews for hair, M&Ms for eyes and triangles of Fruit by the Foot or Fruit Roll-Ups for hats.
Bake it Yourself/Decorate it Yourself Party. These are LOADS of fun. For very young guests, skip the baking part as an activity; instead, have already baked cupcakes available, along with a toppings bar (see below for ideas). For guests 12 and over, and if it will be a relatively small and easy to control party for safety's sake, you can have guests mix and bake their cupcakes. For any age group: buy some cute cupcake aprons. Set out fabric markers and fabric paint, have guests personalize their aprons, then have them wear the aprons during the baking or decorating portion of the party.
Dessert Sleepover-and-a-Movie. Let guests decorate cupcakes, donuts, ice cream sundaes, and all things sweet; set down an old blanket on the living room floor and play a favorite movie while guests enjoy the fruits of their labor.
Ingredients for a Cupcake Toppings Bar
No matter what your other awesome party ideas, we highly recommend a cupcake decorating station.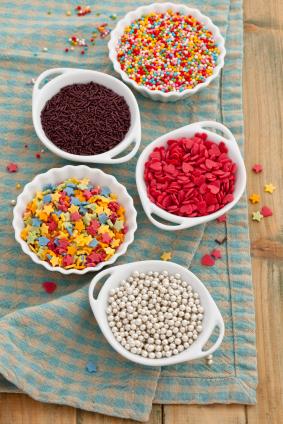 For your toppings bar, you'll want to supply plenty of goodies. Hand guests freshly frosted cupcakes and a spoon, head them toward the toppings bar and let them go (forgive us) nuts! There are so many great ingredients you can choose for your cupcake toppings bar. Here are a few suggestions based on our own kids' favorites (place each in its own ramekin or small bowl for easy self-serving):
fresh berries (strawberries, raspberries or blackberries)
peeled tangerine sections
sliced or cubed bananas
gummy candies
frosted gum drops
M&Ms
Skittles
multicolored candy sprinkles
Red-Hots, Nerds or other small candies
squirt cans of whipped cream or whipped topping
icing in closed baggies with one edge snipped off (see above for directions); a variety of colors
cereal pieces such as Cap'n Crunch, Froot Loops, etc.
seasonal chocolates/candies (i.e. chocolate mini eggs for an Easter party; peppermint candies for Christmas or Valentine's Day)
pieces of fruit leather
crushed nuts
shredded coconut
crushed cookies, any kind
crushed candy bars, any kind
mini whole cookies, such as animal crackers
mini marshmallows; try colored marshmallows
chips: chocolate, white chocolate, butterscotch
syrups to drizzle: chocolate, strawberry
Delicious Recipes to Try
Have older kids help you out in the kitchen baking these awesome creations. For younger children, bake the cupcakes yourself in advance of the party and serve (never allow very young children around electric mixers, a hot stove or other possible danger areas).
Everyone loves the standard vanilla or chocolate. Other yummy cupcake ideas: red velvet cake with cream cheese frosting; vanilla cupcakes with raspberry in the center (half-fill each cupcake paper with batter, add a dab of raspberry jam, fill the rest of the way with batter and bake); chocolate/vanilla swirl or another flavor combination. All these recipes are easy to find on the internet and many are available as mixes on store shelves.
Of course, we can't resist adding a few recipes of our own! Here are some kid- and grownup-tested cupcake flavor sensations just for you:
Peanut butter cupcakes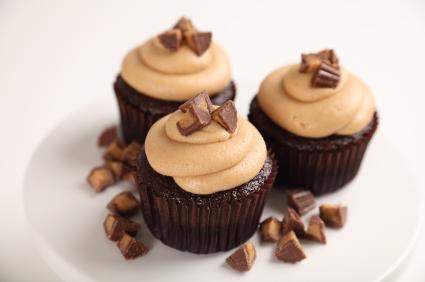 Chocolate cherry-topped cupcakes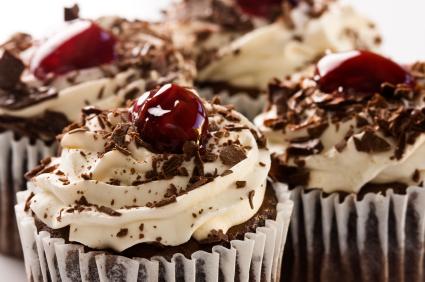 Cupcake Batter:
1 1/2 cups flour
1/2 cup sugar
1/3 cup cocoa powder
1 tsp baking soda
1 tsp salt
1 tsp vinegar
1 tbsp vanilla
1 cup milk
1/2 cup vegetable oil or melted butter
Mix all ingredients until smooth. Place into cupcake liners. Bake at 350 degrees for 20 minutes. Check after 15 minutes with a toothpick. If it comes out clean, they are done.
Because this recipe does not have eggs, it's okay if they are a bit undercooked. Yields 24 cupcakes.
Cupcake Icing and toppings:
4 cups powdered sugar
1/3 cup butter
1/2 cup cocoa powder
1/4 cup milk
1 tbsp mocha instant coffee
1 tbsp vanilla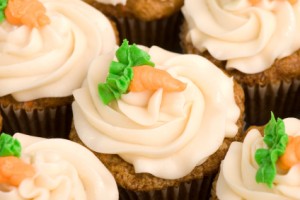 Beat butter until fluffy. Gradually add in half the sugar and the cocoa powder. In another bowl, add milk and instant coffee. Wait three minutes, then mix it well. Add this to the main mixture. Slowly add in the rest of the sugar. Add more milk, if needed.
Add chocolate shavings and a maraschino cherry. Yum!
Carrot Cupcakes
Check out this recipe from Martha Stewart!
Buttercream icing from Wilton.