Talking Turkey – The Best Parts of the Thanksgiving Feast
It's hard to believe but it's time to get ready for Thanksgiving! It sneaks up on us every year but our mouths water in anticipation. This is such a traditional meal and is actually pretty easy to do if you plan it out. If you happen to be hosting a Thanksgiving party this year or if you just want to bring a dish that will knock their socks off, then try your hand at something unique this time around. They will be so engrossed in the sensational tastes that they may not be able to talk during the meal!
Make that Turkey Sizzle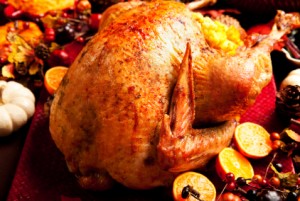 If the thought of putting a turkey in the oven gives you anxiety, take a step back. This is probably one of the easiest main dishes to cook and it just so happens to be the very focal point of the Thanksgiving table. The key is in the preparation and the ingredients that you use to give your turkey pizzazz. The cooking part is easy as you just throw it in the oven to roast for several hours. So how can you make your turkey truly remarkable? Try adding in a few key ingredients for something truly worth of talking about.
Coat the outside of the washed turkey with a mix of olive oil and butter. You want to put each ingredient in your hand and rub onto the bird to cover it. Most people go with one or the other, but to get the best crusty outside and juicy taste bite for bite then you want to use both.
Once the turkey is coated in this mixture it's time to add in some new flavorful elements. Sure anybody can utilize the typical poultry seasoning, so why not try something different? You can crush fresh garlic and sprinkle that across the turkey skin—this not only tastes amazing but makes the house smell delicious as well!
You can go the route of infusing or you can just keep it simple with the garlic, sea salt, and fresh ground pepper. If you like a bit of kick then try adding a sprinkle of cayenne pepper but go lightly as it can really add up. Get creative with the herbs that you use and try a bit of rosemary. Adding in a bit of Gingerale as the turkey cooks can not only afford some extra fluid for it to roast in, but also make for a nice additional flavor in the mix. Truly delicious turkey done easy!
Unique Twists that Are Sure to Wow
Some people fear the stuffing, but there's no reason to. If you have the time it always tastes so much better to cube up and roast your own bread cubes. You can also control what type you use and go for a nice flavorful rye and wheat mixture for some texture. Once you have the bread cubes (store bought or homemade) it's all about adding layers of flavor! Chop up some onions, celery, and garlic and mix together with loads of butter. Toss in bread cubes and add some layers of flavor that include chicken broth, more butter, sage, thyme, garlic salt, and pepper. The guests will be licking the bowl with this scrumptious recipe!
If you want to carry out the feast and offer a new type of mashed potato then you can really change things up and wow all of your guests. This recipe uses instant mashed potatoes—but the guests will never know. Prepare the instant mashed potatoes but add butter, milk, sour cream, and cream cheese. Then stir this mixture together and put it in a dish to bake for an hour. Let it set and when finished sprinkle paprika over the top. These are not your grandma's dry mashed potatoes and they are so moist and delicious that you won't even need the gravy.
Make Thanksgiving unique and truly delicious this year. These are some simple ways to mix it up a bit and keep the guests in amazement. You can take some twists and turns on traditional favorites and really show off your culinary ingenuity. This will be a delicious Thanksgiving to remember—and every plate will be clean to show off your great results!