Dia de los Muertos (Day of the Dead) Party Ideas
Dia de los Muertos (Spanish for "Day of the Dead") is a two-day Mexican, South and Central American and Filipino holiday that takes place Nov. 1 into Nov. 2 each year, in connection with the Catholic holidays All Saint's Day and All Soul's Day. Learn all about what this festival is, and how to host your own in honor …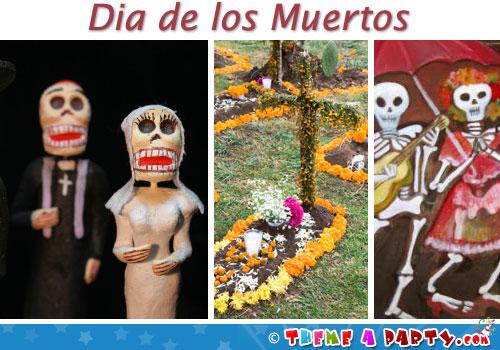 It may seem a bit morbid to dress up grave sites, dance like the reanimated dead and eat skulls (albeit yummy candy ones), but in reality, Dia de Los Muertos is highly respectful and very beautiful.
Yet a good dash of humor is tossed in as well, showing the fun-loving side of the celebrants who refuse to be afraid of death and instead, go so far as to mock the Grim Reaper during this special celebration.
Day of the Dead Party Guide:
What It's All About
Much like American, Canadian and British Halloween, Dia de los Muertos is a bundle of paradoxes put together into one big, colorful celebration.
And boy … do partiers know how to do it up! Dia de los Muertos is very "showy," usually involving parades, eating amazing goodies like decorated sugar skulls, wearing traditional Mexican clothing along with spooky makeup and dancing to the beat of hundreds of years of tradition.
Flowers can be seen everywhere on Dia de Los Muertos; on floats, decorative tables and of course, on people, with pretty blooms in the hair and on clothing. Another important factor to the celebration is food (we'll cover a few fun recipes below).
At  night, family members and friends visit the graves of loved ones and decorate them beautifully in a time-honored tradition of remembrance. "Ofrendas" (offerings) are also made, including soap and wash items so the departed can "wash up" after their long journey to the afterlife, and things for the departed to symbolically eat, especially breads and candies. Inside the house, altars are arranged with photos of beloved ones, and lots of flowers.
If your town has a Mexican community, you may have been to a Dia de los Muertos parade and seen some of the excitement yourself. If not, you can still get in on the fun. Come on, rock those bones this year! Here's how.

Dia de Los Muertos Party Decor
For decorations, think 18th-19th century Mexico, mariachi bands and loads of flowers! Bright red and green, black, white, yellow and shiny colors, such as silver and gold, will give your party a real Mexican fiesta feel. Try these ideas:
Print out pictures of stylized Day of the Dead skulls and put up on the walls. Check out this artist's work for examples — we haven't bought from her yet but we love her style.
Print silhouettes of mariachi bands, complete with sombreros, formal Mexican dress and instruments.
String red, green and white paper flowers or a garland around your front gate, along the bannister outside, and hang from the ceilings indoors.
Choose a brightly colored tablecloth, especially one with fringe along the edges.
Buy an inexpensive pair of maracas and place them on the table as a centerpiece. Surround with flowers.
Make lots of paper decorations, including tissue paper flowers. Let your kids help…they'll love it! Use plenty of bright colors. These are easier than you think…here's a video tutorial from Simplekidscrafts.com:
Papier mache is a popular Dia de los Muertos medium too. Create skulls by covering balloons with your mache; allow to dry completely and cut each dried balloon vertically so you have two face shapes. Cut holes for eyes and nose and paint on a mouth, tiny flowers and jewelry.
Party Invitations With Spanish Flavor
Look for free clipart or even free children's coloring pages (you'd be surprised — we happened upon some great finds with this search!) for awesome images to add to your invitations.
If you have an editing program, upload the image and play around with it. Add color and text.
For the intro, insert a Spanish phrase; for instance, "Llegado a nuestro partido" ("Come to our party!") or "Feliz Dia de los Muertos…ven a celebrar" ("Happy Day of the Dead — come celebrate").
Also include a "calavera," or morbid poem, if your friends have a sense of humor. Calavera, which means skull, in this usage refers to a funny, grim epitaph of a living person. Think of something hilarious to say that's personal to each guest, print out his or her personal message and enclose it.
Let guests know they're welcome to dress up! Here's a costume makeup tutorial; add traditional Mexican clothing. (Watch clips of real Dia de los Muertos parades for costume inspiration; this one took place in San Francisco in 2010.)
Want more things to say, but you're not sure how to say them? Google Translate is your friend. But if your guests don't have at least rudimentary Spanish, keep phrases simple and on the obvious side. Or translate below in small print.
Add colorful confetti, enclose in an envelope and mail two weeks in advance of the party.

Party Foods – Delicioso!
Everybody loves Mexican food, so your menu is guaranteed to please if you make tacos, burritos, nachos and other delicious goodies. However, to be more authentic and less commercial, try a couple of Dia de los Muertos eats: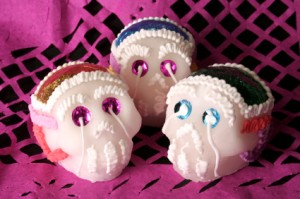 Calaveras de azucar (sugar skulls). These aren't just yummy, they're absolutely gorgeous. Order them from your local Mexican caterer or bakery. Or make your own.
Chocolate coffins. Chocolate coffins are hugely popular for this holiday. Again, buying from a real Mexican grocery or making sure your chocolates are imported from Mexico will ensure you've got a truly tasty treat for guests. These are great for goody bags, too.
Pan de muerto (bread of the dead). Make and mold into a whimsical shape. This recipe got rave reviews (ignore the fact that there's an unneeded 's' in the name!).
Atole. This drink, which is actually more like a thin gruel (only tastier), isn't for every palate, but if you're feeling adventurous and want to be autentico, give it a try! It includes brown sugar (yum!) plus masa harina, a type of flour.
Hot chocolate. Not brave enough for the atole? Make good old-fashioned hot chocolate instead. Chocolate is a Native American invention; they didn't use sugar or milk, but go ahead and make up the creamiest version you can find. Serve with churros or empinadas.
Bailamos (Let's Dance!): Party Music With a Latin Beat
Latin culture and music are practically synonymous. The well-known mariachi style is a much loved choice for many Mexican celebrations, and Dia de los Muertos is no exception.
Ideally, have space available in the party area for dancing. If you really want to see guests get down and get Latin, have a dance contest. You might be surprised at some of the boss moves you see once people open up and get down!
Download traditional Mexican party music. Amazon.com and other online stops are the perfect place to look for Latin music CDs – more classical albums will be heavy on the horns and guitar; more contemporary forms will have an updated twist but will still evoke that upbeat fiesta feeling.
Do have a party end time, particularly if there are noise laws in your neighborhood (and most towns do have these). Send guests home with little guest packages of hot cocoa and Mexican cookies, mmmm!