Once the "Gobble, Gobble" good time of Thanksgiving is over, it's sort of a letdown. You find that you are left with a few extra pounds from overeating and a refrigerator full of leftovers. What can you possibly do with all of this food? If the thought of another turkey sandwich is doing you in, then get creative! Turn those leftovers into a fun dish to pass at the best potluck party around.
Not only does this make for a great way of getting together after the holiday is over, but it's also an excellent way to utilize all of those leftovers. You can share the wealth of delicious food and add a creative twist to them to really make them shine. Create this potluck party as a way of outdoing each other with the creativity that you can utilize for dressing up your Thanksgiving leftovers. Start by inviting family and close friends, and be sure that they are ready to put on their thinking caps for leftover fun!
Left Over Recipes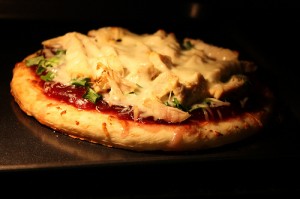 Leftover Turkey Pizza, by
Kodamakitty/Flickr
It's so easy to whip up some great recipes, but start small and then build up. You can easily make potato pancakes out of leftover mashed potatoes. Who would have ever thought it? Simply mix leftover mashed potatoes with two eggs, salt and pepper, and two tablespoons of flour. Fry these babies up with olive oil on the stove and then top with some sour cream. Your guests will be in awe that you could take something as simple and boring as leftover mashed potatoes and turned them into a culinary masterpiece.
Here's a couple other neat leftover recipes:
Turkey Pizza
pizza crust or pita bread
cranberry sauce (drain the liquid from the sauce by wrapping it in cheesecloth and squeezing)
sliced green onions
shredded mozzarella or Monterey Jack cheese
leftover turkey, cut into thin strips
Place pizza crust or pita bread onto a pan. Spread around the cranberry sauce, add onions and cheese. Add turkey, then sprinkle a little more cheese. Place in a preheated 375 degree oven for 8 – 10 minutes.
Leftover Turkey Tacos
Leftover shredded turkey – if you're not using leftovers, roast or grill the meat first. This will taste much better than just frying it.
1 tbsp butter or oil
Red onion
Green chilis
1/2 cup turkey or vegetable stock
Spices: paprika, cumin, salt and pepper
2 tbsp Leftover gravy
tortillas
Add butter to a pan, then cook the chopped onion until soft. Add chilis, then stock, and cook for about 3 minutes. Gradually add spices, then about 2 tbsp gravy to coat. Add more stock when needed so it doesn't burn. Add mixture to warm tortillas. Yum!
A Very Delicious Type of Creativity
Make a main dish that people will be singing the praises of! How about something that incorporates several of the leftovers into an amazing main dish that people will be sure to want seconds of.
Try a simple but scrumptious "Thanksgiving Shepherd's Pie" that is so easy—but you'll never tell. You start with a layer of mashed sweet potatoes, then add a layer of cubed turkey, then add a layer of leftover corn or mixed vegetables, then add a layer of stuffing, top with a layer of mashed potatoes and sprinkle with cheese. Put in the oven at 350 for only twenty minutes to blend everything together and melt the cheese. Guests will be amazed at how you utilized nearly everything that you had leftover and in such a creative way!
The key is to think about what you have leftover and then focus on a fun recipe to cover it off. If you do it right you shouldn't have to even use many extra ingredients as the leftovers are the stars here! Sure anybody can make another turkey sandwich or soup, but you can have way more fun than that.
This is such fun for guests that it's bound to become a regular occurrence. Why not mark the Thanksgiving holiday with fun the next day too? After you're done with your best Black Friday shopping it's time to go to work on a leftover masterpiece that guests will ooh and ahh over. You can even give away prizes for best dish or most creativity. We all love traditions and this is a fun way to brighten up the very drab holiday leftovers. Throw a party, challenge your loved ones to a bit of culinary creativity and have fun eating the results in a fun way to celebrate the holidays!