Disney's most successful animated film, The Lion King has spawned sequels, a Broadway musical and now it's in 3-D! This timeless movie involves a royal lion cub named Simba who is forced to flee after his father is murdered by the evil Scar. Growing up in playful exile, the adult Simba returns to reclaim the throne.
With awesome visuals, lush music and catchy tunes, children and adults alike often vote this one of their top ten movies. All the more reason to invite Simba and the gang into your home for a Lion King themed birthday party! Hakuna matata (no worries), my friends…here are some creative and fun party ideas for the movie and musical that is still going strong.
Here at my house, we already own the Lion King trilogy
, but even my family was excited by the recent new press for the Blu-Ray release (and yes, we bought it).
Seeing the ads brought back all the great memories of these fun and fascinating movies that seem to have captivated kids and adults alike. It's also brought a new wave of site readers asking about hosting a Lion King party with requests for unique ideas on decor, game, foods and music.
Ideas for Great DIY Lion King Party Invitations
Make sure you invite your guests to bungle in the jungle in style, and with a little humor, too! Here are some ideas for unique Lion King invitations you can make yourself. (Oh, and psst, here's a link to some ready made Lion King stationery in case you're short on time.)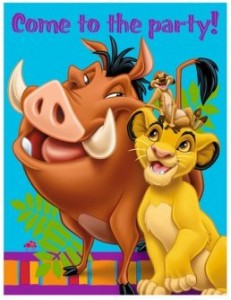 Using a card maker program, or on one side of any word document, download an image that includes Simba, Pumbaa, Timon and the whole gang.  Write "Lions and tigers and you, oh my! Please come to my party!" or perhaps "Hakuna matata! You'll have no worries and TONS of fun at our safari Lion King party!" in a text box on the front. On the inside (or on the printed flip side of a word doc), print the party information. For a fun effect, print this invite on tiger striped or leopard spotted stationery.
Download an image of a passport using an image program that allows modifications. Erase the information and replace it with "Safari Passport" and your party information.
Print and cut around the shape of an elephant's head; be sure to include the huge ears. Fold the ears down over the face so they're bent. Under one ear have "You're" printed, and under the other, "invited!" Print the party information on the back.
Roarin' Party Decor
Let's look at a few ways to make your decor go wild so your guests will too. We suggest these ideas:
Make and hang paper bag vines. Cheap, quick, easy…what's not to like? Hang a bunch of paper bag vines around the party room. Here's how to make them: Cut paper bags into long rectangles. (Lunch bags work well for this since they're so easy to crunch up.) Twist each, one hand away from the other, from the middle outward until the entire length is twisted. Voila – you have a paper bag vine! Cut huge leaves out of green construction paper and staple them along the length of the vine for added effect, then drape some rubber snakes throughout the foliage.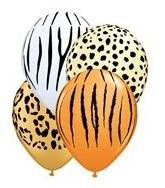 Fill animal print balloons, or Lion King themed balloons, with helium. Rent a tank to make things easier on yourself the morning of the party.
Print out a large size, full color map of Africa and hang it up.
Circle the party tablecloth with a raffia (dried grass) skirt.
Find paper or material scraps from your local fabric or stationery store. They should have animal prints (zebra stripes, tiger stripes, giraffe spots, etc.); otherwise, look for plain earth-tone colors. For plain pieces, take them home and color them in with stripes or spots. Now staple the pieces together. Use the completed "hide" as your table cover.
Lion King licensed decor. This is a real time-saver. Lion King table centerpieces, cut outs and tableware really dress up your party. You can also search online for Lion King images, print them out in color, bend them at the bottom and stand them up on the party table.
Use faux or real tropical/jungle fruits for decor. Set these up on the table, on end tables and around the party area. Bananas, whole coconuts and mangoes are a great choice. So are summertime fruits even if they're not necessarily tropical (like strawberries and cantaloupe).
Party Foods For Your Hungry Pride
Mmm – time to chow down. Set the table with Lion King plates, cups and napkins and matching plastic cutlery for easy cleanup later.
Serve grab-and-go goodies in any bowl or basket, lined with green tissue paper. Easy munchies for young children include goldfish crackers, pretzels, Sun Chips and M&Ms. Peanuts are a good tie-in too (think elephants and the zoo), but don't serve these to chidren under four as they could be a choking hazard, and be sure to clear any potential nut allergies with parents ahead of time.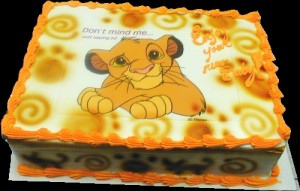 Cool Lion King cake, by
Silvas Central Bakery
For the cake, get an inexpensive edible Lion King reproduction (check out eBay
) as your topper. Or place Lion King plastic toppers in cupcakes decorated with orange or light brown frosting (to imitate a lion's colors).
Choose a fun flavor for the cake or cupcakes. How about banana? It's a popular variety kids love, and it fits in perfectly with the jungle scenario.
Serve peanut butter and banana sandwiches (mmmmmmm). As for drinks, do the other parents – and yourself – a favor: forgo soda in favor of no-sugar-added fruit punch or bottled water.
Here's a fun recipe we love:
Safari Mix Recipe
Ingredients:
4 c. toasted oat cereal, such as Cheerios or Honey Bunches of Os
3/4 c. dried fruit pieces (such as bananas or apricots) – cut into small chunks if necessary; or, 3/4 c.  fruit chips
3/4 c. mini pretzels (twisted or stick variety)
1/2 c. raisins
a sprinkling of gummy animals or gummy fruits
Directions: Mix all ingredients until well distributed. Serve.
Monkeying Around: Activities For Your Guests
Have a safari! Pick up inexpensive pith/safari helmets and plastic binoculars. Have guests wander around your back yard searching out for "wild" bugs and other fun finds (or, create caches of bugs and other jungle or savanna-themed toys for kids and turn it into a scavenger hunt.) Send the helmets, binoculars and toy caches home as party gifts.
Play party music or a Lion King soundtrack DVD and have a jungle dance contest! Encourage guests to strike their most fearsome, fun and funny animal poses, then hand out a small prize to each for participating.
"Go to the movies" by setting up lots of pillows, blankets and other items to lounge on in front of your DVD player, serving popcorn and juice and having a showing of (of course!) one of The Lion King movies.
Play Catch the Lion By the Tail. This is played in the same way as Duck, Duck, Goose. Tie a piece of string around one of the guests' waists in a knot that will easily let go to slip off afterward. The string is the lion's "tail." Have the rest of the guests sit in a circle. The "lion" goes around the group touching each guest on the head in turn and saying "lion, lion, lion…" and finally, "hyena!" When a child is called the "hyena," that child must chase the lion around the circle. If she catches the lion, she is the next lion, and so on.
Have a pinata decorated like a lion, tiger, giraffe, elephant, wild boar or other jungle animal.
If your child has a plastic ride-in car, decorate it with paper bags for vines (see description above) and let guets take turns, two at a time, going on "safari" around your driveway or backyard.
Cut out rectangles the entire width of a child's face from one ear to the other. Cut notches in the top so you have a king's/queen's crown shape. Poke a hole in each side of each rectangle. Knot a string or ribbon in each hole. Sit guests down to decorate their own crowns with glitter, glue and faux gems, then let them wear their creations and be "king or queen of the jungle."