Lego Star Wars Party Ideas
Got a little Padawan at home? Tried the Star Wars Lego video game? If not, you should, but beware — it's as addicting to grownups as it is to young Jedis. The Lego characters are so cute, and they go so far … all around the Star Wars galaxy, actually. And unlike some adventure based games, this one really is geared to boys and girls (yay!)
All that considered, it's the perfect theme for a youngster's birthday party or just for a get-together. Choose from among the following ideas for a sleepover, a back-to-school party or a big birthday bash. We only scoured one planet for tips, not an entire galaxy, but we found a wealth of fun for everyone. So grab a lightspeeder and follow us … the food, games and excitement this way! Read on.
Basic Star Wars Lego Theme and Colors
Licensed Star Wars Lego items are out there (oh boy are they!) and are the fastest and easiest way to create the right atmosphere for your party. Be sure you're getting a great deal; generally, these are far cheaper when purchased as sets (cups, plates, cutlery, favors, etc.)
If you have the time and are creative, you'll want to make your own decor as well to boost the Star Wars Lego background. Rely on black, silver and red colors; this should give you a great jumping off point and will work with a tablecloth, napkins, balloons, streamers, goody bags, etc. to develop atmosphere around the party area.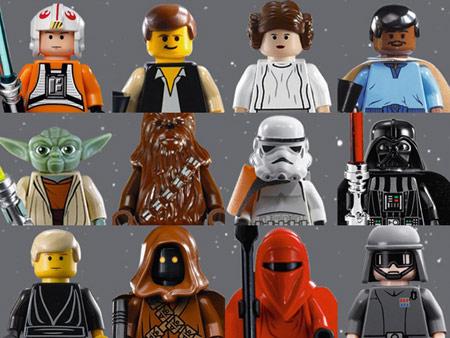 Cool Idea: Make Your Own "Jedi Academy" Party Invitations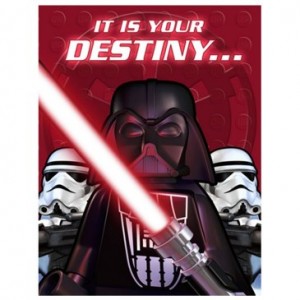 Around here we absolutely love making our own invitations. There's no shame in buying ready-made, though. (We've all been there…pressed for time and ideas.) Or, if you want something a bit more creative than standard greeting cards, try Ebay
– they list reliable home-based businesses who create, print and ship custom invites to your home.
But if you do want to try out your creative skills, here's an awesome idea guests will love:
Jedi Academy Party Invitation
1. If you have a stationery program, this will be even easier, but you can also use a standard Word-type document. For a stationery program, search for "scroll" as a border. The search word "award" may produce some scroll outlines too, so do a search; it should only take a few seconds. Insert the scroll type border of your choice.
2. If you have Photoshop, you probably have something similar to the outlines described above in (1). Search, find your border and embed.
3. If you are using a plain opened document, have a look first to see whether a "scroll" or "award" template my already be there. If not, Google free scroll outline templates for either Microsoft or Mac.
4. Insert the text "JEDI ACADEMY" in a font of your choice at the top of your document.
5. Underneath, insert the text (or something similar to the following) "You are cordially invited by the Jedi Council to take part in a very special training session on [date] at [time], at [location]. Come dressed in Jedi gear or in the traditional clothing of your home planet. May the force be with you, young padawan!"
6. Print the invitations out on parchment colored paper.
7. Roll each up and tie with a dark red, black or silver ribbon. Hand-deliver.

Ideas For Out-of-This-World Party Decor
If you want your little Jedi and his or her friends to really get into the spirit of things, you'll need to have some awesome Lego Star Wars party decor. Here are a few easy and very cool ideas:

Set the party table with Lego Star Wars, or other Star Wars, plates, cups and tablecloth and napkins. Match plastic forks and spoons to the colors you've chosen (if you're going with a true Lego Star Wars game theme, you will probably find red, black or silver to be perfect matches).
Make a Star Wars universe on the walls of the party location! There is a whole host of Star Wars planets (like Tatooine, Coruscant and Naboo, to name three famous ones), each with its own distinct look. National Geographic (of all places) has some gorgeous images of them.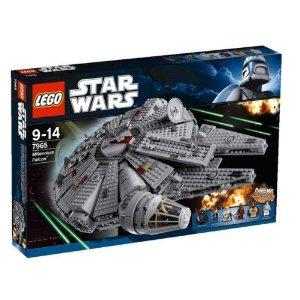 Now add some action to your Star Wars universe. Flying or floating craft in the Star Wars Lego game as well as Star Wars movies and books include the Death Star, cloud cars, speeders, X-wing fighters, Y-wing fighters, spider droids which can be sent to attach to flying aircraft and destroy them, Naboo royal airships…and many, many more. Print out whichever appeal to your little padawan and tape to the walls, or hang on ribbon from the ceiling so they look like they're flying through space.
Make a banner out of butcher paper. Cut out the length you want and paint "Welcome, Padawans. May the Force Be With You!", then tape to an overhanging area or on one wall. If it's a birthday party, paint "The Force is strong with this one" and tape an enlarged picture of your child to the left of the wording. You can also print a large banner using a banner-making program or free template (check Google) and embed your child's picture this way.
Fun Activities for Your Star Wars Lego Party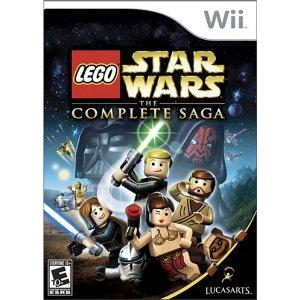 Little future Jedi tend to be VERY full of energy, and being at a party only amps that. So keep your party guests busy and having fun. Here are some of the best ways we've found to entertain guests at a Star Wars Lego party:
Play the Lego Star Wars game(of course!). Double guests up and time them at a chance to explore the game two-player (say, 10 minutes per pair of kids). As proud (and, admittedly, addicted) owners of the Nintendo Wii, we've played the basic started Lego Star Wars game too many times at my house to count! The characters look so cute and the sound effects are fun and generally pretty light-hearted, yet the game pulls no punches when it comes to the basic "search and destroy" MO of most action video games, so it's fun for kids and adults alike. Players can choose to be a cool Star Wars character, including Luke Skywalker, Han Solo, Princess Leia, Padme (in her Episode One clothing), the evil Emperor or Count Dooku, and secondary characters like Tan We (the long-necked, graceful alien from Coruscant), Dex (also from Episode One) and more.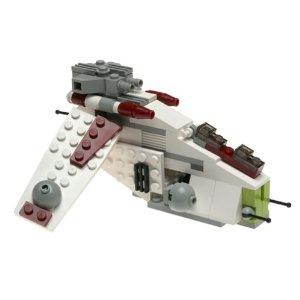 Have a Star Wars Legos building competition. Pull out your child's Star Wars Legos sets and let kids go wild with their hands and their imaginations. For very young guests, give everyone an award. A great idea for the award would be an individual Star Wars Lego mini-set. If you find this too pricey an option, give out Star Wars stickers or mini-books. These ideas are also perfect for take-home goody bags.
Hang a Darth Vader pull-string pinata and let guests take turns trying for goodies.
Show one of the Star Wars movies in the background during the party. You can also show the Clone Wars CGI TV series if you have it on video, or download episodes.
Make a cardboard cutout, or buy a cardboard stand-up, of a Star Wars villain, such as Darth Vader, Emperor Palpatine, the bounty hunter Cad Bane, female Sith apprentice Asajj Ventress or Darth Maul. Using a Nerf shooter (as safe and soft a shooter as you can find), have guests take aim at the baddie. Give out Star Wars Galactic Hero sets– which are short and cute, following the "play" and Legos style theme — as prizes. (Choose the inexpensive varieties; these run as low as $4.99 for two cool Star Wars figurines.)
Have a relay "pod race" using a toy version of young Anakin's podracer. Or have an "X-Wing Figher relay race," "speeder relay race," or other idea to match a Star Wars toy you already have around the house.
Have your husband or any other very good sport dress in a Darth Vader costume and come to the party to show he's not so bad after all. (Or hire someone to play any Star Wars character and come in to visit guests.)
Rations For Your Hungry Space Crew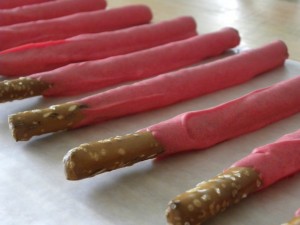 Cool pretzel light sabres, by
Affording Common Cents
Create a kid-friendly Mos Eisley Cantina and have kids dig in. Snacks for youngsters are generally very easy. Here's a spin or two on some favorites.
Create a banner that says "Mos Eisley Cantina" and hang it over the party table.
Choose some Star Wars Lego figures as cake toppers for the birthday boy or girl's cake.
Make hot dogs and call them Darth dogs.
Make Yoda Soda. Using green or clear soda, pour into a punch bowl. Add scoops of lime sherbet, allowing them to float on top and to melt just slightly before bringing the punch bowl to the table and serving.
Make pretzel light sabers. Add drops of food coloring to either melted white chocolate or softened white candy melts to achieve a variety of light saber colors such as blue, yellow and green. Dip large size pretzel rods 2/3 of the way into mixtures for the "light" part of the light saber. Lay gently on a cookie sheet lined with wax paper. Place in the refrigerator until the candy hardens. Serve.
Serve Pizza the Hutt. Stack pizzas carefully to make a tall Jabba. This means an adult will need to serve, as you don't want youngsters yanking at precariously balanced pies!
Make Wookie cookies. Using any recipe for a round cookie, bake, then frost lightly with brown icing. Roll in brown sprinkles.
Serve mini land-speeders. Easy: Top whole potato chips with squeeze cheese, sour cream and onion dip or whatever your guests prefer. Line them up on the plate, ready for takeoff.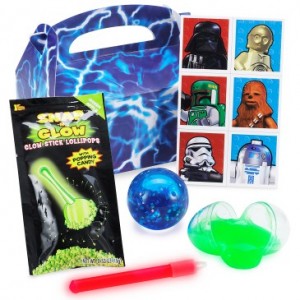 Oh Goody! Take-Home Bags for Your Little Space Cadets
Using the Invitation instructions at the top of this article, create Jedi Acadamy Graduate scrolls for your guests. Roll, tie with silver ribbon and place in a goody bag. Add fun candies such as Pop Rocks and Star Wars Pez dispensers. You can also add Star Wars Lego figurines or a small Star Wars action figure. Other "spacey" items like glow necklaces or bracelets are a fun addition to your goody bag, and easy on your wallet.
May the fun be with you!