Captain America Theme Party
Marvel Comics fans rejoice: "Captain America: The First Avenger" debuts in theaters July 22. A few sneak previews have hinted that this one will be a blockbuster — personally, we can't wait to see what this cool idea has to offer in movie form.
And of course, being the party-minded bunch we are around here, the instant question was "How would this translate to an awesome superhero party?"
Never fear — your editors are here with Captain America party supplies and ideas that are (wait for it) "out of this world." Come on, don that Super Party Organizer outfit and let's get started!
Invite Your Guests to Your Captain America Party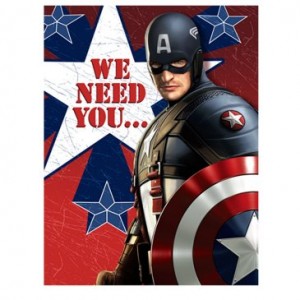 This is Priority One, of course. Get your invites out in plenty of time for the party, but not so far in advance that you'll get lost on the calendar. We recommend timing invitation delivery to be in guests' hands 10 days to two weeks before the party date.
Cute idea: Purchase some inexpensive Captain America masks, or make your own with cardboard, scissors and magic markers (very easy – paint it blue with a big white A). On the back of each mask, write the party details (date, time, location and whether or not guests are expected to dress up — more on that later). Or if you're printing off your masks, turn the paper over and print the text on the back. Hand-deliver, or if you're printing, use regular stock paper, fold into fourths and mail.
Time-saving alternative: Buy licensed Captain America or other Marvel Comics superhero invites, fill out and mail. Voila — your work here is done!

Decorate the Party Area with a Superhero Theme
Make sure the party decor is, well, super. Comic book/cartoon heroes and heroines are generally larger than life and are colorful characters. For this reason, there isn't really such a thing as "too much" when it comes to superhero party decor. Go wild with this theme — you have so many options! Here are a few epic Captain America decor ideas:
Think red, white and blue. You don't get more all-American than this favorite superhero. Buy plates, cups, napkin and a tablecloth in these patriotic colors. You can find licensed Captain America table decor here.
Hang an American flag over the doorway so guests get a patriotic feel entering the party.
Choose a "spray of stars" centerpiece. You can make your own by covering pipe cleaners with colored aluminum foil and gluing or stapling glittery stars to the ends of each, or buy one pre-made.
Print out images of Marvel Comics heroes and villains and hang them on the walls. Print a few on cardstock paper so they're heavier; bend the bottoms and stand up around the party area.
Print out, draw, color and/or paint Captain America shields. Hang up around the party area.
Create a centerpiece out of Marvel Comics figurines. Set them up so they're battling one another or joining together in the fight to keep the universe safe.
Choose balloons in red, white, blue and black colors. Buy a helium tank and fill dozens of these; let them float to the ceiling and create an awesome party atmosphere.
Captain America Party Activities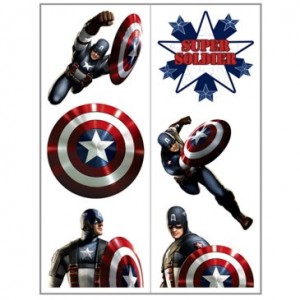 Superheroes and heroines are all about action. Get the party off and running with activities and treats for your guests.
Hand out wrist bands or Captain America masks as guests enter the party area so everyone can be a superhero.
Let guests take turns at a pinata. Try a star shape for Captain America's famous emblem.
Have a foot race or a team relay race. Captain America can run "a mile in a minute." Let guests see how close they can come to superhuman speed. (Keep the area clear of obstructions for safety purposes.)
Set up a superhero obstacle course. It's best to do this outdoors, or in a room that has plenty of space and not many objects to bump into/break! Have guests run through tires, shimmy underneath chairs, leap over or zigzag through small cardboard cutouts of buildings and finally, land on a stack of large pillows. Have a timer handy and award the winner with a ribbon or a small treat.
Food, Drinks and Party Favors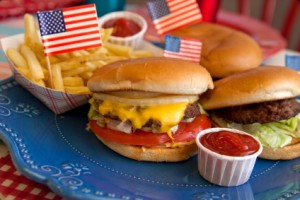 Make foods all-American, and throw in something "superhero"-esque as well. This will cover the Captain America bases for your foods table.
Hamburgers and hot dogs are oh so American; serve them on red, white and blue plastic plates with chips on the side. Corn dogs are another yummy option.
For young children, try other favorites such as grilled cheese or macaroni and cheese (ironically, my children tend to think the boxed kind is a treat, making this idea all the cheaper around here — try it out and see!).
Juice boxes are a perfect idea for drinks; avoid drink pouches, which tend to squeeze out and spill as guests are running around. You can also serve Gatorade or another weird-and-awesomely colored sports drink as Super Soldier Serum.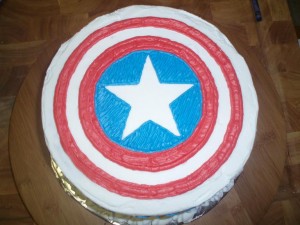 Captain America cake, by
The Frosted Baker
Bake a cake or pick up a plain one at your local bakery or grocery store, and top with a Captain America cake topper. Or choose an edible theme cake decoration
; ebay sellers usually have one or two of these on hand.
Another fun birthday cake option: try a circular cake decorated like Captain America's shield. This is so easy to do; just pick the appropriately colored icings and go to town. Use a template if you're worried about having a steady hand.
Serve rocket pops or blue and red Italian ices.
Make star-shaped Jell-O Jigglers using a star shaped cookie cutter. Naturally, you can use this idea and make actual cookies instead; choose an easy recipe or buy pre-mixed dough in the refrigerated aisle of your grocery store, bake and decorate with red and blue icing.
For fruit lovers, try a treat that's also great for Independence Day – fill a bowl with strawberries and blueberries, and top with whipped cream. Viola, red, white and blue!
For a final treat, send guests home with goody bags. Fill these with Captain America tattoos and stickers, red or sky blue note pads, plastic star-shaped sunglasses and a few pieces of candy; for preschoolers, choose pretzel sticks and individual serving sizes of cut fruit or applesauce.