A visit to the local farm is great inspiration for your child's next birthday party. Farms offer fresh eats, fun and fascinating animals and awesome machinery, including the famous John Deere line of farm tractors and trucks. Here are our thoughts on what makes a great John Deere farm party for both boys and girls.
Cool Farm Decor
The green and yellow color theme of John Deere machinery is iconic; even kids will recognize it. Or maybe we should say especially kids — and we don't just mean boys. Little girls will love John Deere party decor and treats too!
First on your agenda is to put together some cool party decor. John Deere has its own licensed line of products, including tableware and decorations, so have a peek and take your pick. The company also has a girl's pink version for little ladies who love farms and farming. Too cute!
Here are some other ideas for a countrified party guests will love:
Set up an awesome tractor stand-in and take pictures of guests individually, posing as the "farmer." Print out pics and include them in goody bags at the end of the party; parents will love this.
Cover your front door with butcher paper or paper grocery bags taped together. Paint red with white touches to mimic a barn door.
Set up straw bales around the party area; check out Amazon for miniature craft bales you can use for parties. Or if you live near an animal feed store, ask about large hay bales. These can often be had for a steal. Place them around the perimeter of the party room for a real farm feel.
Place lots of green and yellow balloons around the party area.
Put sunflower and marigold arrangements on the party table and other surfaces around the party room. These can be real or not; check your local crafts store or dollar store for fabric blooms that look like the real thing. Cute touch: Stand sunflowers in Mason jars.
Buy a few cute John Deere or farm theme wall decals. These are removable and can be used again and again. Stick them up on the walls of the party area, then after the celebrating is done, give them to your child and let her decorate her very own room in real farm style.
Hang these fun tractor whirls from the ceiling. So iconic, so fun!
A Down-On-The-Farm Party Invite
Now it's time to wrassle up your posse and invite them to the shindig at your house. You can order personalized John Deere party invitations to make things a snap and get the party going without breaking your budget. Or go ahead and make your own.
Our favorite DIY John Deere party invite idea is to take a photo of your child dressed like a farmer, import it into a document (if you have a cardmaking program, this will be even easier) and print out copies. Farmwear is easy: choose a pair of overalls, a checkered or striped shirt and an old hat (the more beaten-up looking the better).
Other fun dress-up invite ideas include a scarecrow or your child's favorite farm animal.
If you'd rather not do a photo invitation, simply download a picture of a tractor and print the party information on the back.

Chow Time: Party Foods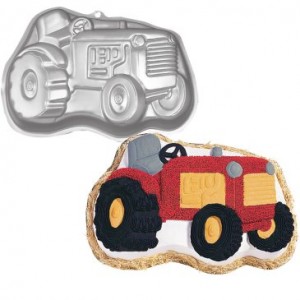 Foods for this party idea are so easy. Think farm fresh, Americana and lots of veggies. Set out food on a John Deere tablecloth or a red and white checked picnic-style disposable table cover. Load up the table with these yummies:
fried chicken (you can substitute chicken nuggets if you prefer)
corn on the cob
apple pie or cherry pie; top with whipped cream
fresh lemonade
haystacks (try this kid-friendly peanut butter version)
a baby carrots tray with dip
watermelon pops – simply slice watermelon and place each piece on Popsicle sticks
"veggie garden" tray: line up rows of several types of veggies and stand up a seed packet at the head of each row
brown cows (chocolate milk) or "moo milk shakes" (vanilla shakes)
a Wilton cake pan in the shape of a tractor
a cake topped with a John Deere toy tractor and plastic farm animal figurines
A Visit to the Farm
A visit to the farm is the ideal way to kick of your John Deere birthday party. Call your local farm and ask whether they offer tours or hay rides. Be sure to note on the party invitations that the festivities begin at the farm locale. Ask parents to volunteer to be transportation for the party guests to the farm and then back to the party area.
Or even better: find out whether any of your local farms offers a full party package, and have guests spend the morning or afternoon seeing the sights and learning all about farm animals, veggies and a farmer's busy day.

Activities on Your "Down Home" Farm
For a John Deere party that takes place at home, make sure there's plenty for kids to do.
How about a pudding or pie-eating contest? Have smocks or simply large pieces of material handy to tie around guests' necks (be careful) so their clothes stay clean. Ask guests to place their hands behind their backs, then eat with just their mouths. The first to complete his or her plate is the winner. Be sure the serving size for this is small; you don't want to get your guests sick in the midst of their fun!
Dressup is perfect for this party too. Be sure to note on the party invitations that guests should come dressed as farmers or farm animals. Other ideas include scarecrows, milkmen/women or even human "veggies". Have a costume contest where everyone is a winner. Hand out candy or small toys as prizes.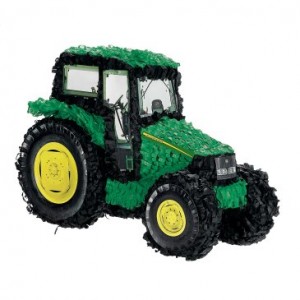 Hang a tractor pinata. Blindfold guests and let them take turns swinging. Generally, pinata rules are three blindfolded swings each with other guests standing WELL back from the pinata area; after that, the next guest gets a turn. Give guests a red bandanna each to gather up the treats; you tie them off and put them aside as take-home goody bags. Be close by to make sure everyone gets his or her fair share once the pinata is opened and the treats spill out. Yum!
Give out fun party favors. There are plenty of awesome John Deere choices, including this girl's John Deere party box. (Too cute.)
If the party takes place in the autumn, let guests make a cool, spooky scarecrow by gathering up fallen leaves and stuffing them into an old pair of pants, a button-down shirt and a discarded pair of boots. Top with an uncarved pumpkin for the head.
Fill novelty plastic eggs (these are usually for Easter, but can be found online all year long) with candy. Hide them around the party area and have kids hunt around the "chicken coop" (the party room or your back yard) for them.
Have a cow patty toss. Use a brown frisbee as the "cow patty." The idea will make guests giggle and the activity will use up a lot of energy invitees will surely have when they see what a cool party you've created just for them.
Have fun, pardner — this party idea is a classic and will appeal to everyone.