Fourth of July Beach Party
Summer, sun and America's favorite holiday — what better timing could there be to party with friends?
We've had so many readers ask us for ideas on celebrating Fourth of July on the beach (or creating a beach-like atmosphere in their own homes for the patriotic day), we've decided to show you how to put together your very own Fourth of July beach party.
It's all here: a cool atmosphere, great games and fabulous Fourth eats. We've broken things down into two parts for easy reference — a Fourth of July beach party theme at home, and a party at the seashore. Come on, Gidget, let's get started!
Fourth of July Beach Party at Home
Outdoors is best for this theme, obviously, but if it should rain on your parade (or party, rather), these ideas can easily be brought inside. Or rent a tent in advance so guests can take cover in case of inclement weather.
Set up torches around the party area if you're holding the celebration outdoors.
You'll want to keep Independence Day at the forefront as well as your on-the-beach theme. Go for rattan (grass skirt-style) decor with red, white and blue touches. For instance, set up rattan tablecloths dotted in red, white and blue flowers. (One of these table covers is perfect — add a few white flowers and you're good to go.)
Dress up a few beach-style place mats with red, white and blue glued-on flowers or streamers.
Buy inexpensive sea shells in bulk and paint them red, white and blue; set them out as centerpieces.
Have a few play items out. Guests will have a ball with fun, patriotic beach balls (set up a volleyball net if you have one).
Set out a kiddie pool for little guests to splash in and encourage grown-ups to dip their feet in, too.
Other summery beach-style play items include frisbees, limbo (hang red, white and blue streamers from the two outer supporting poles) and water guns/squirt guns.
If young guests are invited and you have a sandbox in your yard, let youngsters "play on the beach" — be sure to have sunscreen and cool sunglasses ready!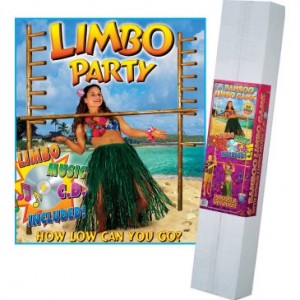 Serve Delicious Summertime Treats
Try a new twist on an old favorite: make melon boats. Rather than one large watermelon, scoop out cantaloupes or honeydews. Fill with melon balls, grapes, strawberries and pineapple.
Another cool Fourth of July food idea is to cut the top one-third off oranges horizontally so you're left with a bowl with a level top. Set two out on each table depending upon how many guests you expect. Scrape out the orange pulp. Fill with raspberry and noncolored lemon sherbet (this should be white), top with blueberries and serve. Or fill with raspberry or noncolored lemon sherbet and top each with an American flag toothpick.
For main dish foods, grill burgers, dogs, steak and veggie kabobs — yum!
Be sure to have plenty of bottled water for guests to drink, particularly if it gets very hot in your area at this time of year.
Set out a big bowl of punch.
Serve red and blue rocket pops to kids after the meal. (Psssst…grown-ups will love this fun snack, too.)
Fourth of July Party at the Beach
Many of the party-at-home ideas above can be taken to the beach. A few need tweaking, though. Keep these points in mind when planning your fun Fourth party at the beach:
Call ahead of time to find out beach regulations. If you're planning on bringing a hibachi, are inviting quite a few guests and/or would like to stay on the beach until after sundown, be sure these activities are allowed.

Watch out for wind. Any shoreline can be windy, whether at the ocean or lakeside. Make sure you have enough weighty objects (the picnic basket, stacks of folded towels and the like) to hold down all four corners of a beach blanket.
Bring foods that don't need to be refrigerated. Heavy coolers filled with ice are just one more item you'll have to lug around. Keep these to a minimum, say for cold drinks.
Make your decor beach-friendly. A beach backdrop is really its own decoration, but add touches of red, white and blue by choosing these colors for your towels and beach toys.
Let toys double as party favors. Particularly if there will be young children at your beach party, you'll want awesome toys available but will want to keep costs down. A pail and shovel or other item is a perfect choice. Have little guests take these home afterward.
Provide of sun protection. Bring along a few bottles of sunscreen for adults and set up umbrellas so everyone can be comfortable.
Provide plenty of fun. Adults and kids alike will enjoy limbo, tossing beach balls and frisbees, beach volleyball and squirting one another with water toys. See "Set Up Fun Activities" in the home party category above for ideas.
Be safe. Remind guests to take safety vests along for young children and those just learning to swim.