A Kid's Fourth of July Party
Lately, we're seeing a trend: kids' versions of national holiday parties. We're loving the idea – and we're discovering that kids can be among the most loyal countrymen (and women) of all!
Throw an Independence Day party for your child and his or her friends this year. We'll help you get started with the tips below.
Patriotic Party Invitations
Here are three fun, appealing and easy options for fab Fourth invites kids will love: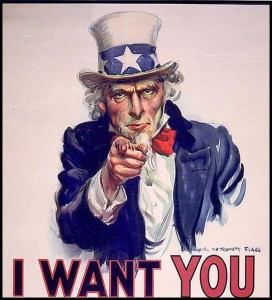 1. Download an image of Uncle Sam with his finger pointed at the reader and add the text, "I want YOU – to come to my party!" Print text on the back.
2. Download a star shape or simply cut card stock into star shapes. Tape a sparkler to the back of the invite. Add the text, "Our party just won't shine without you!"
3. Have your child help with this one. Using index cards, you draw a blue square outline in the upper left-hand corner with the index card held horizontally. Now let your child draw tiny stars in the field and lightly color it in blue, and have her color alternating horizontal bars red, starting with the top bar. Have the text already printed on the back of the invitation or let your child write the info.
Be sure to note that guests should bring swim suits/towels if there will be swimming, water balloon fights or other water play at the party. Add red, white and blue stickers or tattoos and a little confetti to the envelope before sealing. Another great option, especially for younger children, is one red, one white and one blue crayon with each invitation.
Each of these invitations is flat and lightweight, so you can mail them inexpensively. For the most thrifty option, try the U.S. flag idea on postcard-size paper. Follow the instructions for coloring the front, then write the text on the back, add a postcard stamp, and you're done.

Fabulous Fourth Party Decor
You already know you're going to do the red, white and blue. For children, you're going to go extra-sparkly, too. Here's how to put it all together for a kid-friendly party look.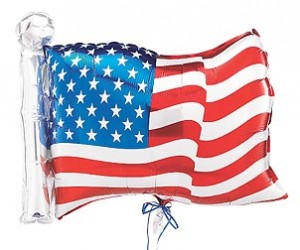 Streamers. These are not only an all-around great party decoration, they're very traditional as far as Independence Day goes. Hang lots of red, white and blue streamers from the ceiling or around the outdoor party area. Silver streamers are a great addition to the traditional Fourth color scheme.
Christmas lights. No, we don't have our holidays confused — tiny white Christmas lights are the perfect touch to an outdoor summer party. If you're having an afternoon-into-evening party for your little one and guests, hang strings of these lights, usually available year-round at low prices in home improvement stores, around the patio area. Make sure you hang them high enough that children won't trip over or reach up to pull at the wires.
Helium balloons with Fourth of July weights. These are a must! The more, the better. Here's an idea we love: tie a plastic balloon weight to the end of the balloon's ribbon. Drop the weight inside a festive red, white and blue drinking cup. Fill the cup with sand. Stand on tables or on the ground all around the party area and make an extra-big one with three or more balloons for a table centerpiece. Send each guest home with a balloon at the end of the party.
Americana tablecloth. Choose an Americana style red-and-white checked table cover. Look for a disposable one to make the post-party cleanup easier.
Sparkly centerpieces. Buy "fireworks"-style table centerpieces, or make your own: purchase pipe cleaners, silver and gold crafts foil, glittery craft stars, pretty plastic cups and crafts sand. Fill each cup 3/4 of the way with sand. Cover the pipe cleaners in foil in alternating colors. Glue or staple a star onto the end of each. Insert into cups and bend outward so they look like falling fireworks.
Decorative table settings. Stack one red and one blue plastic plate (in two different sizes) with the smaller plate on top of the larger one. Arrange table settings including the stacked plates. They're decor all by themselves and are so inexpensive and easy to do. Add red, white or blue napkins, a spoon, fork and knife and a cup at each place setting. View July 4th tableware sets for purchase.
Bug lights or torches. If your area gets "buggy" at sundown, set up bug lights or torches (be sure to set the rules for running/walking near flame as guests enter the party). Make sure the torches are firmly set into the ground and periodically check on them during the party to be sure they're still stable and far enough from roughhousing so they don't pose a danger.
Plan B for inclement weather: make sure you're covered. For an outdoor party, be prepared for possible inclement weather by renting a party tent in advance, or have a sheltered area you could quickly move everything to.
Look for all July 4th party supplies at Shindigz
Awesome Activities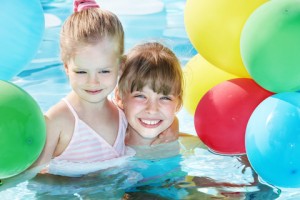 Make sure you have plenty for guests to do – kids love to stay active and if you don't wear them out, they'll be glad to wear you out instead! 😉
Pool Party
If you have a pool, consider a pool party, but ONLY if all kids under 10 and/or who aren't experienced swimmers wear a life vest and are accompanied by an adult. If guests are a little older, you can probably forgo the vests, but have clear, definite rules and make sure you enforce them. Also be sure to list in the party information on the invite that guests should bring a swim suit, a change of clothes and a towel.
An alternative is a kiddie pool. This is great for toddlers, who can splash in safety with grown-ups looking on.
Water Balloon Fight
For big kids, how about a water balloon fight? Be sure you buy balloons made for this purpose so they burst easily. You can also put out a Slip 'n Slide-type activity or a sprinkler for guests to run through so they can cool off.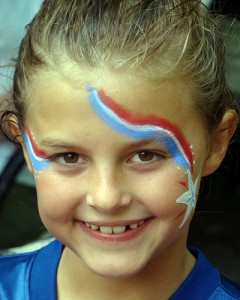 Cute face painting. Photo by
Ryan Baxter Photography
Kid's Parade
For kids up to about age six, a parade can be a truly awesome activity for the Fourth! Supply guests with inexpensive tambourines, drums and recorders (these can often be had for a buck at the dollar store), arrange them in a line and parade around the back yard or the neighborhood.
Double the above as a crafts activity by having guests make drums before the parade. Have a thoroughly cleaned, empty coffee can for each guest ready ahead of time. Make sure the top is completely off and you've filed down the sharp edges. Have guests turn the cans over so the solid end is facing up. Cover the outside of the can with construction paper, then allow guests to decorate their drums with stickers, glitter and markers.
Face Painting
Have a face painting station. You be the artist, or if the kids are older, allow them to decorate one another. Be sure to use non-toxic, washable paints.
Sparklers and Snappers
For kids 11 and up, hand out sparklers, but use care. It goes without saying, but it only takes one wayward spark to turn a party into something much more ominous. ALWAYS supervise sparklers and similar activities, no matter how many eye-rolls you get. An alternative is snappers. Throw these on the ground for a snapping noise that makes guests jump even when they're expecting it. Kids love these!

Delicious July Fourth Party Dishes
These foods are easy to make, yummy to kids and look great on your party table. Try a few out:
Fabulous Fourth parfait: layer either vanilla yogurt or slightly softened vanilla ice cream with blueberries and raspberries. Alternate the blueberries, then the yogurt, then the raspberries until the dish is filled. Top with crushed graham crackers.
Star-shaped sandwiches: make sandwiches guests will like (such as peanut butter and jelly, peanut butter and bananas, or cheese sandwiches), then cut out the completed sandwiches with a star-shaped cookie cutter.
Watermelon star pops: choose a large watermelon if possible. Slice it all the way through into large circles, rather than the traditional triangle or half-circle shape. Using a star-shaped cookie cutter, cut out your shapes. Insert a popsicle stick into each. Arrange standing up in a pretty jar.
Uncle Sam ice cream cones: Sit a flat-bottomed ice cream cone on top of a scoop of vanilla ice cream for a hat. Make red and blue "squiggles" along the hat's brim with squeezable cake icing. Push M&Ms into the front of the ice cream for eyes. Now make a white beard with whipped cream — we recommend the canned kind for a great, fluffy look. Serve.
Ice several cupcakes in blue (the total amount will depend upon how big you want your presentation to be). Dot the blue cupcakes with a dab of white icing or whipped cream. Arrange at the upper left hand corner of a large platter or large cookie baking sheet. Frost your remaining cupcakes in either red or white. Line up the red cupcakes horizontally next to the top of the blue cupcake section. Below the red cupcakes, line up white cupcakes. Alternate in stripes until you have an American flag. You don't need thirteen rows — that's a lot of cupcakes. Just do your best and guests will get the gist.
Star Spangled Banner cake. This is an easier alternative to the above, though both make an awesome presentation! Bake a rectangular cake. Frost with vanilla icing. Use blueberries for the field of stars and raspberries or strawberries for the red flag stripes.
Uncle Samburgers and Hot Summer Dogs. Kids love burgers and dogs — you really can't go wrong with this choice.
Grab-and-go traditional snacks. Put out plates of potato chips, pop corn, grilled corn on the cob and other good old-fashioned munchies.
Make a fabulous old-fashioned American lemonade.
Have a fabulous Fourth!