Calling all cat lovers — here's everything you need to know to host a glamour cats party that's purr-fect. There's so much to love about our fuzzy yet always regal felines. Is your little girl a cat lover? If so, she'll absolutely love a glamour cats party theme for her birthday party – the party supplies use images from famed animal photographer Rachael Hale.
This theme combines all the elements of an awesome girl's party: makeup and dress-up, lots of activities and a focus on those slinky, furry pets we all love so much. Plus, we guarantee you'll love putting together the decor, goody bags, food, games and table settings.
So what are you waiting for? Prowl these awesome ideas for the perfect glamour cats party!
Pretty Kitty Invitations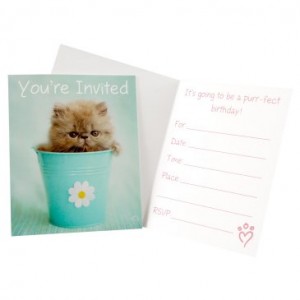 For invitations, print out pawprint shapes. Use either glamorous language in the text — "Please come to our party, dahling…it'll be purrrrfectly wonderful!" or LOLcats lingo, like "Can yous come to mah partay? Theys be YUMMIES!" (LOLcats language is notorious for its many mention of yummies that cats love).
If the LOLcats lingo confuses you — and by the way, join the club in that case — keep things simple with glamour or cat-style commentary. For very young guests, try something on the endearing side, like "Our little kitten is turning three! Come have a howlin' good time with us!" For older kids, try "You know you're worth it, darling. Come get primped, pampered and glammed up at our glamour cats party."
Decorating For a Glamour Cats Party
How you decorate the party area will depend partially upon how old the guests are. Think more cutesy and fluffy for very young girls, and lean more toward the glamour aspect for older girls and tweens. Here are some ideas to glam up your party:
Think pink, purple, lavender and other glam colors that girls of all ages will love.
Place stuffed cats and kittens everywhere. If your little girl already has her own collection, then this decor idea is all set. If not, buy stuffed animals or kitten bean bag babies and have them double as goody bag gifts. Sit kitties up on the party table, on window sills, and even give them their own chairs, space permitting.
For younger girls, have lots of awesome helium balloons with pictures of glamorous cats all around the party area. Anchor them with plastic cat toys (look in your local dollar store or grocery for inexpensive options).
Set out cups, plates, forks, spoons, napkins and cups in purple and pink colors.
Drape a faux pearl necklace over one side of each party chair. These really up the glam content and double as awesome take-home gifts for later. Let guests don their "jewels" at the party and show off to their hearts' content.
For a tablecloth that's the cat's meow, pick up an inexpensive paw print stamp or make your own by cutting the shape out of a dry kitchen sponge. Let your little one help you stamp paw prints in alternating colors of pink, blue, lavender, etc. all around the edges of the tablecloth.
Purrfect Party Games
Give each guest kitty ears to wear (simply glue stiffened fabric, felt or cardboard triangles in kitty colors to the tops of a bunch of headbands).
To break the ice, sit guests down at the table for an as-you-arrive craft. Here's one we love: make kitty masks by cutting eye holes in paper plates, glue fabric ears at the top and draw, paint and glue on gorgeous glittery colors, faux gems and feathers (use washable, non-toxic materials). Glue a Popsicle stick to the bottom of each one at the back. Allow to dry while guest continue to play, then hand them their masks and let them pretend to be kittens.
As the party gets underway, have a few fun activities ready. Clear a room of anything dangerous or breakable and have guests play  "Here, kitty." This is played in the style of Marco Polo. One guest is blindfolded. The other guests gather around her but just out of reach. The blindfolded guest says "Here, kitty" and the guests meow. Once a guest is caught, she becomes "it" and dons the blindfold for her turn at the chase.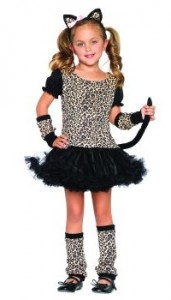 Even very little girls will love a makeup and fragrance station, so choose this next idea for any age group. Paint younger girls as cats (always use washable, non-toxic paint) in awesome glam colors. For older girls, tell them to let their imaginations go wild and paint one another in glitter face paint. They can become cats or other animals, or just glam it up like crazy with catwalk runway makeup.
Let guests play dress-up. Give them faux boas, tiaras and gorgeous hair accessories, long costume dresses and high-ish (not too high!) heels. Then let them "strut their look on the catwalk" by having them walk up and down the room to display their makeup and clothes. (Hint: check out your local thrift store or Goodwill for bargains on these costume pieces. It doesn't matter if they're a little too big for guests.)
Have guests make cat collars. For very young children, string Froot Loops on a piece of thread; place a sale tag (these are available at WalMart, the dollar store, ebay and other locations) with the guest's name written on the front and then string an equal amount of Froot Loops on the other side. Tie off. For school age girls, thread plastic pearls, gems or faux silver pieces with the tag in the middle as above.

Kitty Party Nibbles
Serve these great snacks out of plastic pet food bowls (only use brand-new bowls, of course):
goldfish crackers
cat chow (make this yourself using your favorite trail mix or other party mix and filling a cat food bowl with it)
kitty ice cream — turn this into a contest by placing a couple of tablespoons of vanilla ice cream in each dish, having guests put their hands behind their backs and "lapping up" the "cream;" the first to finish gets a toy or treat
upscale-style foods that are still kid-friendly, such as fruit kabobs and crustless peanut butter and jelly sandwiches cut into delicate triangles
gummy fish and other candy fish
water or punch served in adorable cat cups
any foods that match the color scheme of your party — for instance, peppermint lollipops (pink and white); grapes (purple); boxed candy hearts (pretty pastels)
A Fun Glam Cats Party Recipe
Try this idea for the cutest party cupcakes ever.
Cat Face Cupcakes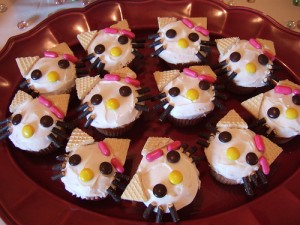 Hello Kitty cupcakes, courtesy of
Merry Antoinette
Ingredients:
baked cupcakes — your favorite recipe (or buy plain, un-iced cupcakes)
frosting in pink, white and/or brown
black string licorice
M&Ms or Skittles
jelly beans
any square cookie (for example, graham crackers) that can be cut on angles to form triangles
Method:
Bake cupcakes or have them ready. Frost them in either vanilla, chocolate or pink (cherry, strawberry or vanilla with food coloring added) to make each face. Cut the cookies on angles to form triangles; place these firmly into the icing for cat ears. Use licorice for whiskers, M&Ms or Skittles for the eyes and half a jelly bean for the nose. This recipe is so easy and so much fun that you can have it double as a party activity if you like.

Make Party Favor Cups
Don't forget the party favors! Here's a cute idea for a fancy-style goody container. Using a large solid-color cup as the container, cut cat ears out of construction paper; glue to near the top/rim of the cup. Cut a small construction paper triangle for the nose and glue on. Add whiskers with black permanent marker. Glue a fancy bow (perhaps gold or silver toned) beneath the face. Now open a clothespin and glue one side of the grip to the inside of the cup. Use crafts glue and allow to dry very thoroughly. Last, glue a dollar-store magnet onto the back of the outside grip of the clothes pin.
Fill with candy. Afterward, kids can hang these in their lockers via the magnet to hold pencils and lunch money.
Ciao meow!