Pirates of the Caribbean Theme Party
Party with a swashbuckling gait with Jack Sparrow, Angelica, Barbossa and the rest of the crew in the next Pirates of the Caribbean movie, "On Stranger Tides." So grab yer black jack (leather mug), gather ye'slves in the fo'cs'le (crew quarters) and let's share the best Pirates of the Caribbean theme party ideas!
Displaying the Booty: Pirate Party Decor
(Now what did you think we meant?)
Every great party starts with great party decorations. Here are some ideas that should float your boat:
Buy rolls of blue paper and tape them to the walls of the party room to imitate the sea. For kids: invite guests to sit down with craft glue, scissors, construction paper, glitter and craft shells/sand to create ocean theme wall decor. Encourage kids to create fish, squid, octopus, a big pirate ship, an underwater treasure chest and of course, mermaids (these have a big place in the new Pirates of the Caribbean movie).
Cover the front door with crumpled and then smoothed out paper bags to imitate leather or weathered wood. With magic markers, draw "leather" straps and buckles. A different option: using the same materials, cover the front door, but draw a pirate map on the front, with the party area in the center covered with a big X.
Try skull-and-crossbones balloons to give your party some pirate flavor. Have them filled with helium the morning of the party or rent a helium tank so you can do this yourself whenever you're ready.
Go for red, black, white and of course, gold for traditional pirate-style colors when choosing your plates, cups, cutlery, tablecloth and decorative touches.
Make an oversize pirate flag banner and hang it at the front door or on the wall. On butcher paper or other paper taped together to form a large rectangle, draw a skull and crossbones. Paint or write the birthday guest of honor's name across the front. (Another option: buy a personalized banner — very cool!)
Scatter faux gold coins on tables and gather a huge pile of them in the center of the foods table. Add a string or two of faux pearls and toss on some plastic gems and you have the perfect pirate party centerpiece.
Set up tiki torches around the party area. (If you plan on lighting them for an outdoor party, make sure any flammable materials are well away from each torch. For children's parties, we recommend you leave these unlit whether your party is indoors our outside.)
Know Yer Pirate Lingo (Yar!)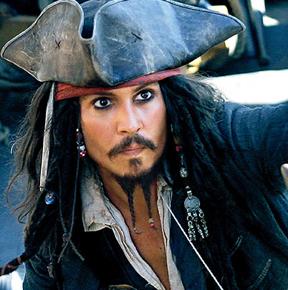 Seafarin' lingo of days gone by will serve you well as you greet guests, and add awesome flavor to the party invitations, too.
Here's a great list we found to brush up on your pirate-talk skills. We laughed most heartily (or should I say most me-hardy-ly?) at some of the lesser-known phrases on this site. Here's a couple:
Go on Account – become a pirate
Hornswaggle – to steal or defraud
Head – the toliet, usually a hole cut into the deck overhanging the bow of the ship
Monkey – a small cannon
Landlubber – Meaning "slow and stupid", it's a pirate who isn't taking well to the sea life.
Take a Caulk – Take a nap on the deck (since the boards of the deck were caulked with black tar, a pirate would likely have black lines on their clothing)
Grog – Since water in a ship's hold was often old and spoiled, pirates mixed it with rum to mask the taste (and as an antiseptic.) Yum! The name was originally the nickname of British naval captain Edward Vernon ("Old Grog") who came up with the idea in 1740. He also added some lemon juice, and though he didn't know it at the time, he had unintentionally cured scurvy (lack of vitamin C), and his sailors were always healthier than those from other ships.
Inviting the Crew
Invitations set the mood and let guests know what's required of them (for example, if it's a potluck party, you'll want your guests to know well ahead of time; ditto for a dress-up party). Try these ideas to make a splash:
Print party information on pirate flag-style paper; get images off Google, size to your paper, add text and you're ready to go.
Print a treasure map style invite with a big X over your home and write "Arr, the party be here!" or "Set your course for…" and the address.
Send an invitation in a bottle. Look for small plastic bottles with stoppers at the dollar store or at Amazon. Roll up each invite and insert into bottles.
Use a cool, pirate-y font for your invitation wording (MS Word Blackadder is a great one).
Make sure to invite guests to dress as pirates such as Captain Jack Sparrow, Angelica (Penelope Cruz), Barbossa, Blackbeard, a mermaid or to dress in undead crewmember gear.
Toss a little sand or a mini shell inside each invitation and mail.
Mmmm…Pirate Grub (Party Foods and Drink)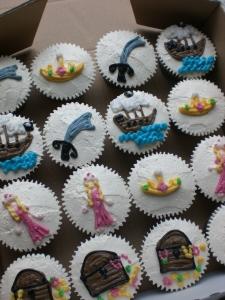 Awesome pirate cupcakes, courtesy of
Lavender Bakery
Try these grabbable pirate party foods.
Use off-white (try French vanilla) or brown frosting on any flavor cake. Sprinkle with brown, white or tan colored cake sprinkles or colored sugar. Draw a treasure map in cake icing.
Make skull-and-crossbones cupcakes. Use brown or black (if you can find it) frosting and draw simple skulls and crossbones on each in white icing.
Have a Fountain of Youth (just like in the movie). Go easy on yourself and rent a punch fountain from your local party supply store.
Serve goldfish crackers, gummy fish/Swedish fish, fish sticks with tartar sauce and Trader Joe's Pirate's Booty (or make your own).
Serve banana boats (banana splits).
For an adults-only party, serve sangria with lots of yummy fruit bits. (Or try a non-alcoholic version for kids.)
Make a jello ocean. Follow the basic recipe for Jello-O in a mold; add gummy fish and other gummy or candy ocean creatures.
For grown-ups, serve crab cakes, sword kabobs (spear one grilled piece of meat, poultry or fish plus one grilled vegetable bite on each plastic sword or toothpick), ale/mead and fish 'n chips.
Fun on the Open Seas
Hand out (or make goody bags of) lots of fun pirate booty like eye patches, mini plastic swords, chocolate coins wrapped in gold foil, flashy beaded necklaces and pirate/crew hats.
Get the party hopping with some real pirate fun. Try these ideas:
Walk the Plank: Place a board sturdily over a kiddie pool filled with water and plastic fish. Have guests walk from one end to the other. Those who survive the plank get a goody (such as a small piece of candy or a plastic necklace or faux pirate earring).
Cannon Ball War: Fill black balloons with water and have an old-fashioned water fight in the back yard.
Have a treasure hunt (of course!). Use clever clues and pirate wording. The winning team receives a candy or toy surprise each.
Make small braids in guests' hair, a la Captain Jack Sparrow. Tie off with colorful ribbon and plastic beads.
Play Pirate Lingo Bingo. Set up Bingo cards with unusual pirate words (see "Know Yer Lingo" above). Pull each word or phrase randomly out of a hat or bowl. Have guests use small pebbles to mark each space; fish tank rocks work well for this. The winner of each round must call out "Bingooooooooooo!" in a pirate-esque accent.
Pirate Phrase Trivia. Go in rounds and have guests say what they think various pirate phrases mean. Be as obscure as possible! The guessed answers will be as funny as the real ones.