Hip Parenthood Baby Shower Supplies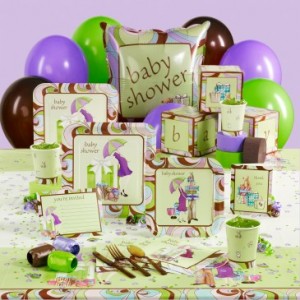 Here comes baby! And if you're a good friend, that also means: here comes a baby shower!
No doubt about it — baby showers are fun. But what if you (or the mom- and dad-to-be) like to take a walk on the slightly more hip side than the typical pink-and-blue baby shower theme? Is there a way to show your kitschy side while honoring the sweet innocence of a baby-to-be?
Absolutely! … and we'll show you how! Read on for the latest on the newest generation of baby showers, what makes them such a success and how to put together a shower to remember easily using hip parenthood baby shower supplies.
Baby Shower Supplies — Make Things Easy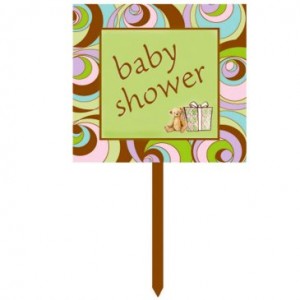 A baby shower package is the quickest and easiest way to go when planning your party. So if you find yourself super-busy or you'd just like a "professional eye" on the basic decor and setup, go this route. You can still add your own personal touches later (we'll get to the fun stuff in a minute!).
Our recommendation: go for something urban and a little kitschy. I'll readily admit I'm head-over-heels in love with this one. It has all the elements of a modern shower: an uber-trendy color combo (brown is popular right now, coupled with pastels), a vintage-ey look (so hot right now) and yes, that "We're having a baby!" sweetness that goes with EVERY baby shower. Love, love, love the green, brown and purple. Check it out!
You can also purchase your baby shower supplies piecemeal. This way, you can order more or fewer napkins, choose the tablecloth or not, have separate dessert plates, etc. If you go this route, make sure the style and colors complement each other.

Decorating the Shower Area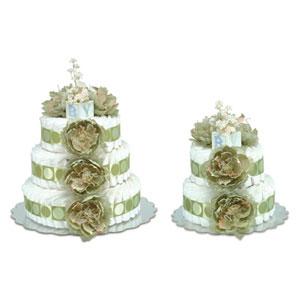 Got your supplies? Good! Now let's get to decorating! If you've chosen a deliciously understated color scheme, you can probably go a little heavier on the decorations as they won't overwhelm the room.
Helium-filled balloons are an absolute must. Grown-ups love them as much as children and they add that bit of festivity floating near the ceiling of the party room. Make sure you mark off time on the day of the party to stop and get the balloons filled at your local party or grocery store, or make things easier by purchasing a disposable helium tank and filling them yourself (I recommend this method) — so so easy to fit in time-wise).
Another cool decorating idea: get together with friends and make a diaper cake in advance of the shower. Then use the diaper cake as a centerpiece. It looks beautiful and doubles as a gift from all of you. Here's a great tutorial. Once again, if you're really pressed for time, these can be purchased ready-made – Corner Stork Baby Gifts is a great place to get them online.

Choosing a Baby Shower Gift
Today, many parents have an online gift registry. This makes everything easier — purchase a small to moderately priced gift yourself or call the grandparents-to-be and ask to go in on a bigger purchase with them (like baby furniture).
If not, try one of these everybody-loves-'em gift ideas:
A baby sling. This truly is "hip" – in more ways than one! Slings can be worn on (of course) Mom's or Dad's hip, as well as on his or her front or back. Many can accommodate newborns up to preschoolers, so this gift is a great investment. A sling does generally need to be sized to the wearer as the baby must be snug and secure, so ask someone close to Mom or Dad what their approximate measurements are. A few popular names for baby slings are the Maya Wrap, Peanut Shell, Hotsling and Sprout Pouch. Check out this baby carrier site for a great selection.
Diapers, diapers, diapers. If this is the parents' first baby, they're going to be surprised at how fast the diapers run out. On the other hand, if you're already a parent, you won't be! Shop Costco, Big Lots or Walmart and get mega-boxes in Size 1 (some babies fit into the Newborn sizing for only a short time and may outgrow them faster than your gift is used up).
A baby basket. Purchase a pre-made basket of goodies or make your own by picking up items that coordinate. For instance, give a Day at the Beach basket, with a baby-size sun hat, baby sunscreen, a swim outfit if you know the baby's sex and pool or sand toys. Another fun idea is a Know Your Shapes (or Know Your Colors, Know Your Animals, etc.) basket. Fill this with safe items that will teach baby while they entertain.
A diaper bag Mom and Dad will actually like wearing. Diaper bags have come a long way. They don't have to be bulky and they DEFINITELY don't have to look silly or ultra-babyish (believe it or not). We found this awesome selection on a quick search; look online or stroll the local baby stores in your area for ideas.
Tip: Be super-hip by matching the baby shower gift to the party's color theme (like the brown with pastels mentioned above). Have friends do the same with baby clothes and other items in matching colors and arrange the gifts on the table for a great look to the party.

The Party Menu
For this style shower, you can easily go beyond the usual chips, dip and cake (though we love those too!). Serve up something guests and the guest of honor will love, like these fun ideas:
Tea party. Serve finger sandwiches (include the watercress!) by assembling yummy sandwich ingredients, cutting the custs cut off, then cutting each sandwich cut into four triangles. Serve decaf tea, traditionally brewed.
Favorites pot luck. Have each guest make or bring a favorite. This is by far the easiest idea and can yield some very interesting — and delicious! — foods. Also ask guests to print out copies of each recipe. Put these together and give them to Mom and Dad at the end of the shower, or sneak them aside and have a guest who's great at scrapbooking put together later as a keepsake gift from all of you.
Brunch. Have a full-on brunch with omelets, French toast with cinnamon (yum!), eggs Benedict (way easier to make than you may think!), croissants, danish and perhaps a special family dish like strudel.
Decaffeinated coffee house. Serve gourmet decaf coffee, decaf black tea and decaf chai tea. Have on person man the "coffee bar" and make decaf lattes, Americanos, cappuccino and other coffee house favorites, as well as flavored syrups. Have bakery items at the bar so guests can choose the foods and flavor combinations they want.
Remember — above all, have fun! Don't hesitate to ask other guests to lend a helping hand if you're having trouble or are running out of time, and pre-purchase or make as much as possible so you don't find yourself in a time crunch on Baby Shower Day. Then you can relax and enjoy the results of your efforts — and the happy looks on the faces of Mom and Dad to be!