Romantic Valentine's Day Party for Two
Looking for a hot new Valentine's Day idea? How about a party just for the two of you? A party doesn't have to mean dozens of people — and Valentine's Day can be much more than just flowers and chocolate. This year, show her your sweet side and your creativity. Here's a step-by-step list of sweet ideas for romantic Valentine's Day party for two.
Step One: Send your true love an invitation. Have fun with this idea; be playful and sexy. Hand her a card from her "secret admirer" inviting her to an afternoon or evening to remember.
Or mail her a hand-made Valentine with cut-felt flames on the front and "Ready for a hot time? Meet me at (location) at (date and time)" or "Be all dressed up and ready to go at (time)" inside.
If planning ahead, try a surprise gift cookie! – Available at Cookie Surprises, if you order a week in advance of Valentine's Day, this family-owned company will have these special giant cookies baked, wrap it with bows, ribbons and confetti, and ship it to you or your significant other!
Step Two: Hire a babysitter. Even if you're planning something informal at home (and after the kids' bedtime), hire a sitter. This is time for just the two of you. Be prepared with plenty of snacks, bottled water and something to do until bedtime, and some DVDs well away from the "party area" for the sitter after the kids are tucked in.
Step Three: Make reservations. If you'll be treating your love to dinner at a romantic spot, make reservations even if the establishment claims they're walk-in. Don't leave this step to chance — nothing deflates a feeling of romance like embarrassment and the back-in-the-car-to-find-a-new-place shuffle.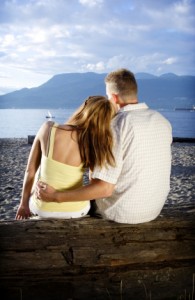 Step Four: Choose a party theme. Having a theme makes everything easier. Plan the evening around your theme, including it each step of the way. If it's "hearts just for you," send an invitation with a huge heart on the front, bake (or buy) heart-shaped cookies or chocolates and hand them to her, and make a heart outline in rose petals on the bed.
Other Valentine's Day couples themes can include:
"dress up" – see "Be playful" below
"teddy bears" – hand her a big stuffed bear at the start of the date and have bear Beanie Babies set up on the table
"songs of the (70s, 80s or 90s, etc),"
"dance the night away"
"sweets to the sweet" – lots of chocolate!
or a theme to her favorite romantic book or movie – for instance, if Shakespeare in Love is her favorite movie, copy some love sonnets from the Bard,
If your get-together will take place at home, remember the decorations! Hang decorations that match your theme from the ceiling (floating hearts, for example, or fluttering flowers) and make or buy a fun centerpiece for the table or for the "picnic area" if that's your plan.
Step Five: Be playful. Here are some of our favorite ideas for having fun on Valentine's Day:
Set up a romantic or relationship-theme board game for couples on your living room floor. Have a few candles around — it sounds cliche, but the subtle lighting will go straight to her heart and set the mood.

Feed each other dinner. If you're both being budget-conscious, or if you're short on planning time, cook her a romantic meal or order delivery or pickup in advance. No pizza, please — unless it's a heart-shaped one! Have at three courses: an appetizer, a dinner and a dessert. Now make it playful! Feed vegetables and dip or jalapeno poppers to one another, followed by your specialty (even spaghetti can be romantic!)…and then, of course, something sweet for the finale, like truffles or chocolate-dipped fruit.
Play dress-up and role-play. Be pirates and the captive princess, a football or soccer player and the cheerleader, or your favorite romantic movie or historic couple. You can even get a bit spicy with some sexy costumes.
Have a splash. Run a bubbly bath, complete with candlelight, and hop on in with your paramour and some champagne. Relax and enjoy your time together.
Planning the Party as a Surprise
This is a fun idea, but give her hints! There's nothing worse than you not acknowledging your significant other all day – send hints throughout the day to give him or her something to look forward to. (That way, too, you both aren't planning surprises, which of course will cause a horrible scheduling conflict!)
Tell her you're taking her somewhere commonplace, like a movie, or that you're meeting another couple for a Valentine's Day dinner. Then take a little detour to the beach to picnic in the moonlight or to that restaurant she's always dreamed of going to but thought was too expensive. Today's the day to treat her like a queen — and yourself like her prince!
Or have your intimate party be a total surprise and leave work early to set up a picnic on your living room floor, complete with romantic background music, yummy foods and a game or two. When she walks into the house and sees your efforts, she'll be thrilled that you were so thoughtful.
If Your Valentine's Day Party is Last-Minute
Don't worry if you don't have the time or the funds to hire a limo and take her for a night on the town. Choose from among the ideas above and put together a just-for-two party that's truly "you." Make your actions speak as well as the gifts themselves; tell her how special she is and how much you love her, feed her chocolates, slow-dance with her in your own dining room. These are the best ways to say "I love you" on Valentine's Day…and they're the ones she'll remember.