Looking forward to winter's fun and games just ahead? Or perhaps you're stuck in the middle of summer's heat and wishing for something a little, well, cooler? From the Penguins of Madagascar to March of the Penguins to Happy Feet, these furry, flightless birds way down in Antarctica are all the rage with kids and adults alike. A penguin party is fun to hold at any time and is sure to capture your youngster's imagination. Here are our favorite party tips for an adorable penguin themed party.
Penguin Decor and Invitations
Whatever the weather outdoors — even if it's the height of summer — you'll want to create an arctic getaway-style feel for your child's penguin party. These ideas will get the (snow)ball rolling:
Place a blue plastic tablecloth on the floor of the party area for an icy water effect. Be sure to have kids walk on it in either bare feet or sneakers only – little socks may be slippery on plastic and could cause spills.
Print out images of ice floes or draw them free-hand and cut out each shape. Cut pieces of aluminum foil to fit the bottom 1/3 of each floe and glue on. Hang the finished decorations on the walls of the party area using removable double-sided tape.
Choose paper or plastic plates, cups and napkins that have a winter, Arctic and/or penguin theme. Winter season type embellishments and decor are also perfect; try some winter holiday motifs.
Sprinkle white styrofoam/polystyrene packing peanuts on the tabletop to imitate snow. White, silver and blue glitter is another "cool" idea.
Let your child help you cut out easy, beautiful paper snowflakes. Hang them from the ceiling with silver or white ribbon. (This idea can double as a party activity; see below.) Also, decorate your walls with ice flow add-ons
For party invitations, look for free invitation templates online that feature penguins, icebergs, polar bears, etc. Print from your home printer and cut to the specific shape if desired. Print the party information on the inside of each invite if it is a fold-over, or on the front if it's a single sheet. Add a catchy phrase or two, such as "Waddle you be doing next week end? How about chilling out with us at (location) on (date) from (party start to end time)?" Finally, dab each invitation with glue and sprinkle on some blue glitter.
The Coolest Party Activities
Let kids make penguin t-shirts. A few days before the party, buy inexpensive black shirts at your local dollar store or thrift shop, or purchase white undershirts/t-shirts and dye them black (follow the directions exactly and make sure to run an empty load through afterward to remove the last of the dye). At the party, have the kids glue on a white felt penguin belly to the front of each shirt with water-resistant permanent craft glue. Glue a black bowtie to the neck of each shirt and you're done.
Set up an "igloo" using a white sheet draped across chairs or, even better, soft furniture in case kids bump into one another as they take turns playing inside.
Have a Penguin Beanbag Bowling competition. Set up emptied, thoroughly cleaned and dried aluminum cans on one side of the room (decorate these ahead of time if you wish with glitter; be sure to file down any rough edges on the cans). A few feet away, have kids line up and toss plush penguin toysto try to knock down all the cans. Or cut a penguin shape out of felt, fill with sand or beans and glue the edges together with craft glue and use that as the "bowling ball" bean bag.
Snowball toss: Line guests up in pairs across from one another. Have them toss a styrofoam ball back and forth (one snowball for each pair). When a ball is dropped, that pair is "out."
To wind down the party, play Happy Feet, an episode of Penguins of Madagascar or March of the Penguins in your DVD player. So this isn't a completely passive activity, have print outs of penguin coloring pages so they color while awaiting their parents.
Arctic Chow
Penguins love fish, so serve fish sticks, and cut fish shapes out of bread to make fanciful sandwiches. Goldfish crackers are another idea kids will snap up.
Anything cold is an obvious choice for a penguin party.  Ice cream is a perfect idea; how about Klondike bars for a bit of humor as well as a lot of taste?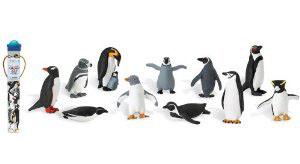 For drinks, serve milkshakes along with cool straws
; have the straws double as take-home party favors. Or freeze a dome shaped block of ice using a plastic mixing bowl; when water is completely frozen, turn it out of the bowl and use a butter knife or a kitchen mallet to chip it and create an iceberg shape (adults ONLY for this duty, please). Float the finished iceberg in some punch. Add small ice chips around the area of the iceberg.
Peppermint and other wintry candies will be a huge hit. Peppermint gum is the yum for kids over the age of four. Gumdrops and rainbow-flavor/decorated candies are delicious, too, and fit your winter wonderland theme perfectly.
For the cake, frost two tiers in white icing. Draw a water slide down one side of the cake over both tiers using blue icing or blue decorating gel. Place novelty plastic miniature penguins
along the slide or your scene.
Chill out and have some fun!