How to Build a Halloween Graveyard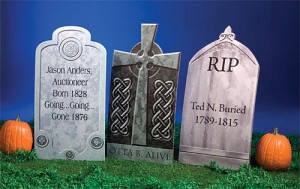 Personalized Halloween tombstones
, available at
Shindigz
Mention the word "Halloween" and one of the first things that is likely to come to mind is a creepy graveyard with tombstones and funny epitaphs. Halloween graveyards are easy to put together and can be as scary, complex, simple or even funny as you want them to be. This year make your house the creepiest on the block with these great ideas on how to build a Halloween graveyard.
Tombstones
The most obvious component of your haunted graveyard is a group of tombstones, complete with epitaphs. Tombstones are among the easiest Halloween outdoor decorations to make because they're supposed to look weathered – that too-deep cut you think you've made in the styrofoam, or a crookedly sliced tombstone top, will only add to the atmosphere.
How to Make a Tombstone
You Will Need:
styrofoam pieces, each large enough to make one tombstone (size these to your preference)
a utility or other sharp knife
black or gray spray paint, if desired
small wooden dowels with each end sharpened
a pencil or magic marker for tracing
glue, if desired (be sure to get a type that will not degrade styrofoam or plastics)
First, freehand an outline for your tombstone on one piece of styrofoam – actually, what I usually do is trace around a planter for rounded tombstone tops. Cut out the shape with the utility knife. If you'd like a double-thickness stone, use your cutout piece as a pattern on a second piece of styrofoam; glue them together and let dry completely before proceeding to the next step.
Now "engrave" whatever epitaph you'd like on the stone using the utility knife. Try to make the letters really stand out by cutting and filling out each letter (for example, for the letter "I", cut two vertical lines, not one, and cut out the styrofoam between them so that you have a thick looking "I").
Lightly spray the front of the stone with spray paint. This step is not absolutely necessary, but if you use a light touch, you'll get a fantastic, weathered/pocked effect on the front of your stone. Most spray paints will degrade, or "eat into," styrofoam somewhat. This is what produces the weathered effect. Be careful – less is more here. You don't want to melt away so much of the surface of the stone that you can no longer read the epitaph.
For your last step, push one end of one wooden dowel into the bottom of the stone. Push the stone into the ground; the other end of the dowel should hold it there fairly securely. If not, or if you're expecting high winds, use two dowels.
Choose some of the following funny epitaphs and phony names to make trick-or-treaters or party guests do a hilarious double-take:
Here lies my wife,
I bid her good-bye,
She rests in peace
And now so do I
I Told You I Was Sick
Here lies John Yeast
Pardon me for not rising
Death took me without any warning,
I was fine at night, and gone by morning
Here lies Zeke
His life was full
Until he tried
To milk a bull
Here lies an atheist
All dressed up and nowhere to go
Ben Dismembered
May he rest in pieces
R.I.P
Your Name Here
You may be alive,
But I'm still better looking
Here lies the body of Cross-Eyed Jake
Grabbed her knee instead of the brake
Or try any of these grim and gristly names: Ted N. Buried, Yule B. Next, Ima Gonner, C. Yalater, I. Slipped, Creek E. Bones, Barry M. Deep (bury 'em deep), Barry Dalive, Fester N. Rott, U.R. Next, Abbie Normal, Diane Rott, Will U. Joinme, C.U. Again.
Click here for another cool way to build tombstones. Also, check out this more in-depth tombstone tutorial.
Adding Cemetery Ambiance
Now it's time to really spook up your Halloween graveyard. Here are a few easy ways to up the creep factor in your haunt.
Graveyard Fog: Die hard yard haunters rely on graveyard fog for a spooky, after-midnight feel. Ask at your local party store about fog machines and the liquid you'll need to pour into yours; you can often find these on sale, particularly if you're buying off-season.
Spiderwebs and Cemetery Moss: Tombstones take on an otherwordly look when you add phony spiderwebs and "cemetery" moss. You can find the moss at any WalMart or similar store, or at a garden shop. Or create your own by putting a layer of glue along the top edge of each stone and draping any wilted greenery you have around the yard. For spiderwebs, buy inexpensive cotton at your local dollar store. Glue onto the stones; better yet, stretch it and have it go from stone to stone.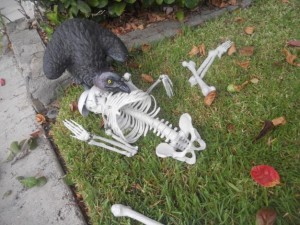 Skeletons, Skulls and Bones: Here's a great way to recycle old, broken Halloween decorations. Scatter pieces of old skellies around your graveyard. Or buy cheap plastic bones at a dollar store. In this case, the more broken and scattered the better.
Creepy Cemetery Inhabitants: Put long stakes in your hard and drape sheets over them; tie with twine near the top to make a "neck" and you have instant, easy (and inexpensive!) cemetery ghosts. Other great non-human cemetery visitors include toy black cats or toy black crows.
Go ahead – have fun with your Halloween graveyard. Your guests will know a chillingly good time is in store when they get a glimpse of creepy haunt – and you'll be the most popular haunter on your block.