Kid's Halloween Party Ideas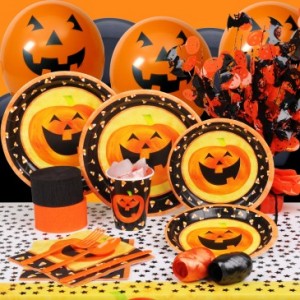 Halloween party supplies, available at
CelebrateExpress
Planning a Halloween party for your child? We have lots of ideas to create a fantastic, spooky and fun party! From creative invitations to ghostly decor, gross (and delicious) treats and ghastly games and activities, there's a lot of ways to celebrate Halloween with kids. Here's how to put together a party kids will go batty for.
Hauntingly Good Invitations
Try out these ultra-cool Halloween kid's party invitation ideas:
Ghost Pop Invitations.
You will need:
Enough lollipops so one can be sent to each guest;
enough handkerchiefs or white fabric,
felt or paper towel squares for each guest;
twist ties;
a pen.
Write the party information around the white square, making sure to leave a blank white area in the center. Now wrap the square around the candy part of the lollipop. Wrap a twist-tie beneath the candy to form a ghost's "head." Draw ghostly eyes and a mouth. Have your child hand-deliver to friends.

Enchanted Invites
You will need:
A computer with a printer;
card stock or mid- to heavy weight computer printer paper;
access to Halloween clipart (look for free samples on the internet);
a card template (also look for this on the web);
Halloween glitter or confetti (black and orange, silver, or spooky shapes);
glue stick
scissors.
Using a basic art program such as MS Paint , Publisher, Word or Adobe Elements, import your card template. Add your party details, and add in any any clipart decorations your child would like to see (pumpkins/jack o'lanterns, witches, ghosts, monsters, black cats, etc.)
Print and fold in half, and/or in half again, depending on the card template you chose. Then, cut invitations out in a spooky shape.
Take a bowl or plate, and pour in your glitter. Take your glue stick and dab all over the front and back of the card. Mash it in the glitter, then remove. Leave standing to dry overnight, then seal in an envelope and send the next morning.
Personalized Invites Online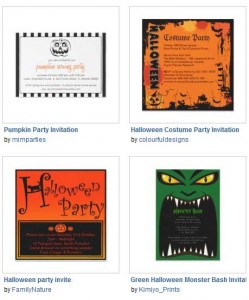 If you don't have time to create invitations, there's no reason to buy and send out a generic set of invites from the local party store.
A company called Zazzle, which specializes in on-demand printing, carries thousands of different types of Halloween Invitations, all submitted and customized by individual artists, small Mom & Pop shops or large companies like Hallmark or Disney. These people or companies will have signed up to offer their services at Zazzle, and you simply browse and order their custom products.
For your invitations, simply choose the design you like, add all your wording (such as a Headline, party information, footer, etc), then click submit. The artist will go straight to work creating your order, and ship it out within 24 hours (unless otherwise indicated.) Best of all, most invites are less than a buck per card.
Search for a Halloween Invitations at Zazzle
Party Mask Invitations
You will need:
A computer with a printer;
a pen or a marker;
decorative elements such as beads, glitter or stick-ons, decorative feathers, etc.;
glue;
heavy weight computer printer paper;
access to a party mask template (look for this online);
scissors;
yarn.
Find a party mask template on the internet and print out enough so each guest will receive one mask. Cut out the area for the eyes. Write out the party information on the back of the mask. Then let your child decorate each mask with the glitter, feathers, beads, etc. Carefully cut one small hole at each far end of the mask. Cut two lengths of yarn and push one through each hole; make a knot so it won't slip out. The recipient can then wear the invitation by tying the yarn around the back of his or her head.
Scary and Delicious Treats
Try these ghoulish, delicious and easy to make treats for a howling good time:
Spider Cupcakes: Bake cupcakes or buy premade ones. Frost with dark-chocolate frosting. Cut lengths of black or red licorice and place on two sides of the cupcake to make spider "legs." Add white candy or white chocolate chip for the eyes.

Witch's Brew Punch: Buy lemon-lime soda and a clear-colored juice of any flavor (for instance, apple or white grape). Add enough green food coloring so that you get an eerie green punch. Drop in healthy fruit chunks for older children (don't do this with an age group of four or under, as these could be a choking hazard). Use autumn-type fruits, such as apples and grapes, for a seasonal touch.

Creepy Halloween Jigglers: Make gelatin jiggler snacks according to the directions on the back of a flavored gelatin (i.e., Jell-O) package. Cut into Halloween shapes using cookie cutters (autumn leaves, cats, pumpkins, etc.) or freehand simple shapes using a chilled butter knife. Arrange on a plate.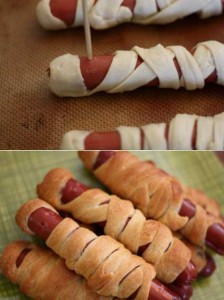 Mummy Finger Hot Dogs: Buy refrigerated pigs-in-a-blanket style uncooked dough. This should be pre-scored so you can separate it into shapes that you can wrap around hot dogs.
Wrap one dough piece around each hot dog on a diagonal, leaving just a small sliver of hot dog showing at the top so that the snack looks like a mummified finger with a creepy, withered fingernail (the part of the hot dog that pokes out). Bake according to package directions. Serve with a honey mustard dipping sauce.

Caramel Apples: This doubles as a fun activity for little partygoers. Buy microwavable caramel apple "sheets," or buy and pre-melt caramel squares according to package directions (do this yourself and keep kids far from the heat source to stay safe).
Slide one popsicle stick into the bottom of each of a bag of apples. Dip the apple in the caramel (older children can do this themselves with supervision). Do this with all the apples.
Lay out the apples on a piece of wax paper and allow guests to add sprinkles, chocolate chips and small candies to their own apple. Cool and then serve, or send these home at the end of the party in treat bags.
Spooky Games and Activities
There's plenty to do at a Halloween party just showing off one's awesome costume…but why not add a few activities to the mix? Here's how to make sure everyone has a devilishly good time.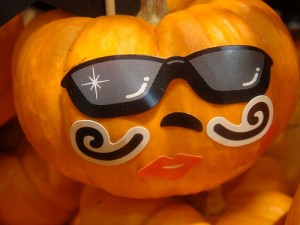 Pumpkin decorating by
wilbanks
Pumpkin decorating: Easier than pumpkin carving (and safer, particularly for very young children), pumpkin decorating is hugely popular for kids' Halloween parties. Buy small-size, but not miniature, pumpkins (sugar pumpkins are perfect for this) and supply party guests with school glue, glitter, stickers, beads and anything else they may use to decorate their pumpkins.
Have this be the first activity of the party so that by the end of the big bash, the glue is dried and the 'kins are ready to go home with guests.
Costume contest: Make sure you note on party invitations that there will be a contest for various costume categories (funniest, most original, etc.). Print cute award "ribbons" off your computer and cut each out. Put double-sided tape on the back of each (make sure it's easily removable and won't do any damage to the guests' costumes).
Have the guests line up and give an award, plus one special candy. Usually what we do is have an award for everybody, so nobody feels left out – so, knowing how many kids there will be, create awards for Funniest, Most Glitter, Most Creative, etc.
Making trick-or-treat bags: Let kids make their own fun bags for the big night! A day or two before the party, glue together large pieces of felt on three sides to pre-make bags for little ones. Glue a strip across the top from one side of each bag to the other as a handle, and staple for extra holding power.
At the party, let kids' imaginations go wild with markers, glue-on pieces of felt, glue-on letters to spell "Trick-or-Treat," etc. These can double as goody bags at the end of the party.
Not-so-scary movies: Have the party be a Halloween movie night (if the party is in the evening, or goes into the evening.) Pick a not-too-scary flick for young guests (for instance, the classic kids' movie "Hocus-Pocus," or for slightly older kids, a Harry Potter movie).
If you're not sure of your guests' tastes, call parents in advance to okay the movie before making your final selection. Then sit guests down with popcorn, chips and other treats and let them have a wild time trying to scare each other throughout the flick!
This is also great as a party wind-down, as your little guests can sit and watch the movie or show until their parents show up.
Trick or Treat Gift Bags
Of course, everybody receives a gift bag upon leaving the party! This is where the aforementioned activities come in. If you had all the kids make a treat bag, use this as their bag. Fill it with various candy, the pumpkin they would have made, Halloween treats, stickers and pencils. You can come up with anything you like, of course, especially if your party had a certain theme.
For instance, if the party was centered around ghosts, the party activities could have included making a ghost, which the kids would take home. In the gift bag have ghost stickers, a ghost puppet you can likely find at your local dollar store, etc.
Halloween can be a magical time for children. You can help make the most of this special day – and create memories that last – with these fun ideas. Make this Halloween the best ever for your little goblins!