Halloween Theme Party – Witch's Cauldron Theme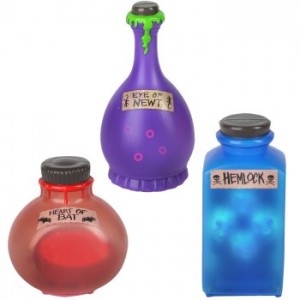 Witch potions, available at
Buycostumes.com
A witch's cauldron theme party for Halloween is so much fun, it's almost scary. Stir up a bubbling brew of fun with these cackling party ideas.
"Parchment"-Paper Party Invitations
You'll set the theme for your witch's cauldron Halloween party by with your invitations, so be sure to put together something wickedly special. Here's an easy way to create a chilling atmosphere with faux parchment-paper invites.
You will need:
any medium-weight paper (such as computer printer paper) in white or a light color; enough pieces for each of the guests you plan to invite
tea or coffee, steeped/brewed
rice paper, or another type of very thin, transparent paper
a pen with black or red ink
ordinary dab-on children's glue
pieces of string or pieces of ribbon
Prepare a pot of strong black tea or coffee (decaf is fine, too). Use twice or more what you would usually use, or keep the tea soaking for twice as long. Don't use your best tea leaves for this – it's all about making your invitations look weathered. Allow the tea or coffee to cool, then pour into a pot or a pan with some height (at least 1"). The pan should be large enough to hold one piece of flat paper, laid out flat.
Pour the tea or coffee into the pan.
Take an ordinary piece of white or light-colored paper (printer paper is fine) and place it in the tea-filled pan. Make sure the paper is completely submerged in the liquid. Allow it to sit this way for about 5-10 minutes.
Remove the paper from the pan carefully (wet paper easily splits). If you get a very slight tear here or there along the paper, don't worry too much. This will add to the paper's aged, crumpled appearance. Lay the paper fairly flat on a wood or other surface and allow the paper to dry completely. Repeat the above steps for as many guests as you plan to invite to your party.
Meanwhile, write your invitation wording on the rice paper (or print out the information onto the paper from a text document). Freehand, or choose from your available fonts, a Gothic, old-world font/lettering style.
Place a dab of glue under each corner of the written pages. Then glue each page to one piece of the dried "parchment" paper you created earlier. Allow the glue to dry thoroughly.
Roll up each invitation like a piece of parchment and tie with the string or ribbon.
Creating a Cauldron Centerpiece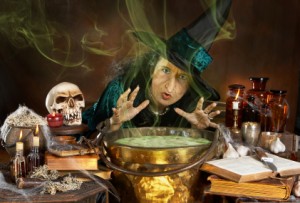 Naturally, your party snacks table must have a cauldron in the center or off to one side. Buy an inexpensive plastic cauldron at your local party store, dollar store or online. Or paint an old metal tub or large planter black on both the inside and the outside.
Crumple aluminum foil on the floor or table and place the cauldron on top. Allow a good portion of the foil to stick out from underneath. Now string orange lights (blinking ones are ideal) on top of and through the dips and valleys of the foil so they're semi-hidden. When you plug in the lights, their effect against the foil will be of a crackling fire.
If you really want to go all-out, invest in an inexpensive mini-size indoor fogger
. Place the fogger inside the cauldron and have it going throughout the party.
If you'd rather use the cauldron as a holder for snacks or for gristly contents (phony body parts, insects, etc.), place the fogger behind the cauldron instead of in front of it. The effect will still be super-spooky and will be a hit with your guests.

Dressing Up for the Coven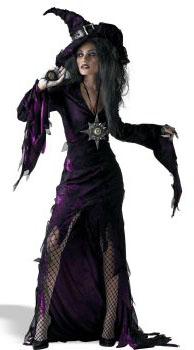 Be sure to mention on your invitations that your theme will be "a witch's cauldron." Or spread the word via e-mail or an Evite. Encourage guests to dress up as a favorite witch or warlock. Here are a few ideas, besides a generic (but often creative!) witch costume:
Sabrina the Teenage Witch, or one of The Wizards of Waverly Place (for a child's or teen's party)
The Wicked Witch of the West from the Wizard of Oz; or her sweet-as-peaches sister, Glinda, the Good Witch of the North
Samantha Stevens from Bewitched
One of the hilarious main characters from the movie Hocus-Pocus
Any character from the t.v. series Charmed (though they usually dress like "normal" if fashionable people!)
Gandalf from The Hobbit and the Lord of the Rings trilogy
a doomed Puritan woman or man from 1600s New England
the evil queen from Snow White, or any evil Disney "witch"-like character
Creating a Spooky Atmosphere
This party theme is all about creepy good fun. String tons of cotton spider webs (available at most dollar stores and Halloween shops) around the party area. (Don't forget the treats table!) Add a few plastic spiders for a really scary effect.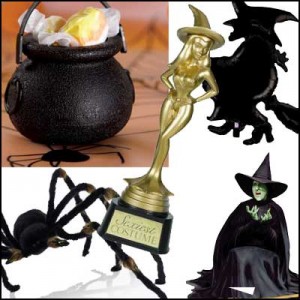 Hang torn cheesecloth or other cheap, spooky materials on the walls to mimic a decrepit old place in a haunting state of decay. Add some red hand prints using wash-off, inexpensive paint.
Hang plastic bats from the ceiling on strings, or make your own out of black construction paper or cardboard.
Creep up the tablecloth on the treats/snacks table with a piece of black-dyed cheesecloth, or black-dyed old bed sheets (tear some holes in the sheets).
Put jars around the party area and fill them with creepy contents any practical witch would have around the castle or cave. Give each a label (you can easily type up some funny names and print them out, then glue them to empty, washed and dried applesauce or other jars). Try:
Werewolf Claws (slivered almonds)
Alien Goo (very watery green jell-o)
Shrunken Heads (try out a Shrunken Apple Heads tutorial at Halloweenalliance.com)
Cemetery Nails (any household nails with a handful of dirt tossed on top)
other creepy "offerings." (You can even go all-out and create a scary witch's kitchen!)
Check out a whole pile of great witch decor ideas from Shindigz and Buycostumes.

Dance the Night Away
Replace regular light bulbs in the party area with blacklights or lights in other creepy colors (green, red, etc.). Collect some great Halloween dance tunes and invite guests to get their grim groove on.
Here are a few of our favorite music picks, depending upon your style, taste and the age of the party members (go "lighter" on the music for young children with compilations made just for kids):
The Monster Mash
Thriller (either Michael Jackson or the version by The Cramps)
A Nightmare on My Street
music from The Rocky Horror Picture Show
Psycho Killer
I'm Your Boogeyman
The Vampire Song (Concrete Blonde)
Season of the Witch
Werewolves of London, and (you guessed it)
anything from Rob Zombie.
Witchy Halloween Food
Don't forget the food! Foodnetwork.com has some spectacularly spooky Halloween party treats. Make your own unique concoctions too, and put a humorous twist on them. For example, if your party is for adults, make a "Witch's Brew" by pouring beer (brew—get it?) into a cauldron and allowing guests to serve themselves using a dipper.
For a younger crowd, make the Witch's Brew by combining lemon lime soda with a few drops of green food coloring and tossing in gummy versions of anything gross, such as gummy bugs. (Eew!) This treat will be a huge hit with younger partiers.
You'll have so much fun, you'll be planning next year's Witch-theme Halloween bash in no time at all. Or let a buddy do the work next time – while you attend the party dressed in your witchiest best. Happy Halloween!