How to Make Your Summer Parties Rock
You stand firmly in command of the occasion. You are the host of a summer party that really rocks. Cold, icy drinks flow and people are laughing … having a good time. You're serving up great food from the grill and your friends are lovin' it. Everyone knows your place is the place to go for the best time.
This is the way I used to imagine throwing a party. Frankly though, my first few parties were far less successes than that. So why do you think that was? I tell you. It was because I lacked a few basic tools and a plan. It's that simple. I've been wanting to capture my thoughts on this idea for a while. And in this article, I do just that.
Make a plan … it will enhance everyone's enjoyment
Try making a plan for your party. I'm not talking about just deciding on the menu or who to invite. Rather, put a bit of extra effort into it and use some imagination. You can try writing it out. But don't go overboard. You will be amazed at how writing down a few bullet points will help you focus, gain ideas, and remember important details. The point is to get in your mind the flow of the evening (or afternoon). I like to imagine 3 parts to my party: the warm up, the party, and the cool down.
In the warm up I focus on welcoming my guests, making them comfortable, getting them a refreshment, and having some chit chat until all my guests have arrived. I like to provide some small item of interest on which we can focus. It serves two purposes. First, it gives me something to distract the attention of my present guest(s) while I receive the arriving guests. Second, it gives me something with which to bring the arriving guests into the conversation. The item can be anything simple but interesting and not too complex. Try the latest gadget or an article in a magazine. I like to garden. At one party I used a particularly hot pepper from my garden as the item of interest. That was one of the best! You should have seen the faces of my guests who dared to try a sample. Priceless. Hilarious. I bet you'll find, like I have, that the conversations take off quickly with this technique and soon everyone feels at ease an comfortable.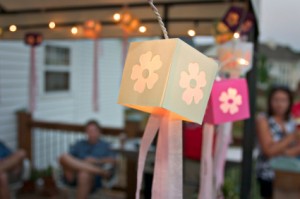 At some point during the warm up there is inevitably a lull (maybe even an awkward silence … it happens). I watch for it and immediately use it to announce the start of the party. I don't say, "Ok, let's start partying" Although, I guess that would work, usually I express something like my happiness about having my friends with me then say, "Ok, I thought we might get started with (insert your entertainment idea here)."
For a dinner party we might start with the appetizer. For a fun party it might be a game. For a movie party I might share a bit of research I did about the movie that will help my guests enjoy it more. Whatever it is, it's something I've thought about and planned. Some times I have to alter the plan a bit, but that's usually not a problem. The key to me is to have my guests feel my genuine desire, as their host, for them to have a good time.
For me, the start of cool down differs from party to party. For the dinner party or movie party is easy. It's the end of the meal or movie. Fun parties tend to have a less defined beginning to the cool down part. I just watch for signs of a waning party and then start my cool down plans. For the cool down, I typically repeat what I did during the warm up. I'll bring out another item of interest and then fire up the coffee maker or dessert or after dinner drinks; whatever is appropriate. In essence I give a clear signal that the party is winding down. I avoid making people feel like I'm throwing them out. I don't want that at all. Again, I just want them to know I care about them as their host. I simply do my thing and let the party take its course.
Gets some basic tools, like small appliances for the kitchen (or patio bar)
When I say tools, I'm not talkin' about a slow cooker or a toaster (although a toaster can come in handy with the right recipe). I'm talking' about THE fundamental entertaining small appliances: the blender and the coffee maker … in that order. Why, you ask, "… do you recommend such trite and mundane kitchen boringness?" Well, they work. Actually, they do the work for me. Seriously though, they are work horses and make throwing a party much easier.
For any kind of summer party, my kitchen blender fills many roles. It serves up icy slushy drinks in a heart beat. I usually prepare a batch of Margaritas or Pina Coladas just before my guests begin arriving. I put them into the freezer to keep them iced. Then I serve them up as people arrive. Typically, I need more, but that's no problem. I have a Cuisinart blender that makes short work of it. I also use my blender to prepare salsas, dips, and sauces that I serve during various parts of the party. Smoothies make a really refreshing and healthy beverage during a hot summer day outdoor party. A blender is perfect for that job. Where I live Starbucks (a coffee chain) serves up frothy cappuccino drinks. I sometimes offer my own take on such beverages by crushing ice and adding it to the coffee or blending in a bit of ice cream or whipping cream. As you can see, simple small size appliances like a blender can work in many ways toward the success of your party.
Coffee is an excellent party closer. There's something about the aroma that I find pleasant and soothing. I also think that aroma sends a subconscious signal to party goers that the party is winding down. I love coffee. And I've noticed that the majority of my friends do to. If you have this same situation, you may find the best home coffee maker for parties is a twelve cup model. Even with a four person dinner party you can easily go through more than one 12 cup pot if you server desert and like to chat for a while. If you have some left over, you can just reheat it in the microwave in the morning like I do. I also found that a bigger capacity coffee maker makes it easier to serve the fancy cappuccino type drinks I mentioned above. For the longest time I held on to my little four cup model. But then, when my parties started getting better, and bigger, I just had to switch to a 12 cup model. I still use my 4 cup machine at work.
Well, that 's all the thoughts about parties that I have time to write for now. I have several other ideas you may find helpful. So check back at this web site soon. You might find some tips that will make your parties more fun and easier on your pocket book. Thanks for reading.
Author bio:
Mike Rocha works as a medical imaging engineer for a world wide corporation. Schooled in electrical engineering he loves to work on web sites and write computer code. Mike also loves to cook. So publishing articles on his and other peoples web sites fits right in. He writes about various new recipes. Or you might find him writing a slow cookers review or one for small size appliances. Whatever the case may be, he lives to eat and experience new dishes with his friends.